By Emmanuel Aziken, Political Editor
ERstwhile senator and minister, Abdulrasheed Akinlabi Olasunkanmi is one of a handful of  aspirants for the Peoples Democratic Party, PDP ticket in the 2014 gubernatorial election. In a session with newsmen, Olasunkanmi gives reasons why Osun State should get a change in leadership and why he is the best person to lead that change. Excerpts:
Why are you in the race?
I am in the race because of the problems, because of the issues, because of the challenges that our people in Osun State are facing  since the emergence of Governor Aregbesola after his judicial victory. Yes, it was a judicial victory.  He never won the election, it was the judiciary that awarded him the victory. You see after this judicial victory, we thought that as he had always been propagating, we thought he was going to make a difference in the governance of Osun State but, no.
And it is a thing that really, really bothers me, it is a thing that saddens me that since Aregbesola has been in the saddle in  the government of the state from November 2010, he has been putting Osun State in the news for wrong reasons.
Confronting the judiciary
If he is not confronting the Federal Government, he does it with the judiciary.  If he is not confronting the judiciary, it is the citizens of the state that he is confronting. Look at what is happening in Osun State, the lecturers of tertiary institutions have been on strike, they have been on strike going for two months now, same with the civil servants, same with the students.
And even the citizenry, if you see what is happening in the state now, he has been busy demolishing people's means of livelihood, people's property without compensation.  That is not why he was put there as governor.  He is supposed to protect the interest of the people.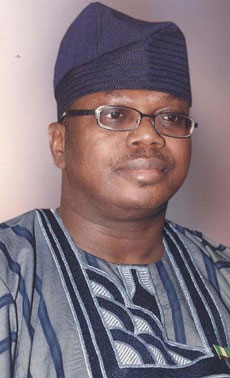 I make bold to say Osun State is a rural state.  You cannot compare Osun State with Lagos, anybody who has chosen to govern Osun will have to evolve the local developmental policies of the people, you cannot import wholesale, the programmes and policies of Lagos State government.
I am not surprised really because before he became the governor, Aregbesola had actually not been living among and with the people of Osun State.  So we are not surprised that since he has been in government, he has become an alien unto the people of Osun State because he doesn't really, really know what he wants.  He doesn't know what our priorities are because he had never lived among the Osun people.
Are you saying Aregbesola has done nothing and where do you get your confidence of winning the election?
It is a well known fact that come November this year Aregbesola will be three years in office as governor of Osun State. In almost three years of Aregbesola's administration, have you heard any project, have you heard of any project that he has commissioned?  Have you read in the papers or seen it on television, or heard it on radio that he commissioned even one single project.  This is going to three years in office.  That is number one.
Government performance
The only thing he has done when he came in terms of youth employment was to employ or selected 20,000 youths that he was giving less than N10,000 every month – graduates that he appointed them and he is using them to cut grasses and clean sewages.  My brother, I don't believe that is the kind of job creation that the people of Osun are clamouring for.
We are talking of real youth empowerment programme, Aregbesola has failed woefully because he said he employed 20,000 people, anybody  that lives in Osun will know that what we see ….in the streets everyday are not even up to 5,000.  He employed these people and sewed uniform for them, that is the only thing you can see.
In terms of infrastructural development, have you seen any road that has been commissioned by Aregbesola in the last three years?  In terms of healthcare facilities, have you seen rural health centers not to talk of hospitals that have been commissioned by Aregbesola?  In term of education, he told us that he will be building mega schools, that he wants to build mega schools, what we saw is the destruction, demolition of 3,000 existing structures put in place by previous administrations.
Are you saying he has not commissioned any project since he came to power?
He has not completed any.  If you know tell me now.  No, if you know any road that Aregbesola has completed, please tell me.
No, he has done a lot of roads.
I hope you are not going to talk about federal roads.  If you know any road Aregbesola has completed tell me now.  I am from Osun, I live there with the people.  We have not seen a single one, but if you have seen any please tell us here.  So, in other words, what I am saying is that Aregbesola has failed woefully in terms of performance in Osun because he has nothing to show for the three years he has been in the saddle.
Clinching PDP ticket
Do you still want to controvert it that not one mega school has been completed of the lot he said he would build? He has not completed one school out of the ones he demolished.  So, of course you know in Osun, Aregbesola has failed woefully and our people in Osun cannot be hoodwinked.
Now to the second leg of the question, you say I am very confident that I am going to clinch then PDP ticket in Osun.
As for that, I believe that out of the lot that have come out to show interest in the governorship of Osun State, I believe that I am the most qualified.
I have read out my pedigree, I served this country in the highest lawmaking body, that is the Senate of the Federal Republic and also in terms of executive experience, I have served this country as a honourable minister between 2007 and 2011.