By Emma Amaize, Regional Editor, S- South
UNTIL lately, the Minister of Niger-Delta, Elder Godsday Orubebe, was a  member of the political family of the South-South leader, Chief Edwin Clark, in their native Delta State. Both are from the Ijaw ethnic nationality in the South Senatorial District. While Clark hails from Kiagbodo, Orubebe is from Ogbobagbene, both in Burutu Local Government Area of the state.
Possibly, because of racial affinity and paternal love, the powerful 85-year-old former Minister of Information favored 54-year-old Orubebe politically, which was the reason he nominated him as minister against all odds.
Former Governor of Delta State, Chief James Ibori, did not want Clark's nominee to sail through because of the power tussle between him and Clark. He almost succeeded as former President Umaru Yar'Adua, now late, did not swear-in Orubebe with other ministers that were appointed. Clark, who was with Orubebe at the aborted swearing-in, left seething with rage, but he soldiered on  and his wish was later granted.
His preference for Orubebe angered some prominent members of the political family, who took umbrage and they grumbled in secret. They were livid that the patriarch was positioning him above his seniors in the group.
However, those knowledgeable said the crack in the relationship between father and son emerged since  last year, but Clark managed to hold  himself back.
"Some of them came back to tell Clark to his face that Orubebe, who he picked against advice,  was not performing as Minister of Niger-Delta, "source told Sunday Vanguard.
"His response to those accusing him of non performance was that the ministry does not have enough money, but people complain that he is tight-fisted and is not empowering those who worked for him." The bad blood finally spilt out, Tuesday, May 7, in Warri, when an enraged Clark descended on his once -favoured son and tongue-lashed him.
Roll back to 2006-2007
In the build-up to the 2007 elections,  Orubebe was of one of  the most regular faces  at  Clark's Warri, Kiagbodo residences and he continued even after his appointment in 2007 with visits to the old man's  Abuja abode,  but  things have changed now.
His parley with Clark then was to facilitate political appointment for him and he promised not to fail the old man. God used Clark to lift him up.  It was normal those days to see Orubebe still hanging back with Clark after some persons would have gone home.
Probably because of pressing official engagements, he could no longer consult as expected with his political mentor. Clark was miffed that Orubebe, who he suffered many indignities to propel, was engaging in a dangerous power game.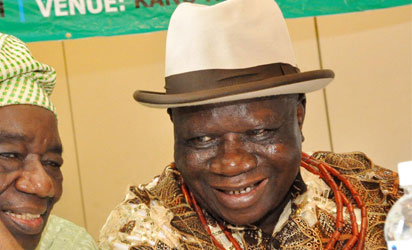 Disagreement
The cause of disagreement is Orubebe's alleged ambition to become the next governor of Delta State and the manner he is said to be going about it.
Clark is also piqued that against the warning of President Goodluck Jonathan to relax until 2014, the Minister of Niger-Delta was already causing disaffection among the ethnic groups in the state because of  the ambition.
Some people, however, wondered if it was now Clark realized that Orubebe had the ambition to succeed Uduaghan. "Elder Orubebe is very calculating, he believes that Clark is old and and his time has  passed, and so, he should give them to younger politicians to run the state. Therefore, he had to build his own political empire, knowing that anybody under Clark's leadership must be subject to his authority," a top politician from Delta said..
"The truth is that while Clark trusted Orubebe and was trying to put him above others in his group, the minister already saw himself as a leader by virtue of his status and so, was building his own structure, instead of Clark's structure.
"The rivalry was so bad that even in their local government, Orubebe has his men working for him against the interest of Chief Clark."
The politician added: "Orubebe wanted to take over the leadership of the party in the state to facilitate his nomination as PDP's gubernatorial candidate in 2015. Clark never thought Orubebe was building a different political structure until recently and all efforts to make him (Orubebe) withdraw his interest in the cases he filed in court against the party fell on deaf ears."
Apparently corroborating the claim, on Tuesday, Clark called on the national chairman of the party, Alhaji Bamanga Tukur, to "call Mr. Godsday Orubebe to order and advise him to withdraw these court cases  to allow peace to reign in the party and in Delta  State."
Embarrassment
What stirred the hornet's nest were the critical comments credited to some  leaders concerning Ijaw nation, Jonathan's presidency and 2015.
The leader of the Niger-Delta People Volunteer Force, NDPVF, Alhaji Mujahid Dokubo-Asari, and Chairman of the Presidential Amnesty Programme, PAP, Hon. Kingsley Kuku, came under fire recently over  alleged  inciting comments.
Kuku, however, explained that he never threatened violence if the president  was not re-elected in 2015, saying he was a peace crusader and knew that it was through the ballot box, and not violence that a democratic president would emerge.
Clark confirmed Jonathan  was disturbed by the turn of events and called him to find out what was amiss. He said the president was also not happy with the allegation that he (Jonathan) had given Orubebe  the green light to take over Delta  and asked him to find out if Orubebe actually declared gubernatorial ambition and made comments to that effect.
The elder statesman allegedly told the president he would investigate and get back to him.
Speaking to reporters in Warri, he said, "I returned from United Kingdom on Wednesday, 1st May, 2013, and I started to receive calls from PDP, Delta State party faithful resident in the state, Abuja and other places, asking me whether I had seen  a  text message  echocing  the Sahara Reporters about Mr. Godsday Orubebe's statement that he was going to contest the 2015 gubernatorial election  in Delta  State, that it was the turn of the Ijaw ethnic nationality to produce governor of  state.
"My attention was then drawn to a text message in my telephone, which reads thus:
'President Jonathan must realize that Delta State is not Bayelsa State where he can do what he likes and any attempt to impose Orubebe on us will be resisted. If he is bent on pulling down Nigeria, let him go ahead with his Ijaw nation, we will not be part of it.'
"Part of the Sahara Reporters report on the same issue which was also read out to me stated thus:
'I  must say categorically that all the ethnic nationalities of this state must have a taste of governorship of this state. Urhobo people have gotten it, Itsekiri have gotten it, Ndokwa have  not gotten it, Ijaw have  not gotten it, Isoko have  not gotten it. And so, we are appealing to others that it is the turn of the Ijaw people. We are appealing that it is the turn of the Ijaw people now because all the ethnic groups must have a taste."
Pointing out that he was not surprised at the slant the online medium gave the publication, Clark  said it was Orubebe, who brought an ant-infested wood to the house that should be  held responsible.
First, he said he was aware that Jonathan had stated categorically that he was not going to take a decision on 2015 until 2014 because he needed time to concentrate on the job he promised Nigerians.
'Subsequently, the president  directed that  none of his ministers and government functionaries should engage in politics as to declaring their intentions or supporting anyone for elective position, including senatorial, House of Representatives or gubernatorial", the elder statesman said.
"Mr. Godsday Orubebe cannot claim ignorance of Mr. President's directive. His flagrant disobedience is no doubt an embarrassment to Mr. President, to the leaders of the party and the party faithful, particularly to me that everybody believes contributed greatly to his becoming a  minister, having regard to the opposition from the former Governor of Delta State, Chief James Onanefe Ibori, and his supporters against me."
Unguarded utterance
The prominent South-South leader said, "However, I did not believe that Mr. Orubebe made such declaration until my arrival in Warri on Thursday, May 2, 2013. I was not only besieged by party members on the alleged statement by Mr. Orubebe at Ovu town when he paid a condolence visit on the family of  the late Alam Barovbe, three members who were present  also testified to the fact that Mr. Orubebe made such statement in Ovu. This was also confirmed by a prominent party leader in Delta  State, Chief Bernard Edewor, who said he replied to the speech made by Mr. Orubebe."
He went on: "Our opponents and detractors are definitely catching on Mr. Godsday Orubebe's careless and irresponsible statement and are now using it to insult Mr. President Goodluck Jonathan, the Ijaws and even myself; that the president and I are definitely behind him. I have tried to disabuse the minds of  the people and denied that neither Mr. President nor I is aware of Mr. Orubebe's statement. The calls to my telephone have not stopped, hence my decision to address the people of Delta  State.
"Perhaps, Mr. Orubebe has also forgotten how I accompanied him to the State House in Abuja after his confirmation at the Senate and to be sworn-in as Minister of the Federal Republic of Nigeria with three other colleagues of his. And the embarrassment caused to me when the former Secretary to the Federal Government, Ambassador Babagana Kingibe, came to inform me that Mr. President had decided not to swear-in Mr. Orubebe.
"I left the Executive Chambers with Mr. Orubebe and his wife in disgrace, but later summed up courage to address the State House Press on the issue. It is, therefore, my advice to the Honorable Minister not to allow the spoils of office to derail him or cause him to take wrong judgment. I am aware that all his other colleagues and other government functionaries have religiously obeyed the Presidential order. It is unfortunate and ridiculous that Mr. Orubebe should be the one to flout this order."
Appeal
Clark  appealed to detractors, who had resorted to abusing him and Mr. President to stop as he and Jonathan  were not responsible for Orubebe's actions.
The old man also advised those threatening to make Nigeria ungovernable if the president was not re-elected in 2015 to desist from such undemocratic comments.
He stressed that neither Ijaw nor the South-south can single-handedlt  make Jonathan president again.
Clark said what was clear was that nobody would deny Jonathan the right to seek his party's nomination for re-election.
He stressed that the decision to return Jonathan to office was purely that of all Nigerians from all sections and ethnic groups and not that of the Ijaws.
The Ijaw leader noted that Jonathan had maintained that it was too early to campaign for  2015 because he did not wish to be distracted from delivering on the electoral promises he made to Nigerians in 2011.
Tension
Clark  picked holes in Orubebe's ethnicity logic for the emergence of the next governor of  Delta. According to him, "The assertion by Mr. Orubebe that the governorship should be produced on ethnicity  basis and for him to state that the Urhobos and the Itsekiris have produced governors and that the Ijaws, the Isokos and the Ndokwas have not produced governors is not correct.
"The Honourable Minister knows that the Ndokwa  belong to the North Senatorial Zone where you have the Ikas and the Aniochas, and not the South Senatorial Zone, which has also not produced a governor. The five ethnic nationalities have to live together having regard to the immediate past fratricidal war between the Ijaw, the Itsekiri  and the Urhobo  of Warri. Nothing should therefore be done to pitch one ethnic nationality against the other. We must emphasize those things that bind the people together.
"Mr. Godsday Orubebe should realize that peace is a scarce commodity in Delta State, particularly in the PDP  since the 2007  gubernatorial election. At this juncture, it must be emphasized that our great party, the PDP, has been in crisis since 2007. It was only last year, after a period of five years and after series of litigations that we agreed to voluntarily reconcile."
The elder statesman declared, "For the purpose of argument, if the Ijaw are asked by the Delta State PDP   to produce a gubernatorial candidate, it will not be Mr. Godsday Orubebe and he is fully aware of that."
Clark's strong reprimand of Orubebe on his 2015 quest and his plea that nothing should be done to sow seed of discord among the  ethnic nationalities  have raised fresh hopes for the people of Delta North Senatorial District. The people of  the district (Anioma), comprising Ndokwa, Aniocha, Oshimili and Ika-speaking ethnic groups,  believe that since the incumbent governor, Dr. Emmanuel Uduaghan, an Iteskiri, is  from the South Senatorial District, same area with Orubebe and Clark, it was off beam  for anybody from the district to seek to rule the state in 2015.
The argument is that the Central District (Urhobo) had ruled eight years through Ibori, the South District (Ijaw, Itsekiri and Isoko) is taking their eight-year turn through Uduaghan now, and when it terminates in 2015, Delta North should take over in the spirit of fair play.