BY IKENNA ASOMBA
AJEGUNLE, popularly known as the ghetto city  is located in the Ajeromi/Ifelodun Local Government Area of Lagos State. It has a dense population of about 555,000 people and 335 streets. It is bordered on the west by Apapa Wharf and Tincan, two of Nigeria's biggest sea ports from where over 70 percent of imported goods come into the country.
The ghetto community formally falls under the Badagry Division, with major settlements like Aiyetoro, Ogbowankwo, Okorogbo, Tunkarimu, Alayinka, Arumo, Opeleye, Babani, Agausa, Orodu, Tolu, Ashafa, Wowo, Mensah, Taiwo, New Road, Kirikiri Rd, Amukoko, Alakoto, Apeno, Temidire, Ebunoti, Mokoya, Adeolu, Ojoku, Wilmer Crescent, Yaya Crescent, Oyikere, Muyibi, Idewu, Oluwa, Ladega, Bale, Uzor, Cardoso, Mba, Ilaje and Alaka.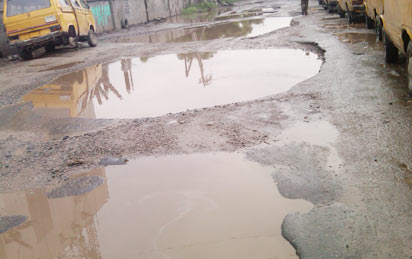 Ajegunle is a city that has survived attempts to wipe it out through negligence of those in position to use its resources for development purposes.  The current Council Chairman, Hon. Kamal Ayinde Bayewu, has often claimed to have brought rapid infrastructural development since coming on board in 2008.
Palliative measures
However, with the rains here again, residents of the community have appealed to Governor Babatunde Raji Fashola, to come to their aid, by providing palliative measures especially to the dilapidated Ottor-Wharf/Awodi-Ora Road, a State road, which links the community to the ever-busy Oshodi/Apapa Expressway. According to them, this call became necessary as the condition of the road worsens, making it inaccessible for motorists, motorcyclists and other road users.
Speaking to Vanguard, a commercial bus driver, Kingsley Amadi, said: "This road is the worst in the community. It has been like this for long and government has never cared to do anything about it, despite what we suffer, especially during rainy seasons. For more than 10 years now, Julius Berger (JB) construction company has been the one resurfacing this road, but they have refused to do anything this time around. We are suffering here. I urge Governor Fashola to come to our aid, just like he has been doing for other local government areas."
For Kehinde Badamosi, a commercial motorcyclist, "Our passengers do complain that we charge them high, but they fail to understand that this bad road is the cause of it. I urge the concerned authority to repair this road, or is it when one of these container-loaded trailers fall on this road and kill people that they will fix the road?"
However, when contacted, Sunday, to comment on why the repair of the road is being delayed, the Council boss, Mr. Kamal Ayinde Bayewu could not be reached, as his phone was switched off. Also, he failed to respond to text messages sent to him by our reporter yesterday.