BENJAMIN NJOKU
American based Nollywood actress, Judith Okpara Mazagwu popularly known as Afro-Candy is at the moment under fire to do the obvious.
Few days after releasing the trailer of her upcoming eyesore movie, "Destructive Instinct", one of the major actors in the movie is threatening  fire and brimstone, as he has asked her to remove the trailer from the internet or have his scenes deleted.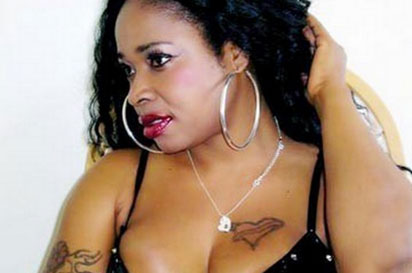 According to Afro-Candy herself, the actor claimed he had been chased out of his home by his baby mama, and is threatening her to take them all down.
The movie featured the 41-year old mother of 2 completely nude in sexually explicit positions as she tries to make a daring impact on the industry.
Narrating her frustration in her facebook page, Afro-Candy writes, "My people judge this case for me. This shit is just about to blow up and I think I need more than an Entertainment Lawyer right now. I cast this guy in my movie, he came on set, I explained everything to him and asked him if he would have any problems with playing the role the way I wanted it.
He said, he was okay with it and I quote him, " I am an adult, I can do whatever I want and nobody pays my bills"….Then Camera was rolling, action, he jumps into bed with me, squeezes my boob and my butt enjoying himself. Now, the trailer came out with an explosion, and he is threatening me to 'Remove the Video from the Internet, and remove him from the movie cos' his 'Baby Mama has thrown him out.
Also, his family and everyone that knows him is crying……Please tell me, what am I supposed to do now? Shut down the production cos of him? It's too late to re-shoot the movie now. My premiere is almost here God punish enemies of progress"