By NJOKU SAINTJERRY (Beijing) & Vera  Sam-Anyagafu
IN late November 2011, there was a published report of crisis in a Nigerian mission in Asia involving Nigerian citizens resident in Bangkok and former officials of the embassy. A video of that scene was posted on YouTube and it quickly went viral with very conflicting reports. Similar incidence occurred at embassy of Nigeria in Malaysia, all encompassing from sheer act of the embassies' official neglect to its citizens.
Precisely February 2013, there was yet another crisis which also erupted as a result of official neglectof the Nigeria mission in Senegal and like the unfortunate crisis in Bangkok, and Malaysia, a video footage got to the internet and also went viral. It is bothering to note, therefore, that Nigerians abroad are dissatisfied with the unwholesome treatment they receive from their missions in different countries abroad.
Strategies: In view of the foregoing, therefore, the Ministry of Foreign Affairs was prompted to devise strategies to look into these challenges and work out new and better approach that would help address the welfare of Nigerians abroad. One of such strategies is the Regional Conference for Heads of Missions divided according to the five regions, and having held earlier meeting in Accra, the group this year, decided to repeat same in Beijing, covering the Asia-Pacific regions where the numbers of Nigerians immigrants are on the increase.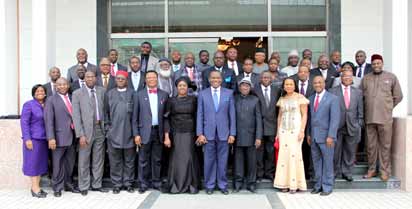 Enumerating countries where Nigerian immigrant status calls for a boost in their consular services, the Minister of Foreign Affairs, Ambassador Olugbenga Ashiru, called on the countries heads of missions  to consider the welfare of Nigerians that are  resident in their respective regions as their paramount responsibility.
Responding to media interview seeking information if the Minister felt satisfied with consular services given to Nigerians resident in the Asia-Pacific regions, covering China, Japan, Malaysia, Thailand, The Philippines, India etc, he said, "this is why we are here to address these challenges."
The chief host, H.E. Aminu Bashir Wali, Nigerian ambassador to China made a presentation titled "The Beijing Perspective" in which he narrated various experiences and challenges facing the Nigeria Embassy in Beijing, Nigerians in Guangzhou and also on the growing expectations of Nigerians in China. Other ambassadors present in the meeting equally gave similar presentations.
Fielding question from newsmen, the Nigerian Ambassador to Japan, H..E. Godwin Agbo, said: "We could hold meeting and make beautiful speeches, but when it comes to realities on ground, it's a different story. Agbo narrated how he met similar situations when he resumed office in Japan. After studying how the consulate here represented Nigerians, I decided to hold a meeting with all Nigerians resident here in Japan.They told me of their frustrations and expectations and we took time to explain in details to them what entails of our consular services and  limitations. I also advised my staff to often assist each and every one of them  where neccessary  on requestfor any form of consular services."
Criminality: On the issue of criminality, Ambassador Agbo opinied that it is wrong to criminalize any Nigerian activities, even when there are cases of allegations, unless otherwise, there is a competent jurisdiction from court of law. It is important for Nigerians in the Diaspora to contribute effectively in the type of nation building that would reduce the rift between the embassies and Nigerian citizens in different  regions abroad.
Declaring also his position on the issue of consular services, Ambassador to the Republic of Korea and Dean, Group of African Ambassadors, Desmond Akawor, stated Nigerians are hard working people. In Seoul, many Nigerians are busy responsibly and do not have time for careless behavior. There is less report of conflict with embassy authorities and we have created a very friendly atmosphere where we mingle with our citizens occasionally through cultural activities and sports."
Investments:  Nigeria has been recording tremendous success in its economic transformation agenda and South Korea has not been left out in the foreign investment drive. Recently, Nigeria agreed to sell Egbin Power Plant to Korea Electric Power Corp (KEPCO) for USD 407.3mn to boost electricity supply in Lagos. And in March 2013, Samsung Heavy Industries (SHI) won a USD895 million order to build four liquefied natural gas (LNG) vessels from Bonny Gas Transport, a shipping unit of Nigeria LNG, a contract expected to last until June 2016. Of all the presentation on investment promotion drive by the Nigeria heads of missions at the meeting, one of the most remarkable was the resuscitation of a moribund flour mills in Eastern Nigeria by Nigeria Ambassador to Vietnam, H..E. Mazi Mathias Oji Okafor.
Mr. Okafor within the month of March 2013 had led a delegation of Vietnamese businessmen to Enugu to sign agreement leading to the takeover of the moribund Enugu Sunrise Flour Mill for a period of 30 years.
Funding:  Ambassador Ashiru felt dissatisfied with lack of adequate funding for the ministry and n a recent development, Chairman , Senate Committee on Foreign Affairs, Senator Matthew Nwagwu,  emphasized on the need to improve funding for the foreign missions.. He further demanded  the ministry to address the consular problems facing Nigerians, especially in Guangzhou, China.