By Tony Edike
ENUGU-Enugu state government, Thursday , denied the rumoured death of Governor Sullivan Chime Chime saying the governor was in good health condition.
The state commissioner for information, Mr. Chuks Ugwuoke told Vanguard when contacted on the widespread rumour that Governor Chime passed on in India on Wednesday, said the rumour which he described as baseless, was the handiwork of mischief makers.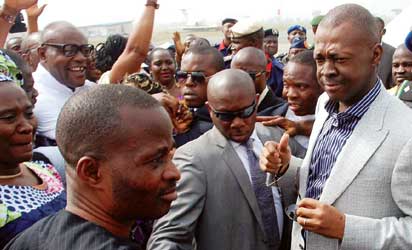 Fresh anxiety mounted in the state, Thursday, on account of the speculation as many concerned citizens put calls across to media houses to confirm if what they were hearing about the governor was true.
They cited the reports posted on the social media network, Facebook by some unnamed persons which triggered off the rumour and sought to authenticate the reports.
Vanguard learnt that the peddlers of the rumour is now being sought by security operatives who have already obtained the Personal Identification Number (PIN) of the perpetrator on Facebook website.
The governor, who was seen in Enugu Wednesday, was said to have travelled to Abuja same day on an undisclosed mission.
Ugwuoke described the news of the death of the governor as unfounded as the "governor was hale and hearty."
He said the governor had no business, health issue or any reason whatsoever to travel to India, vowing that the government would get to the root of the rumour to unmask those behind the incessant posts of such baseless reports on the internet.
A member of the opposition Save Enugu Group (SEG), Ray Nnaji in sharp reaction to the rumour, asked the public to ignore it as it was posted by mischief makers.
Nnaji, also a former commissioner under former Governor Chimaroke Nnamani regretted that those behind the rumours were toying with the life of the governor, adding that Enugu people would not be deceived again by such wicked rumours.
"It is a taboo among the Igbos for people to wish one dead, even if the person is your enemy. These ugly rumours always peddled about our governor by mischief makers must stop. You cannot call that opposition but mischief," insisted Nnaji.
Nnaji urged the governor not to be distracted by such mischevious insinuations and concentrate in his delivery of democracy dividend to the people of Enugu state.