By KINGSLEY OMONOBI
ABUJA — The troops deployed to flush out terrorists from Adamawa, Borno and Yobe states following declaration of state of emergency said they have intercepted messages by the leadership of Boko Haram urging sect members to regroup and refuse to give up.
Vanguard learnt that the interception made by the military communication interceptors came about as continued combing of the camps and enclaves revealed fresh graves, more ammunition depots, vehicles and other equipment.
Also, 25 insurgents were rounded up by troops while three of them died, including a high profile terrorist identified as Abba who has been on the list of most wanted persons.
A statement by the Director of Defence Information, Brigadier General Chris Olukolade while giving the mission update reads, "troops of the special forces have intercepted messages sent to fleeing insurgents urging them not to give up but fight to the end.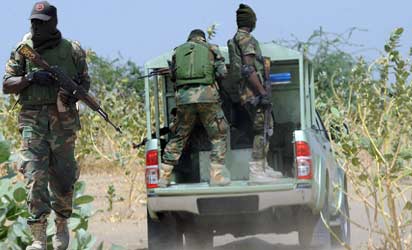 "The attempt by some of them to heed the call was foiled at the weekend as they were trailed to some settlements and towns towards the border where they planned to regroup.
"Troops of the Multinational Joint Task Force carried out an operation which resulted in the capture and destruction of the insurgents assembly points sited in the outskirts of Kaneram Dan Katsina, Tumbu Dabino and Mallam Fatori area north of Baga.
"The towns and settlements have now been secured while cordon and search operation is also ongoing in the area after the insurgents have been dislodged".
Meanwhile, 25 insurgents were rounded up while three died, including a high profile terrorist identified as Abba who has been on the list of most wanted persons.
"This incident happened during an encounter with troops of the task force as the insurgents were finalizing moves to carry out an extensive terrorist operation around Maiduguri.
"The captured ones were all apprehended with their weapons which include rifles, pistols, double barrel guns and various calibres of ammunition during a raid operation of the JTF in Kumshe and Bulunkutu area.
"Although they succeeded in killing a security operative of the Task Force, they were apprehended before their planned infiltration with more arms to cause mayhem in the city.
"In Sambisa forest, troops combing the forest continue to make more discoveries. A man who had been held hostage in the forest since last year escaped bound in handcuffs as his captors fled during the troops attack on the biggest camp in the forest.
"The freed hostage is being treated by the Task Force. The troops are dominating the forest as they find a number of fresh graves, more arms and ammunition, burnt vehicles and other equipment".
Subscribe for latest Videos