By AbdulSalam Muhammad, Kano
…As five women, three minors rescued, weapons recovered
Operatives of Joint Military Task-force in Kano Friday morning foiled what could have been a violent robbery attack in the city's popular textile market, culminating in the death of a soldier and six suspected militants in a combat operation.
The bloody encounter between the military and the suspected militants at Sheka area of Kumbotso local Government  of  Kano state was triggered by an arrest of a suspected militant by the security operatives Thursday who confessed to the plot and led the operatives to the residence of other gang members.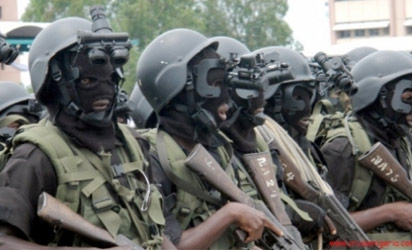 The dead soldier was said to be from the 3rd Brigade of the Nigerian Army, Kano.  Six members of the gang were killed in the confrontation, which took place in the Sheka quarters of the ancient city. Several injured persons were taken to the hospital.
JTF spokesman in the city, Captain Ikediche Iweha  who conducted reporters round the 'marked building' shortly after it had fallen  to the Nigerian troops paraded five women and three children who were rescued unhurt during the combat operation that equally led to the recovery of weapons  in the building.
Captain Ikediche Iweha stated that, "this morning operation was a product of intelligence report obtained from a suspect we apprehended yesterday that voluntarily confessed to a plot to violently attack Kanti Kwari textile market for money to bankroll  impending operations in Yobe".
Iweha said: "We deployed our men to the neighbourhood of the marked building and immediately cordoned off the vicinity and launched an offensive to capture the occupants of the marked building but unfortunately, our men came under fire and in the ensuing encounter, we lost a soldier, while six terrorists lost their lives."
However, security sources close to the combat operation carried out by special squad of  Directorate of State Security Service, DSSS, and the military confided in Saturday  Vanguard that some of the GSM sim cards used by the dead terrorists  were recovered from the private parts of the rescued women.
Among the items recovered from the building are  2 AK 47 assault rifles, 39 rounds of ammunition, 4-round magazines, GSM sim cards and identifiable weapons of war. The marked building has been brought down by  military bulldozer, while a manhunt has been launched by the security operatives to apprehend the property owner.