By OKEY NDIRIBE & EMMAN OVUAKPORIE
ABUJA — MEMBERS of the House of Representatives yesterday threw their weight behind the. Chief Justice of Nigeria, CJN, Justice Aloma Mukhtar's call to sack erring judges, describing it as a welcome development.
Some of the House members who spoke to Vanguard were unanimous in their reactions, saying though worrisome, it was a wake up call.
Chairman House Committee on Anti-corruption,  Abiodun Faleke, said: "I think she knows better and I quite agree with her. Nigerians no longer have confidence in the judiciary, especially in the fight against corruption.
" Where cases are tried for years without end, where courts grant perpetual injunction for an ex governor, and pension thieves, subsidy thieves are roaming the street."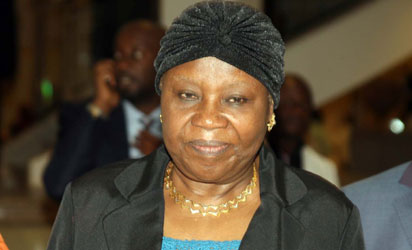 Also speaking almost in the same vein, Chairman House committee on Petroleum Sector, Downstream, Dakuku Peterside said "this portends danger for democracy; democracy thrives on the foundation of rule of law; My happiness is that she has the instrument in her hand to substantially reverse the trend."
Nigerians have confidence in her and I expect her to maximise the effect of this trust. "
Minority Whip of the House, Samson Osagie, in his reaction, described the CJN's call as a wake up call for the judiciary.
"But it is something to worry about coming from the CJN," Osagie said.
Deputy Chairman, House Committee on Works, Mohammd Ali Wudil, simply said "that is a true reflection of how bad our judicial system is and also a confirmation of the rot."
Bello Razaq Osagie, representing Orhionwhhon Federal Constituency in Edo State, also said:  "It's unfortunate that the judiciary that has been the last bastion of hope for the  common man is facing serious integrity test.
"NJC satellite and radar have identified and sanctioned some corrupt judges recently and more are under investigation particul- arly in connection with judge- ment for sale that put the  credibility of that constituency on trial.
"Our justice system will require some overhaul in all its ramifications.  Some Judgements in Nigeria are now rubbished by other jurisdictions. We must take our rightful position within the  comity of Nations and secure our national prestige.
"The system must embrace the  culture of reward and sanction where necessary more than ever before.
Judges must work within the  rules of engagement and enforce d rule law."
Special Adviser to the Speaker of the House of Representatives on Legal matters , Chile Igbawa, in his contribution, said "the courts should de-emphasize technicalities in determining cases as this has not really gone down well with Nigerians; emphasis should be on the law itself.
"Reservation on judgements too lead to suspicion as people will always ask why was the judgement reserved for any undisclosed date."