BY OLASUNKANMI AKONI
BUTCHERS in Lagos are testing the government's ability to bite as they have vowed never to comply with the directive to distribute meat, particularly beef, using the approved Eko Meat Vans.
Their grouse is that the number of such vans are too few and may be too expensive to hire since they are contracted to private operators. The development is posing enormous challenge to the administration's new law to check the way meat is being transported in the state.
Government is so concerned that it has set up a task-force that will arrest people who use motorcycles, wheelbarrows and other unhygienic means to transport meat in the state. The provision of the new law disallows anyone to convey meat from the abattoir to any part of Lagos State except in Eko Meat Vans, while the services of the vans had been contracted out.
"Whether you slaughter big or small meat, it must be done in the abattoir in compliance with the law. The operators of the meat vans will not reject any animal slaughtered; there is a field manager that is mandated to take meat from the abattoir to their destinations," the Senior Special Assistant to the Governor on Agriculture and Cooperatives, Dr. Nureni Funsho was quoted as saying.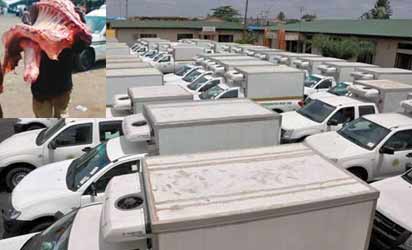 According to him; "We have about 200 vans to convey meat across Lagos and about 50 per cent of them are already in operation.
"Also, butchers are not allowed to engage in meat transportation anymore. You cannot be a butcher and at the same time be a transporter of meat."
He said government was ready to ensure that there would be no more unhygienic meat transportation in the state, as there is a task-force in place to enforce the law.
This move, however, it was gathered, did not go down well with the state's butchers associations, especially those on the  Island.
The butchers, under the Umbrella of Lagos Island Associations, particularly, had taken the state government to court to contest the use of Eko Meat Vans.
Subsequently, the associations, directed their members to disregard the state government's earlier directive, pending the determination of the substantive suit in court.
The association even sponsored a paid advertisement on radio, informing their members to go about their normal businesses without any fear of intimidation or arrest by state government's agents.
A member of the Butchers Association, who preferred anonymity, vowed; "We are resolute in our stand and we are waiting for government to carry out its threat on the use of Eko Meat Vans.
"How many Eko meat vans do they have for the whole of Lagos that they want us to comply with.
"The government should go and put their house in order first before coming out with this frivolous law. We refuse to be intimidated or harassed."
Approved standards
At the Agege abattoir, no fewer than 4,000 cows are slaughtered weekly and sold to butchers from different markets scattered across the metropolis
When Vanguard visited some of the abattoirs in the state, Agege and Igando, specifically, it was observed that the level of compliance with government approved standards is very poor.
Although beef was seen being transported in meat vans, some people still carried meat on their heads,  shoulders, in unwholesome sacks, nylons and dirty carts while some put them on motorcycles, contrary to the new law.
There were no sanitary inspectors on  ground to ensure compliance with government's directive.
To make the matter worse, the entire  environment of the abattoir was filthy, while the butchers disposed of wastes and animal by-products in open spaces, indiscriminately.
According to health experts, there are great health risks associated with poor and unhygienic handling of beef and dirty abattoir environment.
In 2008, the Lagos state government introduced Eko Refrigerated Meat Van and customized tricycles to phase out unwholesome means of transporting beef within Lagos Abattoir in Agege, as well as from other abattoirs to markets and final to consumers.