BY ONOCHIE ANIBEZE
One time Vice Chairman of the Nigeria Football Association, Nwabufo Obienu has warned that the bad blood between Stephen Keshi and the Nigeria Football Federation may jeopardize Nigeria's  2014 World Cup qualification.
He wants the Presidency to intervene ''otherwise they should forget about Brazil 2014.''
Obienu recalled the comments of some Board Members since the Nations Cup in South Africa and concluded that ''sacking Keshi's assistants was one way to get back at him. Obienu said sacking his assistants  would dislodge him and ''the moment we play a match or two with poor results they would have grounds to sack Keshi but our World Cup dream would have gone.''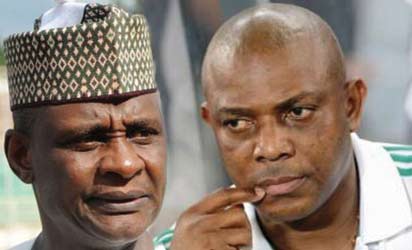 NFF sacked Sylvanus Okpala and said that the only way Valere Houndonou could continue was if Keshi would pay his salary. They attributed this to lack of resources.
Emeka Inyama, a board member of the Nigeria Football Federation last week regretted that ''Keshi could not come for a technical committee meeting but had time to visit Lagos to collect the cars that Chief Mike Adenuga promised him. Keshi traveled for a short vacation after that.  Inyama informed that he would be queried on arrival for traveling without permission.
''I read pettiness in the whole thing. Let's not allow pettiness to ruin the road to Brazil 2014. I think it's time for the Presidency to intervene otherwise 2014 will elude us. It is wrong to sack Keshi's assistants without his consent. You allow coaches to pick their assistants. Now you are sacking on the grounds that you don't have the funds.
But at the same time you are appointing three people as Technical Directors, so there's more to it like Paul Bassey said in his column in Vanguard. What is happening now is a continuation of the feud during and after the Nations Cup.
They wanted to sack Keshi but he went on to win the cup and rubbished them thereafter. It must have been painful to the federation as Nigerians started condemning them. So, the target is Keshi otherwise it is totally wrong to sack his assistants. I think that they want Keshi to fail. But it is Nigeria that will fail and not Keshi.''
On NFF's intention to commune a meeting between Keshi, Osaze Odewengie, Joseph Yobo, Obienu said such was uncalled for.
''Nobody tells a coach who to invite for matches. That's why when a coach fails you hold him responsible.
Osaze made a lot of noise but they won the Nations Cup without him. The Yobo I knew would not have publicly condemned his coach. Let them support Keshi for the interest of our World Cup campaign and stop fighting their own coach."