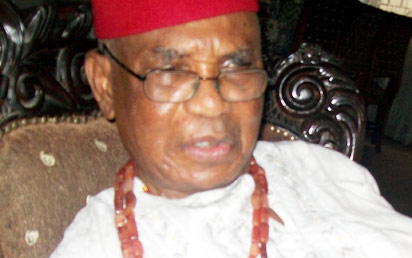 Igwe Nwokedi
By Bashir Adefaka
Igwe Ezeoba Alex Nwokedi, (OON) a veteran journalist, served as press secretary to General Olusegun Obasanjo as Head of State between 1976 and 1979 and is today the traditional ruler of Achalla in Awka North Local Government Area of Anambra State.  A former chairman, Eastern States Traditional Rulers Conference, he saw action during the Nigerian Civil War, having served as head of Counter Intelligence in the defunct Republic of Biafra.
Coming out of a meeting of some of the country's leading traditional rulers in Abuja penultimate week, he spoke on major topical issues affecting the nation among them, amnesty for Boko Haram, the pardon of Alamieyeseigha among other issues. Excerpts:
President Jonathan had in the past said that he cannot negotiate with ghosts of Boko Haram. Does he need to see them before proposing amnesty for the insurgents?
President Jonathan does not need to see them before giving them amnesty.  The only thing is that when you are given amnesty, you are supposed to honour it by not fighting further.  For example, when General Yakubu Gowon gave us amnesty in Biafra, we stopped fighting.  This should be the guiding principle for the amnesty committee he has just set up so that under the two weeks he has given them as time frame for delivery, they will arrive at a working conclusion.
So, do you believe amnesty will lead to a stop in the violence?
With amnesty we are moving towards solution.  It may not be an absolute solution but we will be moving towards it. So, while we prevail on President Jonathan to grant them amnesty as a means to dialogue, I call on the Boko Haram people not to play down the government's readiness to go into dialogue with them. Dialogue has always been the best way to do it, not by violence.
Accepting the olive branch
They should accept the olive branch offered them by the government and sit down with them so that we can have peace once and for all. People talk of external forces behind this but I believe that most of these Boko Haram people are first of all Nigerians and they must join hands with government and leaders of the country especially of the North in ensuring lasting peace and stability.   Also, arrangement should be made to consider compensation for those who are victims of the whole problem.
Some leaders of the opposition have said the President is not sincere in his approaches to solving the Boko Haram problem? Do you believe them?
Mr. President is very sincere. There is one proverb which says when you are killing snake, at the same time you should be careful trying to ensure that the snake will not rise up to come back and bite you. So, he had to do everything with caution, which was the reason he did not have to go to meet them in Gombe.
In your view, what are the implications of this spate of insecurity to our corporate existence?
First and foremost, you do not expect that we would grow economically in a situation of crisis.  Foreign investors would not see that there is insecurity in Nigeria and still come and put their investments on the ground here to waste.  Also the human loss is enormous.
After Boko Haram, do you see Igbo starting their own agitation at least to achieve a president of Igbo extraction?
Excuse me I am not looking for Igbo president.  Ezeoba Alex Nwokedi is not looking for Igbo president.  I am looking for a Nigerian president.  Okay?  So, all these people talking Yoruba president, Igbo president, Hausa/Fulani president are still behind schedule.
We want a Nigerian president to come and govern Nigerians; to come and take care of Nigerians not to take care of the Igbos or Yorubas or Hausas or Fulanis or Itsekiris depending on where he comes from.  I want a Nigerian president.
Marginalization will continue as long as we do not shelve our tribe-conscious leadership and begin to think about Nigeria.
What is your advice to President Jonathan?
My advice to Mr. President is that he should continue to do the good things he has started and not be shaken. People who have been talking about President Goodluck Jonathan, have they ever said he is corrupt?  Never! The complaint they make against him is that he is slow. But the young man has to study the situation.
You have to look before you leap.  Let us have patience and eventually we shall get to where we are going.  There is never a day they voted out a prime minister in Britain unless he has done woefully bad.  To me, Jonathan has done very well and he should be given a chance to cement what he has started doing.
You were reported to have said that the pardon for Chief Diepreye Alamieyeseigha was in order.  What is your reason?
Alameiyeseigha, well, has committed the offence and has been to jail.  As it is said, he has smelt the rod and he cannot wash off that one.  But if he is of any need to his people, there is nothing wrong in calling him to come and be of that need.
You know, I do not believe in all that I read but there are certain things that really …..me, like say, houses in England.  I do not believe those things because, to me, they look very outrageous.  But that is a non-issue.  The young man has had his punishment.
Committing an offence
Pardon will make this man, Alameiyeseigha, to go back to the world, having repented, and then mix up with the people to continue to do what he is capable of doing for the society.  You cannot say because you have committed an offence, you should be condemned forever.
And we are a nation of fictitious people.  Nearly all of us have done the same thing which this man did. The only difference is that we were not caught.  But then when they catch you, you have committed the offence and nearly every Nigerian has committed that offence.  So, let us be reasonable and try to rehabilitate our brethren who had committed an offence and had been punished.