* How my activism put my father in trouble with Abacha
BY DAPO AKINREFON & CHARLES KUMOLU
DR  JOSEPHINE Obiajulu Okei-Odumakin has lived a better part of her life as an activist. She has traversed, courageously, where even some men fear to tread. She remained consistent without minding the hazards to her person in a society where critical voices are loathed by an  unjust system which rewards the crook and punishes the just.
Her consistency and unwavering determination for survival of democracy in Nigeria made Professor Wole Soyinka to describe her as "a tireless fighter whose frail bearing  bellies an inner strength and resilience purpose, a veteran of affirmative marches, of crude arrests and detentions, baton charges and tear gas who has  lent luster to the struggle for justice and human dignity, who remain an inspiration of men and women, old and young."  She was recently honoured in America with the Woman of Courage award.
In this no-holds- barred interaction, she tells her story. Excerpts:
To people, you are just an activist, but who exactly is Joe Odumakin?
Joe Okei-Odumakin was born on 4  July, 1966 in  Zaria, Kaduna State. I have three elder brothers and  lost a younger one while growing up. I grew up as a tom boy because I was born in the midst of boys, I play football a lot. I love defending people's rights and it started during my kindergarten level.
I attended a missionary school because my parents were staunch Catholics; I had wanted to be a nun. That was what I wanted all my life. I attended St Barnabas Primary School. After that, I attended Queen Elizabeth Secondary School, Ilorin because my parents were based in Ilorin.
I did my A Levels in Kwara State Polytechnic where I was at the School of Basic Studies in 1984. Like I said, I wanted to be a nun at the age of 14 but my father threatened to disown me. I was too young to be disowned. Not only did my father threaten  to disown me, he also was to print my obituary because he said I did not  want to procreate.
After  that I cried all through the day and night, I then told my mum to tell my father that I was willing to continue  my education. When my father returned from his trip to the United Kingdom, he then took me to one Dr Acho, who was the Director of Basic Studies, and told him that that I would be living in his house. I lived there for a week and promised my father  I would stay on campus. My father then opened a hard cover note book for me to clock in and out.
After a year, I saw a poster which read, 'Rethink Nigeria', which was a left wing movement, and seeing it, I felt I should go for the meeting. On getting there, I went through the agenda, but there was no opening or closing prayer and I made an observation but people shouted at the same time 'who brought this thing here? Throw her out, they are talking about serious national issues and this thing is talking about prayers'. So, I had to leave. But  three weeks after, I was called upon again. I was addressed as 'reverend sister, and told, 'we won't include opening or closing prayers, but you can come for our meeting'.
I went there and still observed the same thing. They were so violent with me, held me by neck and led me out and,  since then, I vowed never to be part of the meeting. That was how after my A Levels, I got admission into ABU Zaria  but the institution  was too far for me  and  my second choice was the University of Ilorin where I read English Education and graduated in 1987.
I did my Youth  Service at the 35th Amphibious Battalion with  soldiers. I interacted with the soldiers intensely. I came back to the University of Ilorin in 1990 to do my master's in guidance and counseling.
While I was at the University of Ilorin in 1985, I had a lecturer who saw that I was brilliant and asked what I wanted to become in life and I told her that I wanted to become a nun.
She was the one who motivated me to read about Martin Luther King and other people like Karl Max, Malcom X. That was how the thing started in January 10, 1985 and,  by March 1985, the position of secretary for Women in Nigeria, Kwara State branch was vacant. When it was time for us to  reel out our manifesto,  first person to speak; I started quoting from Martin Luther King's book, people started hailing me and the third person did not bother to come up.
That was how I became the secretary of Women in Nigeria, Kwara State branch in 1985. That was how I became born again into the struggle.
But what motivated you to become an activist?
One quotation stuck me when I read Martin Luther King where he said 'our lives begin to end when we keep silent about things that matter'. I felt my life was ending because I was silent about things that matter. I called my lawyer-friend and told him to prepare my will and,  then, I had mattress and books. I told him that 'if anything happens, give my mattress to motherless babies, give my books to the University of Ilorin library'.
What motivated me really were those books that  I  read and I wondered how people were giving their lives to the struggle. I wondered how Rosa Parks refused to get up in the bus and so I found out that a lot of people had given their lives to  struggles.
I situated that within the Nigerian context and I pondered on military dictatorship in Nigeria.
I also had to  fathom the fact that we got  independence in 1960 and, by 1985, if a child was born at that time, that child would have become a man or woman; and if that man is still on diapers, there is cause for one to worry. That was how I started and then, Karl Max had said that every onlooker is either a coward or a traitor. All those things and several other things and then situating it to our own environment, it was then I saw a  leaflet with the name of Dr Beko Ransome Kuti, President, Committee for the Defence of Human Rights, and I called him on phone.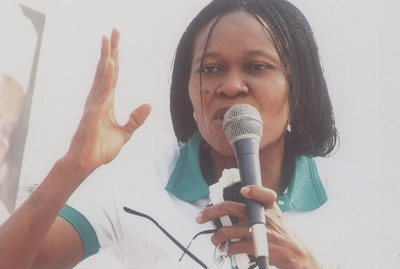 We spoke and I introduced myself,  that I was the secretary for Women in Nigeria. He said he was in Lagos and asked me if I wanted to come over and I said yes. The next day, I took off  for Lagos; when I saw him, he was packing his books and he said he had  an  appointment with the late Chief Gani Fawehinmi and that he needed to confirm from Gani if he could come with me.
He put a call through to Gani and he said I could come. That was how we went to Gani's chambers. It was the same day that I saw him (Beko), Gani and also Fela. By the time we were through with Gani, Beko was going to see Fela and he asked if I wanted to see Fela and I said I would like to see Fela. Fela, apart from Bob Marley, was another musician I loved listening to.
When I saw Fela, he asked in pidgin, 'wetin be your name? (What is your name?) I said Joe, he said 'that one no be name; wetin be your native name?'I told him Obiagali. He said  what was the meaning and I said my, 'Mind is not at rest'. Then  said a few things about Nigeria.
There were a lot of things I picked from Fela's life and  that was how I started. We had Committee for the  Defence of Human Rights in 1989, Campaign for Democracy in 1991, Institute for Human Rights and Democratic Studies but my own base was  Ilorin.
Anything that I am doing, I put 100 percent commitment to  it, and so, in terms of the struggle, I was dedicated. We took the Jehovah Witness approach and then, in Kwara State, I  started as secretary, then treasurer, deputy and then chairperson.
Batted with urine
I was in and out of detention for about 17 times. At that time, I  always liked  to go to the hottest zone each time there  was heavy protest. During the IBB time, when they were to paste posters, I came to Lagos for a meeting and I said, ' if I am in Lagos, I will follow them to paste posters at Dodan Barracks',  but Beko advised that I go back to my base in Ilorin. I went back to Ilorin but I made sure I pasted my posters at the police headquarters. We went for the pasting at 1 a.m and somebody with a bike would take us, drop us very close and then will go and take cover.
So, I pasted mine at the police headquarters but some of the security bulbs there were not functional; it was under that cover that I put starch and pasted. But, unfortunately for me that day, a police officer was talking with his colleague. The person came near where I was pasting and I had to lie still and he urinated all over my head but I was still lying down. At the end, being a tipsy person, he stepped on something and called for a torch to be brought.
The moment I heard that, I didn't know whether to run or lie down. When the person brought the torch, he thought it was a big snake as  he saw somebody lying on the ground. He flashed the torch and saw posters with Babangida's face being crossed. He said 'you have the effrontery to come to the police headquarters?'
Immediately after that, he picked me up and started beating me. The other one said, 'Why are you wasting time, kill her', but the bike man that brought us said 'don't kill her oh, we have seen you'. They poured the starch on me and the next thing I knew was that I found myself in the cell, I was already tired. When I woke up, I was covered with starch and I was like that for two days. I also recollect  what my mother was telling my father that he should have allowed me to be a nun.
My father was a top civil servant, he was serving under a military government and I was the one leading the protest. They went and ransacked his house, he was also arrested, and it was like that for sometime.
I also remember the time I swore in my life never to put on skirt. It was during one of the rallies that we had which was against Abacha in 1994. I was in Ilorin. I was in shirt and blouse and I was the one leading the protest  while I was addressing the rally, soldiers came around and I was serious beaten. My shirt was torn and I was thrown inside the gutter.
But fortunately, I saw a scarf which I tied around my waist because  my skirt had been torn and I had virtually nothing on. I was seriously beaten and, in the course of that, I sustained serious injuries, I was  kicked underneath several times. That was how they took me to the cell and I was like that for three days. That was the last time I vowed never to put on skirt.
With this robust story, how have you been able to marry activism with the home front?
If one fails in one, one has failed in all. I learnt from my mother when I was growing up. If I am going for the protest or anything, I make sure that I prepare about six different kinds of soup and keep them in the freezer just like I learnt from my mother who always went once a while  to the market.
I used to go to the market, but I put a stop to it because when anytime I get there by 10 am, people  who have problems  will come and those who appreciate me.
I will be in the market from ten in the morning to two in the afternoon and will end up buying nothing. Now, I send people to the market to help me buy things and, when I am around, I like cooking. The house must be thoroughly cleaned; the bed sheet must be thoroughly cleaned and, then, when I was growing up, I know that my dad still had time to look at my homework. I still find time to look  at  my children's homework.
Honestly, balancing the home front has not been easy because,  in those days during the military dictatorship, I had vowed that I was not going to marry except there was democracy until I met Comrade Yinka Odumakin in prison; one thing led to the other and we got married. Shortly after our marriage, there was no honeymoon. We were in a hotel in Ilorin and the manager called us that we should leave.
Why?
They said some troublesome people were in the hotel and that he did  not want to leave his job as manager. After the reception in Ilorin, we got to the hotel around 2:30 pm and, ten minutes after we got there, we decided to leave for Lagos. When we arrived Lagos, we had to leave for Pa Ajasin's burial the next day.
One thing was that in 1998, 13 months after my marriage, I was to address a press conference in Pa Abraham Adesanya's office. That  morning, I was feeling funny. We were to go to Apapa,  but,  had to go to the doctor's place. The doctor said it was labour sign and I said, ' doctor, you have to stop this labour because I have  a press conference to address'. The doctor said the labour sign was advanced labour, this was around 7:30 am.
My mother was with me in the hospital, and then, by  9:10 am, the baby came; the baby sneezed and cried. As they were cleaning the baby, I  left for Apapa to address the press conference. Nobody  knew that I had just  delivered a baby not to talk of being pregnant except my husband who was also at the press conference. Immediately after the press briefing, I returned to the hospital.
When I arrived at the hospital, my mother asked where I was and I told her that I went to address a press conference; my mother then said 'you are an extremely strong girl'. I told the doctor to discharge me because there was nothing wrong with me. That was  how we left.
Aside activism, what are your other hobbies?
I read a lot and I love watching History Channel.
There is this argument in some quarters that the death of Gani Fawehinmi, Beko Ransome Kuti, Pa Abraham Adesanya and others has really affected activism in Nigeria and has made activism to be on the decline. What is your position because many people believe that most of the ills  in the country are going unchallenged and what you people usually do now is to make noise?
Beko Ransome-Kuti was the live wire of the human rights movement, while Gani was the heart beat of the struggle. At the inception of this same struggle, there was a rallying point because we had military dictatorship. The likes of Beko and Gani went to the battle with their eyes closed and  their death has left a gap in the human rights and pro-democracy movement.
We still have some of our warriors around like Professor Wole Soyinka but, really, one of the things that have kept us down in this country  remains the convocation of a Sovereign National Conference. I know that until Beko breathed his last, he worked tirelessly for the convocation of a Sovereign National Conference. Not only him, Pa Enahoro and Gani all worked for  us to have SNC. The practical example Beko took then at the National Arts Theatre at Iganmu in 1990 which Babangida smashed, he said there were no-go areas on the issue of nationhood.
The issue is not whether Nigeria needs a Sovereign National Conference but the thing is that can we still get delegates in the midst of Boko Haram in the North, in the midst of kidnapping in the East?
The reason  some of us did not participate in politics then was that we had the feeling that the Constitution that we have is not perfect. There is nobody that will go in there that will not come out unscratched. Some activists joined politics because they felt we should not sweep the house from outside but from inside and, unfortunately, they were swept off because they campaigned for Obasanjo's third term.
Few of the activist felt they could not remain on the streets, like what happened in 1999 and, then, powerful people who had business in governance could just hijack it. If we were part of the making of governance, it is not going to be possible, but one thing you should know is that all of us cannot go into politics. The reason  some of us have not dared it is because the Constitution is totally flawed, it is not workable. Secondly, we must create an enabling environment where people can come and there will be  a  level playing ground, the electoral system should be properly strengthened; our institutions should also be properly strengthened.
Like what you just said that a lot of people just come around to make noise, one thing you should know is that activism is a very laborious task. Going out to sensitize and mobilize people is laborious. You should also realize that we do not have that central issue that brings all of us together.
There is the need for total stock-taking and change of tactics. We have always agitated for  non-violent protests, I remember a time during the struggle that over 200 people were killed, I was shot on my right leg. There is no other language than a non-violent language.
Even if Tunisians, Egyptians, Libyans did not complain in the comfort of their  homes, no matter what happens, we should not get desperate to the extent of taking up arms and ammunition.
But, by and large, we need to do a lot more, it is just like dropping a cube of sugar in the ocean; but,  historically, those who contributing positively, I am sure that history is taking note of them. We still have a few of us who are really active in the struggle.
I tell people that activism is no job.
But there are some people who believe that activists take activism as full time jobs…
Activism is no job. Anyone who engages in full-time activism means that the person has another way of survival. Being on  activist I,  realized the importance of education; right from the time I was in Ilorin, I was employed by the Teaching Service Commission, I was doing part-time lecturing at the polytechnic, I was a WAEC marker, I take part-time lesson for big shots in the society who want you come and teach their children and you are well paid at the end of the day. So, by the time  I put all of these together, it is worth it.
I prefer teaching in private universities though the public universities are good,  but I need what would give me time and I have my reasons anyway.
As I speak with you now, I am on contract with two private universities and I do a lot of local and international rapporteur and I am paid. I have lots of work I am editing, I write biographies and I make presentations so that,  at the end of the month, I know the amount that will come to me. When that amount comes, I give 60 per cent to the struggle, while I keep the rest 40 per cent. When international organizations come to Nigeria and I am called upon, I present my CV, I do their job and I go.
Can you recount how many times you have been detained and your worst experience during the struggle?
We had lots of detentions  that were not recorded,  but the one I can remember is that I have been detained about 17 times and the worst of the detention was at Alagbon. I was detained in Ilorin and I developed typhoid fever. I was detained for about three weeks, I was on treatment and my father came to sign an undertaking that I will be of good behaviour but I refused. The chairman of the Nigeria Labour Congress then, Comrade Bisi Bakare, came with my father and appealed to me and said 'he who fights and runs  away, lives to fight another day'. When my father wanted to sign, I refused and so they left.
After they left, the drip I was given was violently removed;  infact, my vein tucked up. Shortly, I saw my parents and the NLC president.
Which year was this?
It was in 1994. They took me inside a vehicle with another one behind us, we were on our way to Lagos. But on our way, after Ogbomosho, my stomach turned because the drip that was used to sustain me had been removed and I had not started eating. I told them I wanted to ease myself,  but they refused thinking I wanted to run away. They told me to ease myself in the vehicle but the driver appealed to them that they should allow me go into the bush and ease myself.
As  the vehicle stopped, I ran and they started firing but I did not care if anything hit me. I got there and relieved myself. That was how we stopped over four times before we got to Lagos. On getting to Lagos, I was pulled with the handcuffs on my hands and legs. When Chief Gani Fawehinmi saw me, he was angry and told them to remove the handcuffs on my legs and hands. That was how they took me to the cell and, in the small  cell, there were over 14 of us.
To be continued…