By Ayo Onikoyi
The nomination process continues for another week to accommodate showcasing more faces in Nollywood.  We have showcased the new faces in Nollywood for the first two weeks, now we continue with established names to make their entry into the game.
Some of these names have made it into the last top ten in previous editions of Sexiest in Nollywood. Those who have won before have been exempted to create room for others to come in and stand the chance of going all the way. However, it is important to know that with the Vanguard coupon on this page, voters are likely to win more votes for their nominees
Those Already Making Waves after two weeks of voting
Those who are making waves from last week nomination process include Uti Nwachukwu, Joseph Benjamin, Pope Odowondo, Benson Okonkwo, Anita Joseph, Tope Osoba, Queeneth Gilbert, Collete Orji, Chika Agatha, Sunkanmi Omobolanle, Damilola Adegbite, Maureen Cyril, Bobby Obodo, Amanda Ebeye, Cynthia Agholor, Ramsey Nouah, Tonto Dikeh, Stephanie Okereke, Ali Nuhu, Ebube Nwagbo, Yul Edochie and Odunlade Adekola but the big question is: will they make it all the way?The final slot is for 25 men and 25 women. So keep voting to nominate!
Benita Nzeribe
Benita Nzeribe is a popular face in Nollywood and her career has taken her places her colleagues only dream of. She is the face of  Nigerian Airspace Management Agency (NAMA) and   Ambassador of Peace of the Universal Federation of Peace (UFP), and the Youth Federation for World Peace.
Bukky Wright
Bukky Wright has been called the queen of Yoruba films, not only because of her beauty but also for her extraordinary talent she has earned her many awards. Bukky is out with another blockbuster Yoruba film 'Kani' which is selling fast.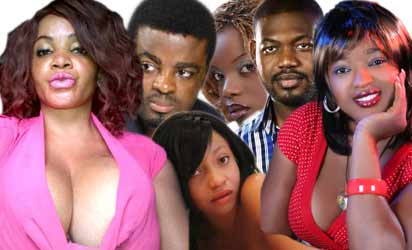 Cossy Orjiakor
Cossy may be making more headlines for her musical talent than acting. But the diva is still a good actress who would pull through any role that comes her way. She recently released her first album "Nutty Queen" which is rocking the airwaves.
Ejiro Okurame
Ejiro cut her teeth in the industry through television soaps like Hills and Valleys, Everyday People, Clinic Matters and Ashes and Love. She has been around for close to ten years and has acted in movies like Last Order, My Joy My Sorrow among others.
Empress Njamah
Empress shot into the Nollywood glare in 1995 and has since kept her groove going on since then. She has starred in many notable Nollywood blockbusters. Notable among her films are The Pastor and Harlot, When Love Dies, Angels Forever and many others.
Ernest Obi
Ernest Obi is a household name in Nollywood. As an actor and film director, he has seen the good, the bad and the ugly sides of the film industry and life itself. He started acting back in the 80s, and was on cast of the popular soap 'Fortune' and he hasn't taken off his hand in making movies since then.
Femi Brainard
Femi's call card into the industry was way back in 1997 and it was Tunji Bamishigbi's soap 'Palace' that did it. Then he tested the waters of films through 'Contractors' and the rest as they say, is easy. The recently married actor now does more Yoruba-speaking films than English-speaking.
Femi Branch
Femi Branch has been around for a while but he became a hit through playing the 'bad boy' millionaire, Oscar Lord-Williams in Dominoes. some of his films  are Married But Living Single, Smoke & Mirrors, After The Vow, Caught in the Middle,Twisted and a host of Yoruba films.
Kalu Ikeagwu
Kalu joined the Nigerian movie in 2005 and made a debut with Emem Isong's For Real, Darkest Night and Fragile Pain for which he was nominated for best upcoming actor at the 2006 AMAA.
He has gone on to feature in numerous and memorable movies and television series, where he has shown his ability to play a wide range of characters.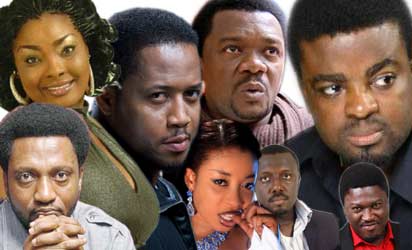 Kunle Afolayan
He is the son of the famous theater and film director and producer Ade Love.  Since his active foray into the movie industry in 2005 Kunle has only been greeted with awards. His latest films 'Figurine' and 'Phone Swap' have won many awards.
Lizzy Anjorin
Liz Anjorin is one of the glamour girls running the show in the Youba sector of the Industry. She hit stardom with her sterling role in 'Iyawo Ojokan' and she has seen featured in many high budget Yoruba films. Her work 'Kofo Tinubu' rocked the industry and won her several awards.
Mike Ezuruonye
His first movie was titled 'Broken Marriage'. He became a household name with the movie 'Critical Decision' which was not only a huge commercial success but also revealed his talent home and abroad. Though he started his professional career in December 2003, now he has over 80 movies to his credit.
Nse Ikpe-Etim
Nse shook the movie world when she was nominated for Best Actress in a Leading Role at the African Movie Academy Awards in 2009.  That was after her role in 'Reloaded', a film that shot her into super-star stardom. She has since done several hits. She got married recently to Clifford Sule
Queen Nwokoye
She came into the industry in 2004 and her first movie was a comedy titled 'Nna Meen'. She has featured in over ninety Movies which includes: Evil Queen, Heart of a slave, Millionaires widow ,Ladies men, Hurricane babes, Hottest boys and many others.
Ronke Odusanya
Known simply as Flakky Ididowo for her role in the movie 'Ididiwo' some years back. She relaunched her image again in the award-winning movie 'Jenifa' playing Beccky. She has since starred in many movies.
Rykardo Agbor
Rykardo Agbor has been in Nollywood for close to 20 years. Despite being from Cross Rivers State, Rycardo, a model cum actor acts Yoruba films and also has a number of English-speaking ones on his enviable profile.
Uche Jombo
Multiple award-winning actress/producer and Glo Ambassador has got so much to flaunt as an accomplished actress. The actress who recently married a Puerto Rican, Kenney Rodriguez, premiered her latest work 'My Life My Damage'.
Kelvin Ikedugba
Kelvin has been called the bad boy of Nollywood because of his  natural affinity for the "Bad Boy" roles which he interprets with smugness and ease. Though he started with English movies but his foray into the Yoruba genre of films has been greeted with enormous success.