By  Peter Duru & Tina Akannam, with agency report
…Blames it on lack of qualified health workers, others
MAKURDI—No fewer than 60,000 Nigerian women die annually as a result of complications in pregnancy and dearth of qualified health workers to cater for pregnant women in the country.
This was made known in Makurdi, by the Director General of National Primary Health Care Development Agency, NPHCDA, Dr. Ado Mohammed, while flagging off the scholarship scheme instituted by CapacityPlus Nigeria for 874 student Nurses, Midwifery and Community Health Extension Workers drawn from health institutions across the country.
In Jigawa State, three children were also said to have died of measles while over 240 others were reported to have been infected with the disease just as the Kano State Government said yesterday, that it recorded 800 cases of measles in 11 local government areas of the state since the outbreak of the disease last week, bringing the total cases of measles reported in the two states to 1,043 within the period.
Dr. Abubakar Labaran, the state Commissioner for Health, who spoke in Kano while fielding questions from the News Agency of Nigeria, NAN, listed the affected local government areas as Kabo, Gwale, Dala, Kumbotso, Madobi, Ungoggo, Tarauni, Karaye, Municipal, Fagge and Tsanyawa.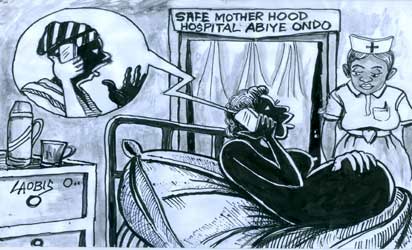 Labaran said: "The eight local government areas that made up Kano metropolis are the worst affected."
He added that the state government had taken measures to control the spread of the disease "as no death has been recorded by any of the hospitals in the state."
However, in Makurdi, Benue State, Mohammed said: "With close to 60,000 pregnant women dying annually as a result of lack of well trained personnel and complications in pregnancy, it is indeed a welcome relief to see this initiative by CapacityPlus; a USAID funded organisation, become a reality in Nigeria."
Represented by a Director in the Agency, Dr. Eric Nwanze, Mohammed noted that the  initiative would go a long way in addressing the dearth of professionals in the health sector especially in the training of nurses and midwives."
Presenting the cheques to benefiting students, Country Representative of CapacityPlus; Mr Samuel Ngobua, he said the "idea was targeted at addressing the worldwide shortage of workers in the health which has been put at 4.5 million by the World Health Organization findings.
According to him, "the scholarship and bursary award which ranges between N75,000 and N25,000 for each deserving students is also meant to economically improve their pass rate in their professional examinations.
"Its also meant to provide institional support for provision of textbooks, learning aids,and equipment for demonstration among others."
He also said that 23 states, including the  FCT, under the Benue state zone, would benefit from the scheme to increase the availability of its health workers to meet the priority health needs of their populations through sustainable and scalable human resources for health interventions outlined by CapacityPlus vision.
But in Dutse, Jigawa State, the Commissioner of Health, Dr. Tafida Abubakar who spoke with newsmen said the state proposed to immunise over 250, 000 children against measles.
Said he "the 250, 000 children of less than one year in age are targeted to be vaccinated against mussels across the state, so that they will not be infected."
He, however, further said that there were plans to also immunise people against Cerebral Spinal Meningitis, CSM, in all parts of the state because of the harsh hot weather, and reports of an outbreak of the  epidemic in neighbouring states."
Abubakar pointed out that there had been reports of outbreak of measles in some states like Kano, Katsina and Kebbi adding that two of the states are directly bordering Jigawa state, which is why we are taking precaution'
"I can confidently assure that already have enough vaccines at hand to administer to the targeted children in the state and the state government is providing free treatments to all victims of measles  infected  and Cerebral Spinal Meningitis, CSM."
He also disclosed that there are report of sporadic case of CSM in Buji local government area of the state adding that six cases have so far been recorded out of which a boy died.
He then appeal to parents in the state to take their children to health centres close to them  for the vaccinations as soon as the exercise commences.