By Ishola Balogun
Many have seen the recent Presidential pardon granted to former governor Alamieyeseigha and a few others as one of the contradictions in the country's fight against corruption.
While Nigerians convicted of  fraud are receiving long jail terms, those on the highest echelon of  power and their associates are getting presidential pardon. Anger has continued to pour  over the pardon and the polity is incensed by widespread indignation over the decision.
Of the seven Nigerians granted pardon, three of them have been particularly controversial. Again, among the three, the most talked about is that of ex-Governor D.S.P. Alamieyeseigha of Bayelsa state, who jumped bail in the UK in 2005 on money laundering charges but was later tried and convicted in Nigeria by the Economic and Financial Crimes Commission (EFCC).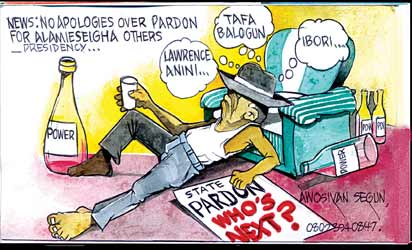 Mr Alamieyeseigha is still wanted abroad. The second is that of Major Bello Magaji, who was convicted in 1996 for sodomizing little children, while the third controversial pardon is that given to Mustapha Bulama, former Managing Director of the Bank of the North, who converted customers' deposits into personal funds, crashing what was once Nigeria's biggest bank.
Those who shared their views with Saturday Vanguard said it is disingenuous of the Jonathan's administration to grant state pardon on Alamieyeseigha bearing in mind the administration's much talked-about fight against corruption as it lessens the moral grounds in the crusade.
Former governor of Edo State, Chief John Odigie-Oyegun and a chieftain of Action Congress of Nigeria, ACN, said although nobody is questioning the right of the President to give pardon but maintained that whether it is technically right for a nation that is fighting against corruption becomes the issue.
"The president has not won any major war against corruption, this action therefore, sends the wrong message".
He opined that nobody should be under any delusion that there is any war against corruption by this administration. "There is no war against corruption that anybody can see. People were before now skeptical about what the government is doing, now they will not believe government any more especially about fighting corruption again."
But former governor of AnambraState, Chief Dr. Chukwuemeka Ezeife in his own view stated the action is in order in as much as the Presdient is trying to right the wrong of the past. He explained: "You don't fight corruption with injustice. What I have heard about the pardon must be a minority view.
"When Alamieyeseigha was a governor, there were accusations against him, he was impeached without following due process. The House of Assembly that impeached him did not even form a quorum not to talk about the required majority for impeachment. He was bundled out of office in a criminal circumstance. So, if the pardon is to obliterate the illegality of his imprisonment, of course I support it.
"How many of his co-governors were accused in that manner even when they were more guilty of the same offence in the eyes of the people? I don't know the locus standi that gave Americans  a say in this matter.
"No time is not suitable to right a wrong. People see this issue from different perspective. No doubt, we have corruption everywhere in Nigeria. My opinion is that when you are afraid of corruption, you must do justice. You can't fight corruption with injustice. You know my life is in public domain and my view about corruption is clear. The president should lead the campaign in a 'do-as-I-do' manner and other executives will follow."
On the United states reaction against the pardon, the former governor said: "How much does the US know about the impeachment of the former governor or the circumstances of his impeachment? The laws and procedures were all subverted and he is being pardoned on the basis of this not of any other offence."
On how this decision will affect the chances of the ruling party in the next election, he disclosed that before the next primary election, the stakeholders will meet with Jonathan and see if he can win, and if he can't win, we will ask him to support us. The election is going to be for Jonathan or South East.
Also reacting to the development, EnoughisEnough Nigeria group, a coalition of individuals and youth-led organizations committed to instituting a culture of good governance and public accountability in Nigeria through advocacy, activism and the mobilization of the youth population as responsible citizens called on the United States, Emirate embassies to place visa embargo on Alamieyeseigha and all Nigerians convicted of looting state funds and their family members.
The group asked that the pardon for Alamieyeseigha, Bulama & Magaji be rescinded arguing that the action will set the fight against corruption back at least a decade.
While also calling on the international community to use all possible sanctions and penalties to convey their strongest disapproval of the pardon, it warned Nigerians against chosing those who abuse political offices as leaders especially as the 2015 election draws nearer.
The group stated: "While we accept that Nigeria's history has some other controversial pardons, and that the President's action is legal, we must point out the odious message sent out by these pardons in the fight against corruption, and in the fight to institutionalise the Child's Rights Act in our country. These pardons do nothing for the President's stated fight against corruption and his repeated commitment to the rule of law. This action takes us steps back in the country's fight against corruption as it sends a strong message in support of state-sanctioned looting of public funds and abuse of power."
Reacting to Bamanga Tukur's response few days back,the Chairman of the People's Democratic Party  through its Executive Director, Yemi Adamolekun said: "If consistently pillaging the resources of a state over the course of six years is considered 'a slip', what signal does that send to our current Governors and other elected officials?"  Adamolekun maintained that Alamieyeseigha has never apologised publicly for his crime.
Rather, the former governor continued to maintain that he was set-up by former President Obasanjo, and former EFCC Chairman, Nuhu Ribadu, as a result of his opposition to Obasanjo's third term bid. "Therefore, we wonder where and when Alamieyeseigha demonstrated that his behaviour was 'a slip' as stated by Alhaji Tukur." The group added that by Tukur's reasoning, elected officials could look forward to a cycle of impunity such as "LootState funds; Forfeit some loot and keep the rest; Get a prison term (or not); Get a Presidential Pardon; Run for office and then again loot State funds.
"How can the welfare of the people which is the primary purpose of government be served if individuals elected to represent and serve the people are allowed to steal funds allocated to the people and be pardoned for it? The same Constitution also requires elected officials to declare their assets before assumption of office. Something Mr President himself said on national TV last year that he "doesn't give a damn" about. This pardon is yet another example of selective compliance with the law by the holder of the highest office in the land and this sets a very bad example."
On the issue of Mr Bulama, the group said the President should also have pardoned former bank Managing Directors who also ran their banks aground and in many instances, wiped out the hard earned savings of ordinary Nigerians.
On Major Magaji, the group queried: "in which country, ever, has a pedophile rapist been granted a state pardon? The details of Magaji's escapades are horrifying. In a more civilised environment, he would be on a sex-offenders' register, and not the recipient of a state pardon. The reality is that Magaji's pardon is far worse, and infinitely more disgusting than those granted to Messrs Bulama and Alamieyeseigha."
"There is no parent in his right mind, who would accept such a pardon for a man who lured unsuspecting children to his home, got them drunk, and then raped them brutally.
Our children are our future, and it is our duty to make it known without any doubt that they are our most precious possessions. Anyone who dares to trample on them, will be dealt with to the fullest possible extent of the law."
"In pardoning these three individuals, Mr President seems to be saying he does not give a damn about public accountability and the welfare of Nigeria's children.