By  BENJAMIN NJOKU
His quiet disposition cuts a true picture of a Priest but at the same time can easily pass for every woman's delight. He's reserved, articulate, cool  and loving. A real encounter with him only confirmed that appearance indeed is deceptive. Desmond Ovbiagele, son of one of Nigeria's celebrated columnists, Helen Ovbiagele is a chip off the old block. His innate artistic quality which lies dormant in the inside forced him  to dump his lucrative banking  job few years ago. Today, aside  the numerous movie scripts he has written, Desmond's latest movie project, 'Render to Caesar' seems to be dragging him close to his dreams which is to  fill the gap existing in the entertainment industry. This is his story…
Why are you in the entertainment business?
The entertainment business is an area I have consumed as a normal member of the public. But just some four to five years ago, I started to develop interest in not just  consuming it but also contributing  to producing entertainment as well.
Nollywood was an industry that I hadn't encountered much of its products because of  some of the qualities which are not what I would like to see in films. And I felt that if I can do it better, why can't I go out there and prove the stuff that I am made of.  That was what inspired my decision to go into  the entertainment world.
You are just debuting as a film producer?
Of course, yes.
Have you produced any film at the moment?
I just produced my first movie titled "Render to Caesar", a crime thriller. The story essentially revolves around two friends who returned home from abroad to join a special programme in the Nigeria Police as detectives and they are assigned to haunt and track down notorious criminals who wreak havoc in the city of Lagos. We just finished shooting the movie about three weeks ago in Lagos. It is a Nigerian movie with all Nigerian cast and crew. But the lead actor is a Nigerian-American, Gbenga Akingbade. He has acted in a number of TV series aboard,including "The Wire" produced by HBO TV. He has also featured in a lot of Hollywood films. He's a well established actor. This is his first Nigerian film ever.
How did you do your casting?
I did the casting myself because I wrote the script. Apart from Gbenga Akingbade, other actors that featured in the film include, Wale Ojo who played the lead role in Kunle Afolayan's "Phone Swap" and also, "The Street of Calabar" which was released in December, last year. He also featured in this  popular British  TV series called "Meet the Adebanjos". There is also Omoni Oboli who featured in Figurine and also played the lead role in "Anchor Baby." We also have Kalu Ikeagwu, Bimbo Manuel,  Dede Mabiaku,  Kehinde Bankole, and Chris Iheuwa  among others. The casting is unlike in most Nollywood productions where the actresses dominate the set. It is a bit of a muscling story .
Is there any glamour in the movie?
There is a lot of glamour in the film, even though it is a crime thriller. It's got some elements of action and even Omoni herself had to man up as she did some stuff bravely.
If you are talking about the  technicality , you are also talking about the commercial aspect of the movie. There are some popular female faces that boost the marketing of some movies?
I agree with you, but we can't have one type of movie in the industry. We must have different types of productions. I'm not trying to play to what is existing. It has its own part, but I also want to introduce  different concepts in Nollywood. I want to produce a film that both men and women can identify with. That's my mission.
You didn't study Theatre Arts, how were you able to write the script?
Yes, I didn't study Theatre Arts, but I have read a lot of books on scripting. This is not my first script,   I have written a number of other scripts. But this is the first one that I'm producing for Nigerians. It is my seventh script. I haven't produced other scripts which are big-budget films that are meant for international audience. Render to Caesar is a film that focuses on Nigeria.
Obviously, you didn't grow up in Nigeria?
I grew up in the country. I had my primary, secondary and university education in Nigeria. I attended Kings College, Lagos, as well as  University of Lagos. I have been here all my life.
How were you able to contact some of the big names you featured in the movie?
I had met Omoni Oboli and her husband at a social function. I have also watched some of her films  and  I was impressed with her acting prowess.  When I was through with the script, she was my first  choice in terms of female-lead. I also met Wale Ojo at a social circuit where I approached him to be part of the cast. But Gbenga Akingbade was someone who joined the production lately  because I  had already casted another Nigerian actor, who unfortunately pulled out at the very last minute.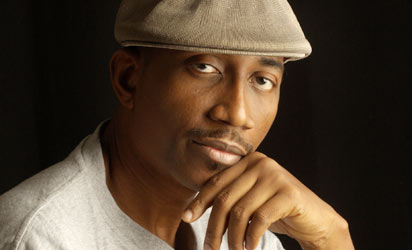 We were left to scramble  for a lead actor. It was suggested that we should approach Gbenga Akingbade  who is still based abroad and at that time, he was shooting a TV series. We approached his agent and negotiated with him for a while before he finally came on board. He had been looking forward to doing a project in Nigeria. So, when he read the script, he was happy and was very much willing to be part of the production.
What's the budget like?
The budget was about N100 million.
Did you approach  the Bank of Industry or NEXIM bank for funding?
I tried  to approach the banks but I couldn't succeed in getting the level of support I wanted from them.
What happened?
The bane of film industry in terms of raising fund is collateral.  What the film industry needs is  specialized funds which take into cognizance what the film makers have to offer in terms of collateral and security. This is because film makers don't actually  have access to that kind of collateral that banks are used to. So, what we are looking for is a fund that takes into consideration, the copyright in the film or whatever work you are producing as adequate security. But what  confronts us in most cases is that when we approach these organizations, they want collateral and security  beyond one's copyright in the film. And many film makers cannot afford to provide such collateral, thus  making that channel of financing to be closed to 99.9%.
Do you think the movie has what it takes to become 'a must watch', considering the interest of  Nigerian movie buffs who are addicted to watching certain popular faces on screen?
I'd hope so. We have done our best to raise the standard  in terms of  the plot, casting, crew and we have the Director of Photography who flew   into the country from Canada to shoot the film. And it wasn't as if we don't  have the manpower  here but because I have a desire to cross boundaries and not just to shoot a film in Nigeria. I want to shoot a film that meets international standard.  That's why I went the extra mile to ensure that I  produced a film that will make Nigerians proud and also to say that  this is our movie, it is our Nigerian film.
So, when is the film hitting the cinemas?
We are aiming at late April or early May although, post-production of the film is on-going in Toronto.  Hopefully,  that will be done in the next three months. We are planning to premiere  the film in Nigeria, Accra, South Africa, London, New York,  Toronto and other parts of the world.
For the first time you are doing movie in Nigeria, what are your experiences?
We have very experienced practitioners not just in the actors and actresses, but the crew as well. All the equipment you need to shoot an international films are all available here in Nigeria. Our crew who came in from abroad were extremely surprise at the quality of the equipment they saw in the country.   Before their arrival,they were concerned about laying their hands on quality equipment  here.
However, they were overwhelmed by the kind of equipment that are  availability in the country. That was an eye-opener for them as well as myself. I was so happy that all the equipment we needed were found here in the country. The only problem confronting us is  the quality of our writing. Our scripts need to be tighter and something that meet the international standard. As for our actors/actresses, they should know that no one is above learning new things.
Have you acted before?
No, I  know there are people who can act better than myself. So, I want to stick to what I know how to do best. I feel like I can write and also, I feel I can produce movies.
Why did you decide to take a different path in life?
I like to align myself to where I feel I have the strongest passion.  I started working in the banking sector in 1995. If I  were still a banker, I would have put in 18 years in the industry this year.  I felt there were some aspects of what I thought I could do that was not developing in the banking sector.  So, I felt I wanted to explore that. But  I was still not ruling out doing things that are related to rendering financial service. Indeed, I still have my financial firm which I still operate till date. But entertainment is  a key focus area for me right now. I want to explore the potentials of showbiz.
Would you like to go into writing like your mother?
I am already writing. I never taught I could write well today because I never had any passion for writing. But like I said earlier, about four years ago, I started feeling the urge to go into the entertainment industry to fill up whatever gap that exists there. I said to myself, if  there were some gaps in the industry that needed to be filled, why can't I  sit down and put things together.  I started having the feeling of becoming a contributor to the entertainment industry.
Are you married?
I am still single.
What kind of woman do you want, a virgin?
Who told that?
Do you think there are still virgins?
Definitely, they may not be hanging on the trees. I know if you search intensely enough, you may find one. I still believe there are virtuous women who have kept themselves.
Have you really given out your time to look for one?
Of course,  I have received a few close  calls. Just a normal journey of a young man. But I wouldn't say more than this.
How was your childhood ?
I  feel I am privileged in terms of the early exposure I had in life and some of the good schools I was privileged to attend. I am not from a very rich family, but a middle class one. Certainly, I was not like someone who was traveling every year. To some extent, I suffered like every other Nigerian in terms of  lack of basic social amenities;  irregular power supply, and so many other things. I think it has also helped me in terms of my writing because, I am not writing from the perspective of someone who has just returned from abroad. I write like someone who has lived in Nigeria and went through all the fuel crises, NLC, PENGASSAN and all those agitations for a better living. These informed  some of my experiences in Nigeria.
Did you travel abroad after your education in Nigeria?
Yes I did. That was in 1998. I was out of the country between 1998 and 2000. I came back and joined the banking industry. I worked in Citizen bank.