Seme, Idi'roko Borders: Nigeria has no border here, Interior Minister, Abba Moro, laments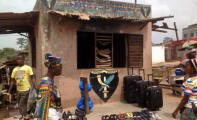 Abba Moro simply stood there, ramrod, hands akimbo, mouth opened wide. Mind you, he is Nigeria's Internal Affairs Minister.The sight was shocking; even to him. Welcome to Seme, Nigeria's notorious border point to the West. The same thing replicates itself at the Idi'roko Border post.
The scenario simply reinforces the claim that Nigeria's borders are porous.
Chaos rules! Traders carry out their activities in such a manner that you cannot tell when you have crossed the border. Observing the activities at the border, in fact, you may be on the Nigerian side and be haggling with a trader on the Benin Republic side.
You can buy any item of your choice ranging from rice to vegetable oil, household items, etc, with either the Naira or Cefa, currencies used in Nigeria and Benin Republic, respectively.