BY HENRY UMORU
ABUJA—THE Presidency Monday reacted to comment by elder statesman and former Secretary General of Ohaneze, Prof. Ben Nwabueze describing Nigeria as a failed state, saying it was a gross act of unpatriotism
According to the Presidency, as elder statesman, he should be abreast with facts that indices in the country do not in any way suggest that Nigeria was a failed state or has anything that was close to that assertion.
Prof Ben Nwabueze who spoke, weekend, in Enugu at the 14th annual convention of the of the Igbo Youth Movement, IYM, said that Nigeria was becoming a failed state.
Reacting to Nwabueze's comments,  the Senior Special Assistant to the President on Public Affairs, Dr.  Doyin Okupe said, "A failed state is where there is erosion of legitimate authority, where there is instability and the country cannot afford to provide public services like the provision of light, good roads, water supply and security services.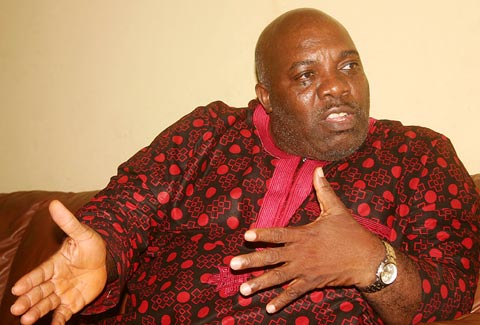 "In Nigeria, there is a serving National and States' Assemblies, providing quality legislative services and issuing out good and quality legitimate legislature for the good governance of the country and the states".
Meanwhile, the  Special Adviser to  the National Chairman of the Peoples Democratic Party, PDP, on governors and governance,  Osaro Onaiwu has described as unpatriotic, the recent statements credited to some eminent Nigerians that Nigeria was becoming a failed state.
Onaiwu who  lamented that while nationals of other countries find ways to prop up their countries, Nigerians were in the habit of running down their country.
Speaking further, Okupe said, "There are guarantee laws and services in Nigeria, even in states of Borno and Yobe where there are security challenges like the Boko Haram. Even today, Nigeria is providing security services to Mali.
" All these have not suggested any iota of failed state. They are dreaming negative dreams for the country and it will not happen.
" There of the indices of failed state is applicable to Nigeria. There is no breakdown of law and order in Nigeria".
Speaking further, Tukur's aide noted that  this was even more disturbing, knowing that some of these statements were coming from elders who contributed to the decimation of Nigeria during their service to various undemocratic regimes in the past.
Onaiwu. "Now  that our democracy is displaying stability even in its infancy, these statesmen should be thankful to this government for tackling some of the fundamental problems that were thrown at us by regimes that were not accountable to anybody. Problems that we all know cannot be solved overnight."
According to him,  whether Nigeria was a failing state or not was  to look at the Foreign Direct Investment which he said is already over $9 Billion which is the largest in Africa, adding,  "I doubt if all these foreigners pumping money into our country think Nigeria is a failing state.".
He called on those who declared that Nigeria was  failing state to visit states like Akwa Ibom, Lagos, Jigawa, Edo, Kano, Gombe and others that are working hard to bring development to their people and see if the people of these states will agree that we are a failing state.