By SIMON EBEGBULEM
BENIN — GOVERNOR Adams Oshiomhole of Edo State, yesterday, said Nigeria needs a revolutionary agenda to fix its problems and urged journalists to continue to probe the activities of those in power.
He said: "What Nigeria needs is a revolutionary agenda because the level of decay in our society and the dysfunction in our society is immense. The gap between where we ought to be and where we are is such that we can't make up through ordinary reforms. We need a radical strategy to make up for lost ground. We are in trouble, we need to sit up to meet those who have started working while we were sleeping."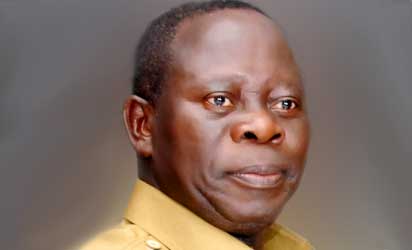 Oshiomhole, who spoke when the new leadership of Nigeria Union of Journalists, NUJ, in Edo State, led by Mr. Desmond Agbama, paid him a courtesy visit, said: "The Nigerian media has taken a position over the years against sit-tight leaders; African leaders, who seek to perpetrate themselves in office, who have behaved like emperors. The Nigerian media is easily one of the freest and most vibrant in African."
Recalling the crisis that engulfed the Edo NUJ before the election of the current executive, Oshiomhole described same as  embarrassing because, "you had leaders who were reluctant to vacate office. People must recognise that the honour of leading a voluntary association exists when you are freely chosen to lead and that when you are asked to vacate, no one should give you excuses. That is the beauty of democracy, there is time to come, and time to go.
"Journalists must continue to lead by example. We need associations, we need groups to organise and mobilise, so that you can interrogate those in power and ensure that democracy is on. Today, the Ghanaians are asking Nigerians to go home. When we were at our best, we said, 'Ghana must go' and they went, and they fixed their politics."