BY OKEY NDIRIBE & EMMAN OVUAKPORIE
ABUJA—160 members of the opposition in the House of Representatives Thursday threatened that the House will not hesitate to over ride the President's veto if he does not endorse the 2013 budget.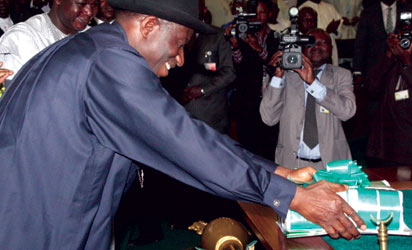 The opposition members who held first meeting as members of the newly formed All Progressives Congress, APC, also declared that the emergence of APC has sent jitters into the camp of the ruling Peoples Democratic Party, PDP.
Speaking at a briefing, the Minority Leader of the House, Femi Gbajabiamila  said: "The president should no longer delay the 2013 budget because we are already in February or else we will over ride his presidential veto."
The Minority Leader explained further that "we call on Mr President to very quickly sign the 2013 budget and we will work with him on this if there are genuine grey areas.
"We are already in February and a situation where the legislature will have to over ride his presidential veto as constitutionally provided is not a good way to start the year or foster a good legislative-executive relationship.
"We also ask that Mr President begins to respect official resolutions from an equal arm of government as these resolutions are always in national interest".