By JONAH NWOKPOKU & WILLIAM JIMOH
Increased patronage of rail services by Nigerians coupled with limited and poor service delivery by railway attendants and the Nigerian Railway Corporation, NRC officials, have led to touting at the Iddo railway terminus, Vanguard investigation revealed.
Following the taking off of the sixth trip of the Lagos to Kano train, a huge crowd was recorded at the terminus, giving opportunity for touts to do brisk business
As a result of the huge crowd, the ticket queue stretched past the ticketing office and those who could not wait or struggle in the line had to patronise the touts, paying additional N50 or N100 on the original cost to get a ticket for the ride.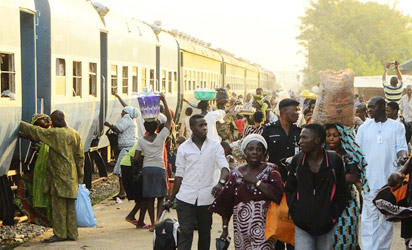 Investigations revealed that the Lagos to Kano ticket that cost N1,950 became N2,000 in the hands of the touts who had smooth access to the ticketing office. The touts did not have to get into the ticket line.
When confronted, an official of the station who preferred anonymity admitted that there were touts before but that they had been dealt with and no longer operate.
According to him, the station management had used the security operatives to scare them away.
"We used to have people come in here to do such business but we have used the police to stop them."
When he was presented with evidences of those who got the touts' tickets, the official said he was not aware of that and that the management will look for a new way to deal with them.
"You see, this is a railway station. A lot of things go on here unnoticed. We are not aware of any activities of the racketeers, but I can assure you that the authority would fashion out a new way to handle them." He said.
However, some of the passengers who expressed dissatisfaction with the disorderly arrangement at the ticketing office also complained about the disrespectful manner with which passengers are treated.
According to Utman Sanusi, a senior civil servant, who was making her second trip on the inter city train route, "I was there to buy my ticket and when I asked the attendants how much they were selling the ticket, the man there told me I should go to the board, whereas, it is not written bold enough to let a first time passenger see. They should not think that it is only the low class persons that are there. Let them treat the passengers with respect regardless of their status."
Government's effort to rehabilitate the railway has produced an alternative means of transportation for millions of Nigerians who hitherto relied on road transport.
However, with limited infrastructure, the Nigeria railway corporation has been battling to deal with the surge in human traffic.