BY EMMA AMAIZE, UDUMA KALU, JIMOH BABATUNDE, SAMUEL & OYADONGHA, with agency reports
LAGOS—A South African court yesterday convicted Henry Okah of 13 terrorism charges, including conspiracy to commit terrorism and bombings that killed 12 people in Abuja on October 1, 2010.
"I have come to the conclusion that the state proved beyond reasonable doubt the guilt of the accused," said Judge Nels Claassen, while handing down the verdict in the South Gauteng High Court.
The South African court, which tried Okah under counter-terrorism laws that cover crimes committed outside the country, is due to sentence him on January 30.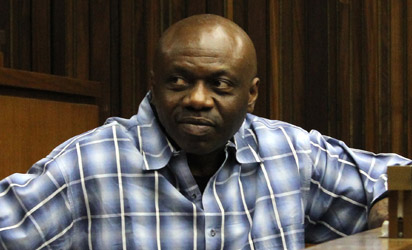 Prosecutor Shaun Abrahams told AP news agency that Okah faced life in prison. South Africa worked closely with foreign law enforcement agencies "to make sure justice is done in Africa. This [conviction] is clearly indicative that South Africa cannot be seen as a safe haven for international terrorists," he said.
Okah was found guilty of masterminding attacks including twin-car bombings that killed 12 people in Abuja on Independence Day in 2010 and two explosions in March 2010 in the southern Nigerian city of Warri, a major hub of the oil-rich Delta region.
The Movement for the Emancipation of the Niger Delta (MEND), a group fighting for a greater share of the Delta oil wealth, claimed responsibility for the attacks.
Okah denied involvement in the blasts and said the charges were politically motivated.
He also denied leading MEND, but had said he sympathised with their goals,moved to South Africa after Nigeria issued an amnesty for MEND members in 2009, lifting charges of gun-running and treason against him.
However the South African court found Okah was the leader of the movement after uncovering documentary evidence including his wife's handwritten notes.
The verdict elicited mixed reactions across Nigeria yesterday. While some hailed the verdict, others said Okah had been made a scapegoat. Yet another group of people from Okah's militancy constituency kept mute. Okah's counsel in Nigeria, Mr Femi Falana, SAN, when contacted on Okah's conviction, declined comments.
It's a good verdict – DSS
"This conviction is a warning that there is no hiding place for terrorists," Marilyn Ogar, spokeswoman of Nigeria's Department of Secret Service,  DSS, said by telephone. "Wherever you are, the law will catch up with you, as it has with Henry Okah."
MEND's attacks on oilfields and pipelines across the swampy region that is home to Africa's biggest oil and gas industry cost Nigeria $1 billion a month in lost revenues at its peak, according to the Central Bank of Nigeria.
Okah was not given opportunity to defend himself – Keyamo
Mr Festus Keyamo, counsel to Charles Okah, a brother to Henry Okah, picked holes in the ruling.
In a statement, he said: "As counsel to Charles Okah and others who are facing the same set of charges under Nigerian laws, I have been actively involved in coordinating the trials both in South Africa and in Nigeria.
The fundamental flaw in the trial is that Henry Okah was not given adequate facilities and the opportunity to defend himself.  This is because after the prosecution closed its case in South Africa, the defence attorneys and my Chambers here in Abuja, tried frantically to summon the witnesses of Henry Okah who are based here in Nigeria to testify on his behalf. These witnesses include some government officials.
"In this regard, we wrote to the Attorney-General of the Federation who replied and directed that Henry's counsel in South Africa apply to the court there for an order to secure the legal assistance of the Attorney-General of Nigeria. This was only two weeks ago (please, find attached a copy of the letter from the Attorney-General of the Federation to my office and note that the date on the letter was mistakenly given as 8th January, 2012 instead of 2013.)
"Without giving Henry's counsel in South Africa adequate time and facilities to follow the directives, the South African court foreclosed his opportunity to call witnesses and rushed to convict him. This is a breach of his fundamental right to fair hearing and an obvious attempt by the South African authorities to please Nigeria at all cost. That is why the judgment is nothing but political.
"Whilst all Nigerians empathise with those who lost their lives and limbs in the October 1, 2010 bombing, it is wrong to convict anybody for it without due process. Henry has been convicted without due process.
I condemn this judgment and call on Nigerians and the international community to condemn the trial and judgment of Henry Okah whose only offence was his refusal to accept the so-called amnesty offered by the Yar'Adua-Jonathan administration and his insistence on the Niger-Delta controlling its resources.
"With the recent condemnation of Jonathan by some militants who initially accepted the amnesty programme, I am sure they now know that Henry Okah was correct not to have accepted the poisoned chalice called amnesty.
The Nigerian government must immediately use all diplomatic efforts to ensure that Henry Okah does not die in a South African prison and for the South African government to grant him unconditional pardon. This is without prejudice to his right to appeal against the judgment."
Verdict indicts Nigerian courts— HURIWA
Reacting to the conviction, Human Rights Writers' Association of Nigeria [HURIWA] said "Nigeria's court system has come under increasing exposure for incompetence, compromise and criminal collusion even as different high profile cases of terrorism, economic crimes involving the theft of several billions of public fund by serving and former public office holders in have consistently been adjourned or dismissed for lack of diligent prosecution by officials of the Nigeria Police Force, the Office of the Attorney General and the extremely snail speed judicial procedural process that has constituted a cog in the delivery of justice in Nigeria over the years.
Ex-militant leaders keep mute
Some ex-militant leaders and activists contacted on the conviction of Henry Okah by a South African court pleaded that they would not want to make comments or be mentioned on the matter.
According to one of them, "Henry Okah is one of us, only that he is an extremist to the core and did not want to subject himself to the views of others. But he played his role in the Niger-Delta struggle and all of us have tremendous respect for him.
"The truth is that most of us disagreed with his modus operandi for the struggle, not that he is not a prominent leader of the struggle", he asserted
However, a Niger-Delta activist from Delta state, Comrade Paul Bebenimibo, told Vanguard, "I  sympathize with him on the conviction. He is a human being like me and there is no way I will not sympathize with him in a matter like this.
"All the same, it is a legal issue and I am a layman in such a matter, if he has been found guilty, there is nothing one can do about it.
"My appeal is that the court should reduce the sentence so that he can come out alive and re-unite with his family and friends. I
"It is unfortunate that now that the Amnesty Programme is consolidating the peace in Niger-Delta, one of us is convicted , instead of being part  of the new-found peace in the region", he added.
It's conspiracy – CLO, Nengi James
However, Civil Liberties Organisation, CLO, in Bayelsa State, home state of Henry Okah, yesterday described Okah's conviction  as a conspiracy sponsored by the Nigerian Government.
State Chairman of CLO, Chief Nengi James and the immediate past Secretary of the group, Mr Alagoa Morris, said though the charges and indictment of terrorism against Okah did not mean the case had ended, adding that the arrest, detention, trial and indictment bore the signature of the Nigerian Government under the administration of Goodluck Jonathan.
"The bombing of the UN building and force headquarters in Abuja as well as several violent attacks on churches in Northern part of the country were classical examples of terrorist attacks which the Federal Government had not bothered to unravel. Though he (Okah) was found guilty,  I enjoin his counsel to appeal against the case, because as far as the matter at hand is, it is far from over."
Okah's travails
Okah was arrested on gun-running charges in Angola in 2007 and then transferred to Nigeria but never convicted.
He was released after two years under an amnesty for oil militants and he returned to South Africa, where he had lived since 2003.
MEND says it is fighting so that more of Nigeria's massive oil wealth is used to benefit the Niger Delta area which produces the oil.
The violence subsided significantly after the government offered militants an amnesty in 2009.
At its peak, the instability in the Niger Delta cost Nigeria about $1bn (£630m) in lost revenue, Reuters news agency quotes the Central Bank of Nigeria, CBN, as saying.Journey to Prison
Henry Okah first appeared at the South Gauteng High Court, South Africa October 1, 2012. He was arrested for  the twin car bombings which killed 12 people in Abuja on October 1, 2010.
The bombs exploded on October 1, 2010, when Nigeria celebrated  her  50th independence anniversary. Eight people were killed in the explosion that rocked Abuja.
The explosions came an hour after the main militant group in the oil-rich southern delta, the Movement for the Emancipation of the Niger Delta (MEND), threatened in an email to attack the festivities and warned people to evacuate the area.
Okah, who had denied involvement in the attacks, which were claimed by MEND, and also denied being the leader of the group which is fighting for a greater share of the Delta region's oil wealth, was linked with the bombing.
Despite MEND denial, Okah who had come into national and international consciousness with the body said he was arrested because he refused to tell the group to retract a statement claiming responsibility for the deadly attacks in Abuja.
He told Al Jazeera that he received a phone call from a "close associate" of Goodluck Jonathan telling him to urge the Movement for the Emancipation of the Niger Delta (MEND) to withdraw its claim for the bombings, which killed at least 10 people and left 36 others injured on the 50th anniversary of Nigeria's independence.
"On Saturday morning, just a day after the attack, a very close associate of President Jonathan called me and explained to me that there had been a bombing in Nigeria and that President Jonathan wanted me to reach out to the group, MEND, and get them to retract the earlier statement they had issued claiming the attacks," Okah said.
"They wanted to blame the attacks on northerners who are trying to fight against him (Jonathan) to come back as president and if this was done, I was not going to have any problems with the South African government.
"I declined to do this and a few hours later I was arrested. It was based on their belief that I was going to do that that Jonathan issued a statement saying that MEND did not carry out the attack."
Henry was arrested in February 2008 while in Angola to purchase arms and equipment.
Overhaul Nigeria's judicial system — NBA
The Ikeja branch of the Nigerian Bar Association, NBA, yesterday called for the overhauling of Nigeria's justice system in order to ensure speedy dispensation of criminal cases in the country.
Chairman of the association, Onyekachi Ubani, made the call while reacting to the conviction of Nigerian militant leader, Henry Okah, by a South African Court, for acts of terrorism.
"This shows that there is something fundamentally wrong with our criminal justice system and it needs to be overhauled", Ubani said.
He said had Mr. Okah been charged for the offence in Nigeria, the matter would not have got  to conviction stage by now.
"His brother (Charles) and some other persons were arrested and arraigned for the same offence in Nigeria but the matter is still proceeding at a very slow pace.
"We have a lot of agencies responsible for combating terrorism in Nigeria, but these agencies need to brace up to their duties.
"We should not allow terrorists to take over our country and the only way to do that is to bring the perpetrators to justice," he said.