BY NKIRUKA NNOROM
The Nigerian Stock Exchange (NSE), Friday, admitted  N6.23 billion shares of UBA Capital Plc and Africa Prudential Registrars Plc in its daily official list.
The two companies, which were listed in Other Financial Services sector, were spun-off from United Bank for Africa (UBA) Plc Group in line with the directive of the Central Bank of Nigeria (CBN).
Specifically, a total of four billion shares of UBA Capital Plc, amounting to N4.64 billion were listed at N1.16, while one billion shares of Africa Prudential Registrars Plc, which also amounted to N1.59 billion, were listed at N1.59 per share.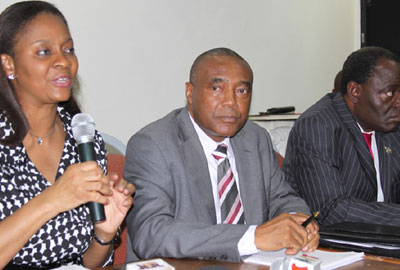 The historic listings of the two firms simultaneously on the NSE is sequel to the adoption of a monoline commercial banking structure by UBA Plc, as approved by shareholders on Thursday, December 13, 2012 which authorised the divestment and spin-off of non-commercial banking businesses of the UBA Group.
The CEO of the NSE, Mr. Oscar Onyema described the listings of the two companies as a milestone in the history of the Nigerian capital market, noting that it is coming at the right time especially now that Exchange is enjoying confidence of both local and foreign investors.
Speaking at the listing, the duo of Mr. Rasheed Olaoluwa, Group CEO, UBA Capital and Mr. Peter Ashade, Managing Director/CEO, African Prudential Registrar, explained that besides achieving compliance with the directive of the CBN, the shareholders of UBAC and APR, who are also the shareholders of UBA Plc, would derive significant benefit from having the separate businesses focus firmly on their core expertise.
Mr. Rasheed Olaoluwa alluded to the potential synergy that would be derived from the component businesses of UBA Capital which are investment banking, trusteeship, asset management, insurance and stock brokerage. He said, "Our overall strategic intent is to build our various subsidiary businesses to be leaders in their respective markets. We believe this can be achieved over the next three to five years."
He affirmed that UBAC would build on its strong, diversified platform to drive further growth and achieve impressive and consistent returns to its shareholders.
Also speaking, Mr. Peter Ashade, the MD/CEO, Africa Prudential Registrar affirmed that the firm links technology to the attainment of its strategic objectives and is one of the market leaders in its industry in Nigeria.
"The company is one of the most profitable in the industry having achieved 100 percent increase in profit before tax between 2010 and 2011, a performance which it expects to surpass in 2012. Our Return on Equity (ROE) continues to improve year-on-year, a clear indication that management is focused on extracting value from resources and enhancing returns for shareholders"
"The company has been a pacesetter in the infusion of technology to the conventional share registration business model. We were the first outfit in our niche to deploy an e-stock software application in Nigeria. We have also succeeded in compressing the time and space of doing our business through an appropriate blend of technological innovations.
In 2007, for instance, it became possible for our shareholders, stockbrokers and other clients to interact with the system, while monitoring their portfolios from remote location," he added.
Subscribe for latest Videos