By  Ebele Orakpo
Mr. Israel Ajide is the  Managing Director of Gudugba, Ifo, Ogun State-based Vigour Farms, an outfit that is into livestock production. In this chat with Financial Vanguard, the 2008 Microbiology graduate of the University of Ilorin, said he was motivated to go into the business because of his passion for livestock production among other things. Excerpts:
In 2008 when he left the university, Mr. Ajide went for his mandatory one year service to the nation between 2008 and 2009 in Kastina State as a biology teacher in Government Senior Secondary School Rimi, Rimi Local Government Area.
Between 2010 and 2011, he served as an Administrative Associate at Health Benefit Limited – Cancer Clinics and in January 2012, he decided to follow his passion.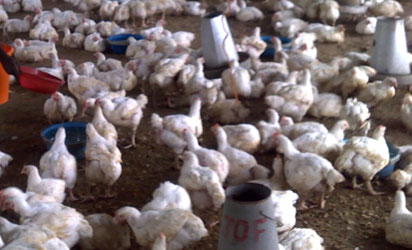 Motivation:
According to Ajide who had his secondary education at the Command Secondary School, Kaduna in Kaduna State, apart from his passion for livestock production, "I was also motivated by the need to create employment for myself and the increasing population of unemployed youths, and the need to contribute to food production in the country so as to reduce the level of malnutrition posed by food crisis," he said.
Initial capital:
He said he started the business with N250,000 which he raised from his house rent.
"My start-up capital was N250,000. I raised the cash from my house rent. I had paid about N300,000 to rent a room self-contained apartment in Lagos for two years.
After spending about three months in the house, the inspiration to go into farming came so I decided to move to a suburb town called Ifo to start the farm with the refund
I got from my remaining rent. It was N110,000 per year for two years plus agreement and agency fees," he said.
"My boss at Health Benefit Limited, Dr. Obinna Nwaneri, was very helpful at every point. He kept paying me monthly salary for about three months after I stopped working with him fully to go into farming."
Continuing, Ajide said; "This was used to secure the poultry pen and 250 day-old chicks plus the feed to feed them to the point of laying eggs.
I am into poultry and pork production.
"We diversified into pork production when the birds started laying eggs. In the poultry, we raise layers for egg production; we also raise cockerels and broilers for meat production, but this we do during festive periods alone.  size.
"In our piggery, we have more of male pigs known as boar. This is because of the highly prolific nature of pigs and due to our limited space, we do not want to stock too many female pigs," he stated.
Cost of products:
"We sell a crate of eggs for N650, while our birds go for between N1,500 and N1,800 per bird depending on the size."
In a bid to grow fast, Ajide teamed up with a friend of his. He said; "Along the line, I had to bring in a friend on board for the project to grow fast. His name is Akintolami Adeleye, we both graduated from the same university. We needed to grow so we had to join forces to expand."
Challenges:
On the challenges they face in the business, Ajide who presently has four employees comprising a farm manager, two farm attendants, and a security man, mentioned inadequate infrastructure like good roads linking the farm and market, electricity for cold rooms, inadequate space due to the cost of acquiring land, lack of agricultural loans and subsidy as some of the challenges.
He, however, noted that despite the challenges, "the business is very lucrative provided you pay attention to details and you have a good management."
Asked where he wants to see the business in the next five to ten years, he said; "In five-ten years from now, we want to be able to feed the nation (Nigeria), by leveraging on our youthful strength and intellectual abilities in tackling the problem of food crisis," he said.