By Emma Arubi
WARRI—THE Provost, College of  Medicine, Delta State University, Abraka, Prof. John Obodo, has stated that  diabetes and hypertension has been identified as the most silent deadliest diseases on the rise in Nigeria  with about 10 – 15 cases being reported daily.
Professor  Obodo said this in Warri, while delivering a lecture titled "Combating Diabetics and Hypertension" during the 2012 Annual Dinner/Lecture of Urhobo College Old Students Association, UCOSA, Warri branch at the Chevron Recreation Club, Warri.
Obodo who lamented that the number of diabetes and hypertension cases are still on the rise in Nigeria added that some are not detected on time while others are not adequately treated.
The University Don said about 675 million people in the world are diabetic patients, adding that 80% of these people are low and medium income earners.
While adding that the risk of dying from diabetics has doubled recently, Prof Obodo stressed that diabetics is the root cause of most kidney failures, weight lose, impotency, blurred vision, infertility, large babies (in the case of pregnant women) and coma, warning that researches have shown in recent time that there are also increase cases of childhood diabetics, a situation he said is worrisome because, according to him, diabetics is a life long ailment.
In the case of hypertension, Prof. Obodo said that the disease is a silent killer because in most cases it is not discovered on time while some are not discovered at all, adding that because of its silent nature it has resulted in high number of deaths.
According to him, hypertension which can be caused by excessive salt intake or hereditary are the root causes of high blood pressure, stroke and kidney failure in the society.
To curb and prevent these two deadly diseases, he called on all Nigerians to modify their lifestyle and prioritize their health issues by regularly going for proper medical check ups.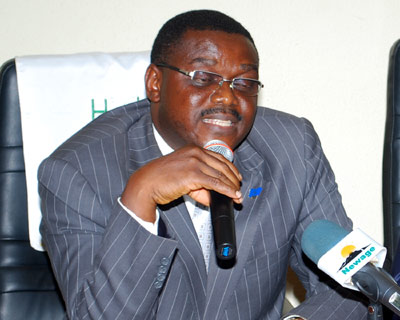 "To curb and prevent diabetics and hypertension there has to be a modification of your lifestyle. You also have to prioritize your health issues and this is very important. Always go for proper medical care. You also have to eat balance diet and this is very important. Discipline in diet is very important in curbing diabetics."
He also encouraged people to have regular exercise, adding that Nigerians are not in the habit of having regular exercise, a situation he said, should be encouraged.
He therefore, called on government at all level to provide recreational facilities for the populace, adding that by so doing it will help in encouraging its people to live a healthy lifestyle which will in turn lead to a more productive people.
While saying that though diabetics and hypertension are life-long diseases, humans can live a well and long life if the diseases are adequately managed by the use of appropriate drugs, regularly checking your blood pressure, glucose level and body mass index.
Earlier, the Chairman of the occasion, Engr. Mike Orugbo called on the state government to reposition Urhobo College to its glorious position before handing it over to the Urhobo Political Union (UPU), the original owners of the school.