By CALEB AYANSINA
ABUJA — COALITION of Civil Society Organisations, CSOs, has called on Nigerians to prepare for a nationwide rally to enforce the N97 official price of the Premium Motor Spirit, PMS, (petrol) as declared by the Federal Government in 2012.
The coalition said since government thrived on lies, people should not believe promise of a better tomorrow recently made by President Goodluck Jonathan as the same promise had become a refrain on the lips of past administrations since independence, without positive change.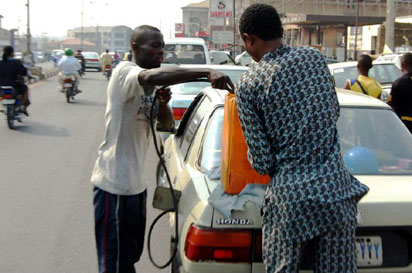 The group comprises United Action for Democracy, UAD; Movement for Accountability and Good Governance; Enough is Enough Nigeria, EiE, and End Impunity Now, EIN, Campaign.
Speaking in Abuja at a press conference to mark one year anniversary of subsidy protest, the coalition said this year's protest will be devoid of sentiment as might be alleged by government, when it kick-off.
Mr. Jaye Gaskia, who spoke for the group, said CSO was not looking for favour from anybody or group(s), noting that it was strongly against the systemic corruption and impunity that had become the defining character of governance that impoverished 70 percent of Nigerians.
He said: "There have been numerous probes and reports, yet no indicted persons or institutions as the judiciary continues to play games with the law. It is inconceivable that such a massive scale of proven corruption undertaken by private and public sector players continues unabated.
"N97 per litre price of PMS was a major (even if partial) gain of the January uprising; yet this price is virtually being observed in the breach.
"In outlets across the country, PMS is being sold at more than N120 per litre or in even more exorbitantly in black markets supplied by oil marketers.
"In the face of the manifest inability and unwillingness of the government to enforce its own decision, we urge all Nigerians to take collective citizen action to enforce the N97 per litre price."
and prevent hoarding of the product by marketers.
"Thus as we enter into the period of the first anniversary of our collective fury, with all the issues that have emerged; with the revelations about the actual scale and scope of corruption and rot in the system, it behooves on us, Nigerian citizens, the victims of this grand theft and treasury looting, to remind our ruling elite that it will not be business as usual."
The coalition called on the National Human Rights Commission, NHRC, and other human rights groups to urgently take up cases of those who lost their lives to state brutality to ensure that justice was done and compensation paid to their families as required by law.