By LAJU ARENYEKA &  ANOZIE EGOLE
Sultry Nollywood actress, Benita Nzeribe has said that she refuses to believe evil prophecy that the angel of death is at work in Nollywood because of the recent deaths in the industry.
Speaking to HVP recently, Benita said, "I don't know why people get too pessimistic about such things. People are saying that a lot of people in Nollywood are dying. A lot of bankers are dying too. It's not narrowed down to Nollywood alone. It is the way God has willed it; If God did not allow it, it wouldn't happen."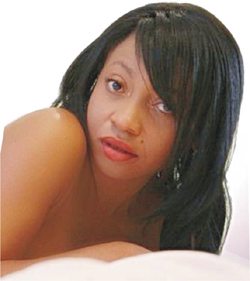 Benita was reacting to the recent prophesy that there would be more deaths in Nollywood this year.
According to her, "I say no those people who say that the angel of death is upon Nollywood. Such an angel has not seen Nollywood, it does not have our address and it will never see us. I am passionate about it, and I reject that. I will not believe in the idea that the angel of death visited us. I don't like to hear that."
On what she has been up to in recent times, the  fair-skinned actress disclosed that she took a break for about a year to take care of a lot of things, including her NGO, adding that "I'm back now. My NGO focuses on women and children. I don't blow it or talk about it much. I'm just inspired to give back to society, and I get my reward from God."
She however says that she is back in the spotlight. "I am hosting a show for Malta Guiness Low Sugar in the east, and I'm also beginning shooting for a cinema movie in the next two weeks. In the next one or two months, I should be able to talk boldly to the press about my plans for movie production. But what I have in mind is still in the incubation stage now. I don't want to jump the gun so I don't get into a tight corner."
Apart from production plans, there is another aspect of her life that this star is tight-lipped about. "I'm not married. But obviously, there is a man in my life, but I'm not talking about him or about marriage yet. I am not giving you any gossip about my personal life. It is beautiful as you can see. Just keep your fingers crossed and watch what happens in the future"