The Governor of Delta State, Dr. Emmanuel Uduaghan  addressed operators and participants at the 2nd Capital Market  Committee.
Retreat  held last week in Warri, Delta State.  During the question and answer session he bare his mind on a number of issues ranging from infrastructure provision to job creation and interest rates. He said it is the responsibility of the federal government and not state, explained why his government decided to invest in infrastructure.
He aslo spke on the various projects his administration have embarked upon and  how the state government accessed funds from the Nigerian capital market last year via bond, urging regulators and operators in the  market to do whatever possible to rekindle investors' confidence.
Excerpts:
Can we know what the state is doing in terms of providing infrastructure
Let me tell you that it is not the responsibility of the states to provide essential infrastructure like power but the responsibility of the Federal Government. It is 100 per cent the responsibility of the Federal Government to provide power at least for now, and not the states but we have to provide some of the infrastructure because we needed them.
How do you see the capital market, is your government having any plan to access fund from the market
There is need to bring back investors' confidence. Since the market crashed investors have lost interest. So a lot needs to be done to bring back investors' confidence as the Securities and Exchange Commission (SEC) is doing now. Though, we don't have the intention of going to the capital market to borrow money for now.
There is one statement delivered by the Director General of SEC, Arunma Oteh on the 5th of February, 2010. According to her, "To realize its potential, our country must have a world class capital market that is strong, sustainable, well functioning, playing a central role in economic development and transforming the well being of the people.
The Nigeria capital market must be an enabler of the Nigerian economy by becoming the first point of call for domestic savings and for international investors. It must be able to finance our nation's big financial needs as outlined by His Excellency, Late President Umaru Yaradua in his seven point agenda and enable us to be among the 20:2020 economies in the world."
I want to thank her very much for given us the assurance to have somewhere to get fund to enable us transform our state. It was this statement that led the Delta State Government to run to the capital market to seek for N100 billion bonds. So far we have collected N50 billion.
Before then, we have gone to CBN governor. I remembered he called all the banks' managing directors in Lagos and told me to address them. The banks' managing directors pinned us to power. That was four years ago and yet the finance is yet to be gotten. But we have been able to access the capital market.
But the challenge is that the interest rate on that bond is too high. Federal Government can take a high per cent but states need to take at a single digit interest rate because we require infrastructure. A state governor will rather build infrastructure that will attract investors so that when he is dropping workers, they would have where to go to work and leave the government alone.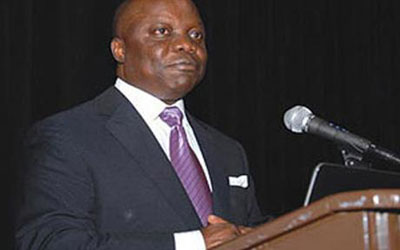 Many states today are almost strangulated, trying to pay salaries. I want to appeal that the interest rate should come down so that we can come for the second batch of the bond. I also want to appeal that you look for alternate source of funding that will make it easier for Delta State and other states to get money and develop infrastructure. The regular money we get from banks cannot do what we intend to do. So, we urge the CBN Governor to help us access this fund in a way that it will not cripple the state.
We have borrowed another N20 billion from the banks and there is no much difference between the interest we pay to the banks and bond holders. We borrowed short term fund that we can easily pay before our tenure expire.
I commended the SEC for its on- site inspection. When Delta State first issued bond and could not used the proceeds properly for the projected it was meant for, it took them longer time to access the market when it needed it, until last year before an approval was given. So in this one we are using the money for every purpose it is meant for.
What is your government doing to attract investors
We are an oil producing state and because of that we have what is called derivation. For us oil is neither here nor there in terms of maintaining an economy. The oil can finish and the prices can fall and anything can happen to the oil and it will affect your economy.
So because of that we deviced what we called A Delta Beyond Oil , that is using the money we are getting from oil to develop other sectors of the economy especially agriculture, tourism etc. In doing this there are some basic things we need to put in place in order to attract investors.
However, there were crisis in some part of the state like Warri axis which affected some industries to collapse and in bringing back those industries and attract new investors we needed to put certain things in place. There are some basic infrastructures or things that are needed whether by big industries or small industries and that is power.
Power has been a big challenge to all of us. So tackling this issue we partnered with federal government as part of Independent Power Plant (IPP). This started during the President Obasanjo's era and we committed about N15.7 billion to National Independent Power plant which made us to be a shareholder and hopefully when it is completed we would be getting some reasonable quantity of power especially from the plant in Sapele Delta State.
What other areas beside power that your government is investing.
Also as a state we invested in distribution and transmission lines as you can see some lines and transformers. In Delta State, each year we set aside money to purchase transformers.  Also on our own we have started building power plants hoping that in the next three or more years there would be improved power supply.
Another area we are developing is transport and in looking at transport we talk about sea port or air port and railway. Unfortunately for Nigeria most of the things or infrastructure that will attract investors legally is Federal Government responsibility. When we talk about power it is Federal Government's responsibility to provide it.
Like the air port we are building is suppose to be provided by the government but because we requires it we have to go into its construction. I don't have ownership of the airport. For the past three years we have been constructing airport in Asaba, thank God the airport is running but we are yet to finish it.
For the roads, they are actually Federal Government's road, but then we needed it. When we actually held a meeting with Onitsha traders and we asked them why are they not importing their goods through Warri which is very close instead of Lagos that takes  them more than two days for their goods to reach their destination and they complained that the roads are very bad and all that .
So we have to go into constructing the road even though it is a Federal Government road. We are dualising the road with the intention of attracting importers and investors to patronize the Warri port. We have an airport in Warri though small it is only two kilometer we had an issue with Shell when we wanted to expand it, however it has been settled and we hope to make a longer runway.
So the Warri Port in 2007 had problem because of the crisis in Warri then and was closed but we talked with the Federal Government, that is, Nigeria Port authority to partner with them in order to revive the port. It has opened and is now active. The warehouse are overfilled. The port has been revived and activities are going on. All this are geared towards attracting foreign investors.
Also we would be building industrial cluster to attract investors by the time we have provided certain basic facilities. We would also invest in Information Communication Technology (ICT) and we would engage the Minister of Communication Technology in that regard.
What advice do you have for prospective investors now that you are investing in infrastructure.
I want to appeal to investors that Delta State is a land of opportunities for investors. We are a land known for agriculture. Oil has taken over our economy but we are going back to agriculture.
The former Head of State,General Obasanjo saw these potentials and today he is partnering with Delta State to build one of the biggest poultry farms in Nigeria. Today a private firm Senna Nigeria Limited is one of the biggest major farms in Africa.
This company is a private investment outfit, they  are bringing in $40 million of their money to come and invest in that farm.  We have a Petrochemical fertilizer plant the biggest in Nigeria and is still under construction in Delta State and there are still lot of areas where investors can invest, just come to Delta state and I have talked about security, because Mallam Sanusi is here; he once said investment is a place, it is not too much about security, but about good governance, so what  we have done as state government, we have looked at our governance structure and I said look let us bring in some private experts to also help us look at our governance structure and we have this economic advisory team led by Bismack Rewane. Other members include: Herbert Okumagba, who himself is  a billionaire and he wanted to run election with me, so his manifesto for the election is now what he is now using to transform the state. We have Evelyn Oputu, Nduka obaigbena etc.
What has the economic team been able to achieve
They have achieved so many things but I will just tell you few of the things they have helped in making us do. They have helped us in working a report sheet. It is self assessment process in which we were able to evaluate ourselves, able to score ourselves and able to set target for ourselves, looking toward the performance indicators of every ministry and for every workers.
So today the commissioners are able to assess their ministries, and use something that  all of us are used to which is the traffic light, that is the red, yellow and green. So from this they are able to assess themselves, if it is green you are okay,  if it is yellow , it means you better be careful and red, then you might lose your job.
When the Commissioners see that result the staff will know what to do because the Governor is able to know the assessment that is being done and we know this is to improve on our governance structure and I think it is helping us as a state. What that team has also done is to able to help us look at companies that have closed down  in Delta State and am sure that is what we discussed this afternoon, we were able to go round the state to see the companies that have closed down in the state, why they have closed down, what do they need to be revived and to be able to come up again.
Since we have a lot of investors at this conference I want them to invest in those companies, the details we will work out later, because we believe that if we are able to revive 25-80 per cent of the companies that are down in the state then I can confidently say okay, I am going to drop 12 per cent of my workers and they will go to those companies to work. So  we are inviting investors to Delta state, there is a lot that can be done in this state, there is a lot that is going on and there is a lot of capital coming into the state.
What is your view about cutting down your workforce.
The issue about advising government to drop workers to reduce recurrent expenditure, I agree that we are spending so much on recurrent expenditure. It was difficult for us as a state to reduce our recurrent budget last year. In this year's budget, it was 48 per cent. We have reduced it down to 37 per cent.
It was very challenging trying to do that. Now, we must go back to history. When our recurrent budget started increasing was when the real sector of the economy started shutting down; when the private sector was no longer capable of absolving the large number of graduates coming from our universities. And they have no alternative than to work with government. So, what do you do? If you drop them, what do they do?