BY EGUFE YAFUGBROHI, PORT HARCOURT
…blames act on oil coys, ineffective justice system
IN its task to stamp out crude oil theft and sabotage in the nation's oil industry, the operational diary of the Joint Task Force, JTF, a.k.a Pulo Shield, is filled with successful crack down on different gangs of saboteurs in illegal oil bunkering, vandals of oil installations or audacious locals who source the stolen crude for the clandestine fast business of makeshift local refining of petroleum products.
Hardly a week passes without the JTF announcing one major raid or onslaught against the oil thieves with suspects apprehended and a checklist of seized paraphernalia employed in the booming oil theft presented as evidence of one more mission accomplished. Between 14th and 15th November, for instance, the spokesman for the Sector 2 Command of the JTF, Major Michael Etete, proclaimed another of the frequent raids on the oil thieves in Rivers State.
In the said raid against oil thieves and illegal refinery operators in Omuma, Bille Km 45, and Elilakire all in Degema local government area, Etete reported eight suspects apprehended by troops of the JTF and handed over to men of the Nigeria Security and Civil Defence Corps, Rivers Command.
This was aside the destruction of three wooden boats loaded with 55 empty drums, five speed boats, one illegal local refinery with five surface tanks for storage and one underground tank and another wooden boat loaded with illegally refined Automotive Gas Oil, AGO, in the same operation.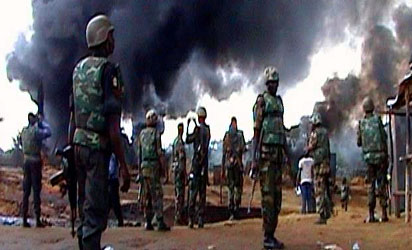 JTF, Navy take role of accusers
Recently, as Major Etete announced yet another onslaught against the oil thieves, the army spokesman did so with a cry over a basic frustration Operation Pulo Shield suffers in its task of putting the oil thieves out of business. Though it was not the first time the JTF would point fingers at perceived detractors throwing spanners in the wheel of their efforts, the fact that the recent fingers pointed to a least expected quarter made it thought provoking.
Etete lamented: "The JTF pledges its continued readiness to fight oil theft and illegal bunkering in the area, but we are sorry to say that the oil companies are frustrating our efforts." That frustration, he explained, regards perceived indifference of oil multinationals to timely fix  illegal loaded points found opened up on the crude supply lines by the oil thieves.
Citing a case in point, Etete noted that the "Shell Petroleum Development Company, SPDC, inability to repair and or even clamp over 70 illegal loading points discovered over the past one year in the Sector 2 Command's area of operations is adversely affecting the fight against oil theft due to continued use by the criminals. This is highly frustrating."
The task force, therefore, urged the Nigerian National Petroleum Corporation, NNPC, to cause SPDC to repair and clamp these uncovered point to forestall continued use by the oil thieves. When contacted, spokesperson for SPDC, Mr. Precious Okolobo said he has heard of the complaint by the JTF and would offer a response later.
However, the JTF was not alone in expressing its frustration. The Nigeria Naval Command, NNS Pathfinder, in Rivers State also expressed a peculiar frustration barely 24 hours after the JTF's outcry.
Commodore Victor Fadeyi, Commanding Officer of NNS Pathfinder, identified the Navy's own frustration as stemming from the nation's tardy justice system which he said more often than not fail to ensure speedy and conclusive prosecution of pirates and bunkering suspects brought before the court after being apprehended.
"These are some of the challenges. How many of them have we apprehended and charged for various offences and criminalities in the waterways. It takes a lot of time and processes to arraign and prosecute them. And how many of them have been tried to a logical conclusion with judgement passed?" he asked rhetorically.
Commodore Fadeyi was lamenting these challenges while parading seven suspects arrested along the Bonny Waterways on suspicion of sea piracy a week before the JTF's raid. He said there was need to look at the laws to make for provisions ensuring quick dispensation of justice against illegal oil bunkering suspects, kidnappers and pirates operating in the waterways.
Special courts
He equally recommended special courts charged with trial of illegal bunkering, kidnap and piracy suspects as a measure towards ensuring a speedy and effective justice system against these categories of criminals in society.
More arrests: Following the Navy's arrest of seven on  November 13 and the JTF's apprehension of eight other suspects between 14th and 15th of this month, a Joint Team comprising the Army, Navy, Air Force, the SSS, Police and the Nigerian Security and Civil Defence Corps paraded six teenagers, four boys and two girls, on Tuesday November 20 in Port Harcourt.
Commanding Officer, NNS Pathfinder, Commodore O. V. Fadeyi, who read a briefing on the development said the latest arrest was sequel to the arrest of seven pirates by the Nigerian Navy which he said provided useful information leading to the crackdown on the six suspects in a nine-hour operation at Ke and Pero-Kparakama communities in Degema locality of Rivers where the JTF also held eight suspects days back.
Displayed recovered items from paraded suspects include four AK 47, I FN rifle, a pistol, 212 rounds of 7.62 ammunitions, four Nokia phones, a file of documents, eight matchets and N530,000.00 cash. "Additionally, 51 illegal refineries and four Cotonou boats were destroyed during the operations," Commodore Fadeyi informed.