BY SAM EYOBOKA, BOSE ADELAJA, OLAYINKA LATONA & PROVIDENCE OBUH
NATIONAL vice president of Pentecostal Fellowship of Nigeria, PFN, in charge of South West, Bishop Francis Wale Oke Wednesday, commended the Nigerian press for its vibrancy in reporting and exposing the various ills in the society.
The PFN leader also charged President Goodluck Jonathan to be more courageous to take a decisive decision on the security challenges destroying the nation, appealing to political leaders of the North to exercise constraint and stop playing politics with the blood of Christians.
" They should allow peace to reign so that they can have a one Nigeria to rule over in the future, maintaining that no Nigerian should be exposed to untimely death.
"And we want to speak to the political leaders in the North, that this violence is destroying the economy of the North. People that are sustaining the economy of the North are fleeing the area, because their lives are no longer safe. What they (the leaders) think they are gaining on the short term is bitter nothing, on the long run, is a major loss," he said.
He, therefore, appealed to the northern leaders to have a rethink, noting "if we let Nigeria be, then there can be a Nigeria we can go back in the future, but if we bring Nigeria down, then there will be no Nigeria to go back to in the future."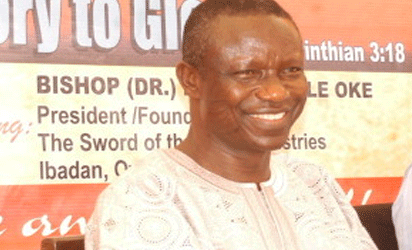 Bishop Oke was speaking at the corporate headquarters of Vanguard Media Ltd during the 12th edition of Vanguard Media Christian Fellowship end-of-year thanksgiving and prayer service  with theme: The Change: From Glory to glory.
Oke said the press especially, Vanguard Newspaper, has been in the vanguard of uplifting the nation through its investigative reporting especially from the military era till date.
"I feel very important to bring the word of the Lord and you have led me into the secrets of the greatness of Vanguard newspaper because indeed Vanguard newspaper is a great newspaper in this nation today. I have read my own copy today and when they supply me my newspapers they know Vanguard will be right on top because they know I will request for it.
Vanguard, a vibrant, dynamic newspaper
"Vanguard is vibrant, dynamic and well packaged. It has come of age, so user-friendly and very easy to read. When I was reading Vanguard today, I said this is a 21st century paper, and I declare that the Lord will take Vanguard from glory to glory".  Bishop Oke said the first thing he noticed was the humility of the executive chairman, stressing: "If a media house like this will set a date and time to bring its officials together, to give thanks to God, there is no way, that newspaper will be waxing stronger by the day" .
Oke who said the Nigerian Media have been in the forefront to ensure a better Nigeria and vibrant in the fight against corruption as well as the menace of the Islamic sect called Boko Haram.
He urged the media not to rest on its oars in speaking out against the evil that is currently ravaging the nation, writing and broadcasting the truth until the least person in the country is protected, adding that the Media as the watchdog of the society, should speak against evils and ills in the country.
In his words: "I want to commend the Nigerian press and Vanguard Newspapers, in particular, because Vanguard is in the forefront. Nigerian press today is very vibrant and outspoken and it is at the forefront of the fight for a better Nigeria and we thank God and are very proud of the Nigerian Press.
"The same way, you fought in the Abacha days, fighting corruption, evil and fighting violence, particularly the violence that has been unleashed upon our nation today by the Islamic sect known as Boko Haram, that is killing, maiming and burning down churches, particularly in the Northern part of this nation.
"The press has been very loud and outspoken in fighting this menace and I want to thank God for you because this is where our part really cross the Church is committed to praying, not only praying but speaking.
Bishop Oke, however,  lamented that the violence in the North did not add to the value of the nation, but destroying the economy and has succeeded in discouraging many investors from coming to the country.
The PFN Vice president also commended the Church for its steadfastness in praying for the peace and tranquility of the nation and discouraging retaliation whenever they come under attack. "The Church has been praying, although some people are wondering whether it is going to retaliate or resolve to carrying arms or gun. Of course, the scientists are in the Church who can manufacture guns and bombs but we are not going to reply with violence," he stated.
Lauds Oritsejafor on Boko Haram
He appreciated the courage of the CAN president, Pastor Ayo Oritsejafor for his courage in speaking against the current evil. "I want to particularly salute the courage and the tenacity and the boldness of Pastor Oritsejafor. His emergence as CAN president is so timely at this particularly time, when the Church needs a vocal, courageous leader that cannot be bought; a leader that cannot be intimated; a leader that will rather take his life in his hands to be able to defend the Church and at every opportunity he keeps speaking about the evil and the menace of Boko Haram," he said.
Bishop Oke used the opportunity of the programme to pray for Mr. President to be courageous in decision making in order to overcome the various challenges confronting the nation. "We are praying for Mr. President for God to give him the wisdom and courage to lead Nigeria to a greater height," he noted, stressing that the man has a few years to stay in power and after which Nigeria would still remain.
The bishop acknowledged that the job of the journalist was precarious, because "if there is a crisis, you have to cover it, if there is war or riot you have to be there to cover it and if they are throwing stones and tear gas, you have to be there.
He therefore appealed to the Nigerian Media to be up and doing in joint battle against Boko Haram, and "the Lord will continue to protect you in Jesus name. So Media don't stop speaking, you are doing a good job, don't stop speaking until, Boko Haran is silenced. Don't stop speaking until the last innocent citizen in Nigeria is protected. Don't stop speaking. At every opportunity when they do their evil, speak. Let not the news be killed. Let not the news be buried."
Bishop Oke added: "at every opportunity when they do their evil speak. "let not the news be killed, let not the news be buried and when any leader of note, whether Muslim or Christian speaks against Boko Haram, please help us amplify the message so that the whole world will know that the violence is totally unacceptable.
Prayer for Jonathan
"We are praying for President Goodluck Jonathan that the Lord will give him wisdom and courage to deal with this matter decisively so that 2013 will be peaceful for Nigeria. My prayer is that there will be no bomb blast in 2013 and Nigeria will be saved from the  North to the South; from the East to the West".
He later made another passionate appeal to the nation's media, pointing out that the Church is facing a major crisis, and "I know Pastor Oritsejafor very well,  a very elegant man of integrity with the heart of God. If Pastor Ayo gives you his word, he will deliver; a very courageous man who cannot be bought.
"I am so glad that the Church in Nigeria today has a voice. You cannot shut out Pastor Oritsejafor, every opportunity he will speak, and we need a voice like that so that everybody will know that the Boko Haram madness is not acceptable.
"Now, we cannot fight with bombs but we must fight with words and speak; so my appeal to us is this: you have been doing a good job, so let us please rally round this fight, because of the future of Nigeria, because of the future of the Church, because of the unity of this nation and come to think of it, the North is being decimated day by day.
"A lot of our brethren in the North are returning home. I was in Ogbomosho recently where I met a man who escaped being killed in the North, for no other crime, but for being a southerner and a Christian. The man escaped but lost five daughters who were killed while the parents watched. Every body from the South, is being labelled Jonathan's children. It is politics mixed with bitterness and religion—can you imagine that".
"Just imagine five daughters slaughtered like goats before your eyes. Please let's not keep quiet, and it looks to me like the northern leaders are playing politics with the blood of Christians. They cannot claim they don't know who and who are behind Boko Haram".
They cannot claim they don't know who are their sponsors. They cannot claim they don't know the ring leaders and you see what ever their leaders say they listen and take.
"Why is this different, because they understand themselves, they understand their body language, when they are speaking politics they know, if they tell them sit down don't move, they will sit down and they wouldn't move one inch, but when it came to this, nobody is hearing anything, could it be that they are playing politics with the blood of Christians? How long is four years, Jonathan will soon leave, even if Jonathan wins 2015, eight years very short years, but Nigeria will be there for all of us.
"I rejoiced when Jonathan won because I saw a new era for Nigeria when you don't have to belong to a majority tribe before you become anything in this nation; no matter where you come from, whether Itsekiri, Urhobo, Isoko, Tiv, Ijaw. That is the Nigeria we want— Nigeria that gives equal opportunity to everybody no matter your race or where you come from. Nigeria that anybody can leave and become the pride of this nation, without fear of molestation, that is the Nigeria we want.
"I want to appeal to our Northern leaders to stop playing politics with the blood of the southern people, to stop playing politics with the blood of Christians, to call their children to order. We know their children listen to them, the system of the North is that when they speak to their people they listen to them. Jonathan's era will soon be over, don't destroy innocent lives because of politics.
"We have a worthy leader, let's rally around him. They are doing everything to silence him, to put him down, but we shouldn't encourage them and whenever any news comes that is positive about this Boko Haram, let us not allow anybody to kill it because your people are very powerful people, they can allow or disallow something. Let's join efforts together and shame Boko Haram.