BY EMMANUEL AZIKEN, POLITICAL EDITOR
Known in her days in the senate as the Joy of the Senate, Senator Joy Ifeyinwa Emodi's character and content contributed in no small measure in the transformation of the image of the legislative body. In the chamber, committee and constituency, Senator Emodi left sterling legislative imprints that put her above the regular. It was as such no surprise that she was last year appointed the Special Adviser to the President on National Assembly Matters.
Mrs. Emodi in this interview responds to questions on life on the executive plane, the challenges of managing relations between the executive and the legislature among other issues. Excerpts:
How have you settled down to duties as Special Adviser to the President on National Assembly Matters?
Well, it has been over a year since I assumed office as the Presidential Adviser on NASS Matters. I must say that I have since settled down because it is a familiar terrain.  The National Assembly is where I have the most number of friends and colleagues. And serving as a middleman between the Presidency and the National Assembly is for me a natural thing and great honour done to me by Mr. President.
What qualities or experience as a Senator have been of help to you in your present duties?
I think others are in a better position to judge my qualities. But I must say that experience as a Senator has helped me a lot. I dialogue with lawmakers a lot. I convey exactly their views on issues to Mr. President.  All my life, I have never known how to play to the gallery or what Nigerians call "eye service". If out of a retinue of eminently qualified former federal lawmakers Mr. President has found me fit for this position, I owe it to him, my conscience, and indeed Nigerians to tell him the truth at all times.
If I fail to convey things as they are exactly or play the "eye service" and things go wrong, I would have failed in my duties as a committed loyal aide of Mr. President.  But besides that and worst of all, I would be incurring the wrath of my conscience and God. So, I try to be factual and truthful in relating with both my boss Mr. President and my friends, the lawmakers.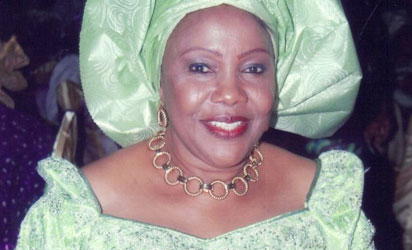 Again, I think trust goes a long way when you are a middle person. One always needs to strike a balance; and that balance is found in the fact that both the President and members of the National Assembly mean well for Nigeria and are working for a better Nigeria.
I have related quite closely with Mr. President and I have no doubt that he truly and deeply loves this country. Even the President's most critical political opponent, after relating with him on close range cannot but go away with the impression that ah, behold a President who loves his people so passionately. This mutual trust has seriously helped me in my assignment.
How would you define the relationship between the present National Assembly and the Executive arm?
Very cordial! Sometimes I am surprised when some Nigerians talk about the Executive and the National Assembly as though they were parallel governments. Maybe it is because of the newness of our democracy.  Both are different arms of the same government, are collectively responsible to Nigerians. Both will be collectively judged or assessed at the end of the day. So, both can only swim or sink and succeed or fail together. With that knowledge, both are working to move the country forward.
However, that does not mean they must agree on every issue. That will be very unrealistic. Even in your family, every member of the family does not agree on every issue every time. But once you are joined by a common purpose, the various opinions on how to get to the goal can always be harmonised. It is like a football team
And I must point out that I am glad to be working with a President who is very comfortable with divergent opinions. He is a democrat to the core. His political temperament is excellent for democratic growth.
In any case, the word parliament came from French word parlement and also the Latin word parliamentum. These essentially mean 'talking' 'speaking' or 'discussion'. The business of legislation is primarily about talking or discussing on behalf of their people. Each day the parliament sits, its business is to discuss both what is going on well and what is not going on well in governance and society in general.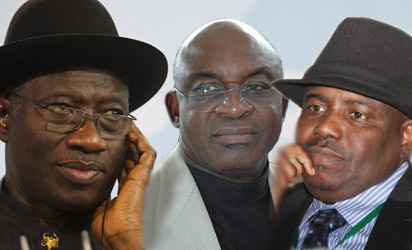 They have to make laws for the good governance of the nation. If they are not doing that, then they would not be deemed as doing their job. But the good thing is that Mr. President understands this and indeed respects the legislature and its constitutional duties as a very important arm of the Transformation Agenda. Remember his popular statement during his declaration of his presidential ambition in 2010 that he had no enemy to find.
That remains true of him. And at any time anybody around wants to overstep his or her bound, Mr. President has always come to tell such persons that they are totally on their own. If you sign for either Barcelona or Rangers or any other club for that matter, you have already contracted to help it win laurels. All the team members are bound by the purpose of putting the ball inside the opponents net.
If they disagree over the formations as you people call it, it does not mean they are quarrelling. You cannot also say because this formation paid off today, you must always apply it to every team you meet. That is a recipe for failure and relegation. By arguing the formations, you come out with the best approach and practices to winning your matches.
If the Super Eagles win a match, you won't see Ethiopia 0 – Stephen Keshi 3. No, what you see is Ethiopia 0 – Nigeria 3. If they lose, it is just the same team. Both the National Assembly and the Executive won't feature individually on the score board of Nigerian but collectively. And to be fair to the National Assembly, this is the friendliest National Assembly in terms of executive-legislature relationship. Not a single executive bill has ever been shot down. We have had about 99.9% of presidential nominees for various positions confirmed.
But we have seen some of your colleagues in the executive attack members and leadership of the National Assembly. In fact, even the Senate had to pass a resolution asking the President to caution his aides…?
Well, but you have also heard the President come out loud and clear that such persons were on their own. In fact, I issued the statement. The President will be the last person to impugn or denigrate the institution of the National Assembly o tots members. Never!
Particularly, do you see the face-off between the two arms of government over the Aruma Oteh affair as posing any constitutional crisis, given the determination of the House of Representatives not to attend to her?
No, there is no problem or face-off. We have been dialoguing and we see one another's faces. Nobody's face is off our common goal of moving Nigeria forward and everything is under control. It is all about dialogue and the President is a thorough person.
What is your assessment of the leadership of the Senate and House of Representatives?
Very mature and patriotic. Quite dynamic and also unassuming. These are people who have come a long way, not just in politics, but in the legislature. Someone like the Senate President has been there since 1999, while the Deputy Senate President joined the Senate in 2003. Both Senator Mark and Ekweremadu are leading the Senate for the second consecutive time. The House leadership is also quite experienced. I think they have done quite well leading 109 Senators and 360 members of the House of Representatives from various cultural, political, and ideological background.