By ONOZURE DANIA
LAGOS— In less than 24 hours to Christmas, major banks in Lagos State  yesterday witnessed large turn out of customers as people made last minute withdrawals for the yuletide celebration.
When Vanguard visited  some of the banks, it was  informed that they had told their customers they would close at 2 p.m. yesterday.
Due to the large crowds within the banking premises, security officials shut their gates barring many customers from getting access into the banking halls.
Even those that wanted to withdraw electronically through ATM machines, were denied access.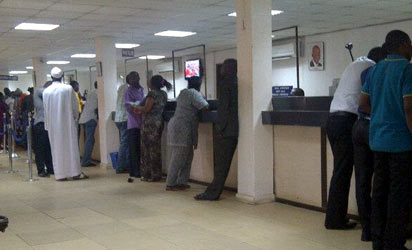 At FCMB, Ogba, security officials appealed to the customers outside the premises of the bank to visit another branch of the bank as the workers there  could not even attend to the numerous customers who were already inside.
"Please, go to another branch or look for another ATM point. They have stopped charging the N100 on transaction," one of the security officials told the customers.
In a related development, the markets too were jam-packed with people trying to pick up items to make the celebration a memorable one.
A visit to various markets in Lagos has been quite interesting. People kept trooping in to buy and at the same time could not but  expressed their groans over the hike in prices on what they had on their budget lists.
The cost of a bag of rice that was sold between N7, 500 and N8, 000 before now sells for between N9, 000 to N10, 500, depending on the brand while a carton of chicken, which sold for N6, 000 now sells for N8, 500.
Prices of other items, such as tin tomatoes, seasoning cubes, salad, fried rice and baking ingredients and drinks of all sorts have equally gone up.