Delta State Commissioner of Police, Mr. Ikechukwu Aduba, spoke to Sunday Vanguard in his Asaba office, two days before Professor Kamene Okonjo was released. He spoke about the security lapses that aided the kidnap and ,from our findings, the Okonjos wanted to address the lapses before the monarch, Obi Chukwuka Okonjo,who was out of town, would return. In the meantime, the queen, who was flown to Abuja, Friday afternoon, might be taken abroad to take a deserved rest. Excerpts:
Listening to you speak in the last few days, you exude confidence that the kidnappers of Prof Kamene Okonjo would be tracked. What gives you such confidence?
You know already that in the state, the synergy is there; the police, the military and the SSS are working together to make sure that Mama is rescued unhurt. We do not want to go into sensationalism. As far as we are concerned, we are beaming our light inside.
We are looking at the whole place because, in any palace, there are supposed to be guards – that is local security before you talk of the police. Therefore, we are looking at the obvious flaws and then take necessary action. However, everything that has to do with the kidnap saga, investigation is still on.
We do not want to jump the gun, but, certainly, we have rescued kidnap victims in the past and this is not going to be different. We have been able to rescue about 30 people without payment of ransom. The sister of the Minister of the Niger-Delta, Elder Godsday Orubebe, who was kidnapped in Warri; son of the Secretary to the Delta State Government, Comrade Ovuozorie Macaulay; and many others.
I am sure that the strategy we are putting in place will yield dividend, but, all the same, if you hoard information, it becomes, difficult because most times, people are not patient with us. Particularly, there must have to be trust. If there is no trust, how can we move forward?
If you trust that we will actually rescue, then you do not have to chicken out with information because we know that anything that has to do with kidnapping, there is always an insider factor. It has always been there. Just like armed robbery, it is like they give information to people to come into the house when there is large sums of money, it is the same thing with kidnapping. However, it is a difficult thing, but the police have extended their dragnet within and without.
How did you receive the report of her kidnapping and what did you do immediately?
It was a big shock, honestly. Sadness, if you consider that  I was there three days back, I was there because I had been been on familiarization tour of all state and federal roads, as well as visiting communities, soliciting for cooperation. Therefore, I met with His Royal Highness and he did not commit about security.
He only mentioned the issue of bail, which I assured him; the Divisional Police Officer, DPO, was there with me, that everything would be tackled, that I will address my men and warn them. We even gave out our numbers. I told him that we have Human Rights Desk and if you have any complaint in the state, the desk will handle it, the office  is handled by the Police Public Relations Officer, PPRO.
It was really a setback because, that same day, we were able to round up three young men heading to Ogwashi-Uku on a kidnapping mission. One of them was armed. Nobody knew their identy, they were unidentified, three of them and they are still with us. There is going to be a press conference and you will see them. Honestly, the Prof. Okonjo's kidnapping took every person by surprise.
So how soon do we expect her to be freed?
Hopes are not lost; I know Mama will be rescued hale and healthy, we are working and we have our strategy.
Despite your confidence, kidnappers struck barely 24 hours after her kidnapping, killing a soldier in Ughelli, abducting a Lebanese and almost kidnapping a judge of Warri High Court, Justice Umukoro?
Well, even if you use Lagos as a reference point, I think you understand me, no part is excised, so what are we talking about? You know one thing I have found out, the criminals are on drug and they regard it as business, they take risk too. Some robbers will come and say, 'Oga, na business we dey, so police dem dey stop us, so we must kill them'. Therefore, there is risk in everything and they are taking risk. They are not operating freely without challenge, no. You win some and you lose some, which is the way I look at it.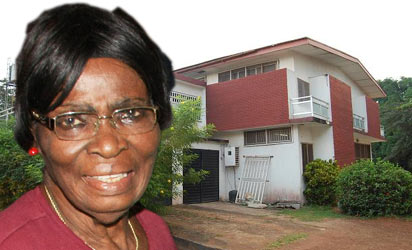 There is the contention that the two police officers arrested in connection with the kidnapping were just unlucky, as they stayed away because the monarch was out of town. What do you say?
You see, we are not talking of arrest. You know the nature of our job is such that if you leave your beat, it is a disciplinary offence. Then, this one, they were not in their beat and we are investigating them; so it is  not a question of … we are not saying that they are connected, except we prove it.
For now, they were not found in their beat and something happened. And, again, in any palace, there are supposed to be palace guards and, if you look at the compound, it is dwarf kind of fencing. I am not happy about what happened, but people should be very conscious of their environment; we are not saying they should raise something like a steadier kind of fence, but, from outside, you will have a look of the whole compound, which is not good for security.
Then, again,  the place ought to be fortified with palace guards because our own is just to complement. Can you enter the palace of the Emir of Bauchi freely, is it possible or any of the Emirs? It is not possible. You have to fortify, the police own is to co
mplement whatever security you have been able to arrange for yourself. Myself, as a police commissioner, I have a private guard in my place in my village and I also have vigilante men, I pay them. My private guard is an Hausa man and I bought bow and arrows for him.
He is there now, so whatever complementary role the police can play, they will play it, because it is a way of complementing government security. If something goes wrong with one, the other could be a back up, so we have to fortify our environment and be security conscious.
Has Dr. Ngozi Okonjo-Iweala spoken with you on her mother's kidnap?
I have not really spoken with her. I only spoke with her younger brother and my boss. My boss phone immediately and informed me that the Minister was with him in the office. In addition, I pointed out some of the obvious flaws I noticed in the house.
What is the situation in Ogwashi-Uku presently?
Ogwashi-Uku is on searchlight, there is searchlight everywhere because as far as we are concerned, insiders are part of the gang.
You just rose from a meeting with your DPOs. Was it about the goings-on and crime prevention strategies?
It was a security briefing. I had to brief them, and there was a message from the Inspector General of Police. He is particularly unhappy with the incidents in Edo and Delta states, the Benin and Auchi episode in which a police station was attacked and this high-profile kidnapping. The IGP feels very bad about the incidents and the information had to be passed.
The police and kidnappers appear to be drawn in a battle of wits in this Okonjo kidnapping. While security agents are waiting for them to make a slip, they are also looking for a way to collect ransom and escape.
We are not magicians, we work with information; just like the queen was kidnapped, we rescued a man who was kidnapped in Anambra State and taken to a forest in Akwukwu-Igbo. Based on information, the man was rescued, but it is unsung because of this situation.
There were shrines around the place, we were able to raze the shrines and released the man. His vehicle was recovered in Onitsha. All we are trying to say in essence is that everybody should join hands, these kidnappers are daring and they are networking. So we cannot relent.
They were those who were going to Utorogun Gas Plant in Ughelli to blast the plant but we rounded them up. Then, there are also some cross-border bandits and kidnappers that we have rounded up, we have picked about 10 of them, we are not sleeping.