BY CALEB AYANSINA
*The scars linger, survivors allege poor treatment by hospitals
*I nearly went mad after losing husband, three children – Victim
Almost one year ago, Christmas celebrations were brought to an  abrupt end when terrorists forced  their way into the premises of St. Theresa Catholic Church, Madalla, Suleja, Niger State,  blew up the church and killed many worshippers.
Hell was let loose  at about 7:30 a.m. on December 25, 2011  as worshippers prepared for Morning Mass. No fewer than 40 people died and scores others seriously wounded in the  attack.
Although the incident has come and gone with numerous others trailing it nationwide, the attack on the church is still very fresh in the minds of the bereaved, while the scars on  victims will perpetually bring to agonizing memory  the grisly attack; especially as another Christmas beckons.
Recently, the church held Holy Eucharist Mass to celebrate and pray for quick recovery of those that survived the homb blast  that rendered many people orphaned, widowed, jobless, and traumatized.
Speaking at the mass, the Parish Priest, Rev. Father Isaac Achi, said it  was organized to pray for the departed souls, rapid recovery as well as the comfort of those who were not  only injured, but also  traumatized as a result of the attack. "Here we are to pray for comfort, pray for our lives, we pray God to grant eternal mercy to the departed souls. We also came to pray for those  who were injured, so many were hospitalized, we want to pray  to God for healing, pray for those that were not injured, but traumatized as result of the attack", he noted.
After a minute silence in honour of the departed souls,. Achi told the congregation that though it was painful to lose loved ones,  death is temporal; saying  eternity is what  people should build first by holding firmly to their faith in Jesus Christ.
The cleric added, "We lost our relatives, parents, children, friends, but we need to understand that there is resurrection. By the virtue of our faith, we know that our people are being given a place to sit by God's side. They were killed in  the course of service;  but  you and I are not being put to shame; it is a way to  tell the whole world that we still exist and we are not ashamed of Jesus Christ.
"We pray God who had called them to himself to let their death be a blessing to  us. I am sure a time to immortalize all those who died  in  the face of terrorism on Christians in the country will come and here may be the centre. They were killed because of faith and they shall not be forgotten".
At the service that saw the survivors  going home with some clothing and food items  as part  of support from the church, Sunday Vanguard observed that some of them  could not take part in the march by the congregation to the memorial cemetery within the church premises in honour of the deceased-victims as a  result of severe injury.
With the yuletide approaching, majority of people in the area called on government and  well-meaning Nigerians  to take a cue from their  experience  of last Christmas and be proactive on  the growing insecurity in the country, to forestall recurrence of the ugly incident.
Some of the survivors relived their experience of the black Christmas to Sunday Vanguard.
Mr. Vitalis Ugokwe, a member of the Madalla Catholic Church, said he was sitting inside  the canopy with his entire family when the unfortunate incident happened. "I found myself on the ground.  I was in coma but immediately I regained consciousness, I shouted Jesus! Then, I began to see blood, dead bodies and everywhere badly shattered.
"At the hospital, it was found that a three-centimeter iron had pierced through my waist and ran through my shoulder crossing my chest. The iron was there for a month, while my muscle was cut off. My whole body was paralyzed, but, by the grace of God, I started recovering at the hospital. I am still recuperating.
"I am battling with neuropathy.  My body produces some kind of burning sensations and, when I sit down too much, I find it difficult to bend my waist. I cannot move freely. Sometimes, when I wake up in the morning, it will jerk;  as I sit down now, if I want to move, I have to move with caution; if not, one of my legs will drift.
"My job has since been affected. I am the Director of Vital Industrial Electrical Production, I do electrical works, but this thing has affected me such  that I  can not do my work anymore. See my fingers, my hand cannot open again, neither can it close. It is very stiff. I had to employ the service of another person to be doing my work for me whenever I get work. This has become a serious concern for me.
"And the way they handle the victims at the hospital is not encouraging when you go for check-up there. The doctors should know the pains we are passing through. They will give you appointment for three months. Our check-up should be consistent,  if they want people like us (victims) to survive the trauma. Although  they attend to us,  the process is not encouraging.
"It is too slow for a  person suffering to be put on three months check-up. They gave us November 15, 2012. On getting there, we couldn't meet the doctor. The process should be unique that will guarantee my co-survivors and I adequate treatment".
In an emotionally laden voice, Emmanuel Obiukwu, who lost four children, could barely control his tears.  "Life remains as it is. It is God that has kept us because I don't know where to start from. Will I start from that horrific Christmas day or this present time? The fact is that it is not easy for me and my wife, but,  with God, everything is possible; we are managing; I am not moved".
Speaking on his disposition to the church after the tragedy,  Obiukwu  said,  "Since the incident happened, I have not,  for once, stopped coming to church. "If  I stay at home, will it bring back all my four children? If I stay at home, what will  I be doing? If I die while in the house, I think  that will be the worst thing to happen to me. It is better I die because of my faith and even in the church. If I die in the church, I am happy because the day that incident happened, it was God that saved me; not because of my wisdom. I was with them in the church, but God allowed them to die and left me and my wife.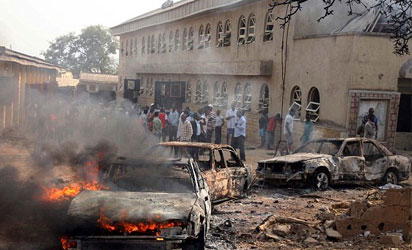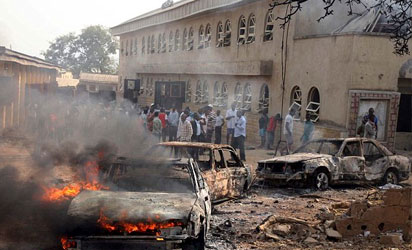 "My wife spent three months in  hospital before she got herself back and my surviving daughter was admitted. If God didn't want it to happen, He would have stopped  the bomber on the road. So, I cannot tell anybody not to go to church because of bomb attack.  If you die in the church as a result of your faith, thank God; that is the best".
Another member of the church, Mrs. Chioma Dike, who lost her husband and three children,  narrated her trial. She said: "That fateful day was the Christmas day my lovely lhusband went to church with my five children: three boys and two girls.  I was at home around 6 a.m.  preparing Christmas meal, with the intention that when they came back, I would go for the second Mass at 8:15a.m; which is conducted in Hausa.
"So around 8 o'clock when I was fetching water from  the  well, I heard a loud bang which I had never heard before. I felt the effect of the sound right in my chest. I started shouting "my daddy!!!", "Oh my five children!!!"  I looked  in  our church direction; I saw smoke, dust, fire billowing. I  collapsed.
"I knew something disastrous had occurred on the church premises where the whole of my family was. People began to pour water on me.  I couldn't talk, neither could I breath. Shortly thereafter, I was rushed to  hospital. Throughout that day, I was not conscious of  where I was and what was happening to me.
"Immediately I regained  consciousness, I asked about  my husband; I  told  everyone around that I wanted to speak with my husband and my children. By that time, I was just like a mad woman. The medical officials were administering drugs and drip on me so that my blood pressure would come down. Later, I realized that my husband and three of my children were no more, while the remaining two sustained various degrees of injury. One had nail inside his skull. The nail is there till now and the legs of the other got burnt completely.
"Since that time, I have not been myself. Even as I am speaking with you now, I am having chest pain. And, whenever I remember my lovely husband and  children, I become sleepless; I will be restless. Sometimes, I behave like a mad woman. I cannot eat. I am on BP drugs to help restore my deteriorating health".
On his own part, Mr. Sunday Onoja,  50, recalled, "The impact of the blast is still obvious around here. As you can see, I still have  pains as a result of the injuries I sustained from the incident. My two legs got burnt.
The first leg broke while  the second leg was seriously fractured. I have spent a lot of money from my own purse because on the 10th of March, 2012, they sent me out of the hospital that I should go home. They said I was healed. By that time, my legs were still  in bandage. I had to engage a private nurse to come to my house to treat me.
"But now, I  feel  better; but I am still having serious pains because the inner wound has not healed yet.  All that I need now is assistance because  I continue to spend money. I am appealing to well-meaning Nigerians to come to my aid".
Mr. Chuwkwu Uche, a casual worker with  a phone company,  told Sunday Vanguard that he lost his job as a result of the fracture  he had  on his legs. "I work with  a phone company  as adhoc staff. But, as a result of the number of days I spent in  hospital, my employment  was terminated".
Sunday Vanguard  sought from the Parish Priest,  Achi,  to what level the church  was affected?  He said, "There  is hope; we are not in any way discouraged in the sense that it is a thing that definitely has an  end. It can't continue forever. Even  if it continues for life, God in heaven is the Master; he knows how to look after his flock. So, there is hope that,  very soon, with time, God has his own time for them to withdraw all their arms and they will be looking for a way out.
"Some people in  town relocated. Definitely, it affected not only the Catholic Church, but the  entire Christian community. Some Muslims also moved out of the community; especially Muslims who were not Hausa. They packed out; they were afraid that something might happen and they would be the target.
"People should understand that period of Christmas is the period of peace and it is that peace we want to reign in our country. All those who are trying to disturb the peace of this country should find a way to allow peace to take over".
On security, the priest continued, "Security is not government responsibility alone,  it is everybody's business. Nigerians should be vigilant. If you notice any strange movement around you, alert  security agents who are expected to be up and doing.
"They should not play over security and should know that they are the first target. They should always be on alert. Everyone should go about their lawful businesses in good spirit and show love to one another."
According to the cleric, a total of 44 people died in the December 25, 2011 blast,  26  from  the church.