By Clara NWACHUKWU
Offshore banks shun loans to marketers * Nigeria now portrayed as high risk economy
Govt agencies should also be charged * Banks are not culpable
After series of five probes, Nigerians discovered to their astonishment that about N2.7trillion was paid to marketers in 2011, as subsidy claims for importing refined petroleum products – premium motor spirit, PMS or petrol, and Household Kerosene, HHK or kerosene, which are subsidised at the pumps.
However, a high percentage of the total sum or N600billion was discovered to have been paid out on spurious claims, some for products diverted to other African countries, and others for products that were not imported at all.
The actual budget expenditure on subsidy for petrol and kerosene over a four year period stood at:
2006 – N261.1billion with 5 companies including NNPC
2007 – N278.8billion with 10 participants
2008 – N346.7billion with 19
It rose astronomically in 2011 to N2.7trillion with 140 companies, most of which were briefcase companies. Since that discovery, it has been one drama after another. There were allegations and counter allegations between government agencies and oil marketing and trading companies; lawmakers and marketers; and currently, between marketers and their banks, who raised the Letters of Credit, LCs that were used to fund the importations.
Plethora of committees
There have been at least seven different investigations into the subsidy regime, being managed by the Petroleum Products Pricing Regulatory agency, PPPRA, in which more than N2.7trillion was paid out in 2011 as subsidy claims, far above the N450billion budgeted for the programme.
Ironically, the Senate began the probes in November last year, under the Senator Magnus Abe-led Joint Committee on Petroleum Downstream, Appropriations and Finance, which was set up to then investigate a N1.3 trillion subsidy payments. But up till now the upper legislative chamber is unable to conclude its investigations.
The January 1, subsidy removal and attendant nationwide strikes fuelled the need to know what happened with the subsidy funds. In response to the people's agitation, the House of Representatives in an Emergency Session on January 8th set up a Hon. Farouk Lawan-led, Ad-hoc Committee to verify and determine the actual subsidy requirements and monitor the implementation of the subsidy regime in Nigeria. More frauds were uncovered, and subsequently it became a galore of probes, and even the hunter became the hunted.
The Federal Government also stepped in with its own probes with the Aigboje Aig-Imoukhuede's committees 1 & 2. Expressing concern over the deluge of probes, the major marketers noted that, "Since this year, all we have done is to attend one probe or another. Nothing more is happening in the downstream; we are all waiting for the next summons."
But an independent counterpart simply argued that "Government is killing our businesses with all these probes. So far, we have faced seven different probes – the Senate; the House of Reps; Aig-Imoukhuede 1; Aig-Imoukhuede 2; Federal Inland Revenue Services, FIRS; Ernst and Young for forensic audit; and the Economic and Financial Crimes Commission, EFCC
In a dramatic twist, one of the committees, the Lawan-led House committee became embroiled in an alleged, $600,000 bribery scam with one of the industry operators, Mr. Femi Otedola, to remove the latter's company's name from the list of fraudulent companies that abused the subsidy regime.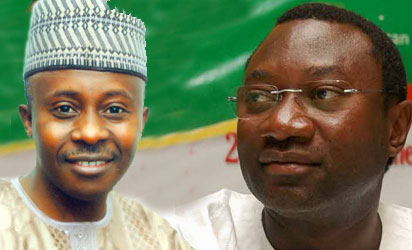 AMCON steps in
As the drama continues to unfold, the biggest fear among oil marketing and trading companies is that their banks cunningly taking over their companies on account of outstanding loans. Already, the Asset Management Company of Nigeria, AMCON, established by the government to buy over bad debts and possibly take over debtors assets have visited a number of downstream operators with a view to reaching agreements on loan paybacks.
Although there are talks that some of oil marketing companies have been placed under receivership by AMCON, but the agency said it is doing all it can to recover the loans. It even recommended a list of 113 individuals and companies who should not be advanced further loans, which was approved by the Central Bank of Nigeria, CBN.
Even as a lot of individuals and companies were labelled as fraudsters, none has been found guilty as yet. Already, both the local and international business communities are worried at this development, especially as the subsidy crisis has taken over every other economic issue under the current financial year.
Not only has the crisis frozen fresh investments in the downstream petroleum sector, it has also sent the wrong signals to foreign investors and financiers, who now see Nigeria as a high risk economy and anti-investment. AMCON's Chief Executive, Mr. Chike Obi, told, Nkiru Anene that the agency has recovered one third of the loans. Excerpts:
Prior to the publication of the debtors list, what effort did AMCON make to ensure that the loans were recovered?
Again, that publication has nothing to do with AMCON recovery record. We have been recovering loans at faster rate that we planned. We have recovered and restructured about one third (1/3) of the loans well ahead of our target; the idea of that policy was not because of AMCON not recovering loans. AMCON was doing good at recovering those loans better than planned, better than expected, but we agreed that it will help us do much better.
You said you have recovered about one third of the bad loans so far. What was the size of the loan before and how much have you recovered in concrete term?
We have recovered/ restructured or resolved about N1 trillion worth of loans today. We had about N3trillion.
What has been the response since the publication, have the debtors been paying?
I want to make it clear that the process of restructuring or recovering a loan at AMCON is a long one, averaging between three and six months. This publication that came out some weeks ago will not have an appreciable impact on our recovering or restructuring effort within this period. This is because if somebody walks in today and wants to repay his loan, there is still a process it will have to go through. However, we now have more approaches, more people have called us wanting to restructure and hopefully, three or six months from now, we can tell you that there will be a beneficial improvement.
What will be the fate of those that are not able to meet their obligations to AMCON in the next six months?
You must understand that we have 12,000 loans to deal with, and we restructure an average of five loans a day. So, this list of 113 companies is a very small portion of our loans in terms of numbers and I don't want you to think that they are in any way special. They are just part of the loans we restructure and we have policies of dealing with people who won't pay us, who refuses to pay us or who can't pay, including dispossession, forfeiture, and court action. So, this is a very small part of our loans and they will not be treated any differently from the other 12,000 loans we have with us.
What is the secret deal between AMCON and Femi Otedola over N140.91billion debts?
I reject it. I reject that term 'secret'. AMCON had a proper and clear process for restructuring loans. It is not secret; all the policies were approved by the board and Femi Otedola's transactions went through a very rigorous and transparent process that we are very proud of and we can defend anywhere. I reject the expression of secret, and I will say that anybody that thinks it is secret has not asked us any question. We employed two real estate surveyors to value his assets.
Akin Olawole valued his real estate assets, while FAHL-MT Limited valued two of his tank farms. We went back and forth before we arrived at the figure. In fact, all the transactions were approved by the board of AMCON, so I don't know where secrecy comes from. So, when people say we did secret deal, we didn't, we even fought with him. He argued with us that we were using low valuation; that we were undervaluing his assets, but we told him that was what we can use.
What has been the impact between September when those names were published and now?
I have told you again that it takes somewhere between three or six months to recover or restructure a loan, and every time we do, we file it in the court as tempt of his judgment. So, there is no impact on that. We cannot see the impact in less than three months. It doesn't happen like that; people don't rush in with bags of money and pay AMCON. We sit down; we make sure the lawyers look at it, the credit people look at it, the court look at it. So, there will be no impact whatsoever for the next three to six months. After six months, you might see an impact.
No money to run operations
One of the immediate impacts of the subsidy probes is the freezing of funds to run operations and to pay salaries  The worst hit by the subsidy scandal are the independent operators, who run private oil marketing companies and jetty and tank farm operators. A lot of them have had to lay off staff, and still they are yet to be out of the woods.
This is because, the Federal Government, through the Ministry of Finance has refused to pay the marketers until they have been cleared. Even those who were cleared and given Sovereign Debt Notes, SDNs, claimed they were not backed with cash. The issue of payment became another back and forth between the marketers and Finance, and between Finance and Petroleum Resources, as the development led to scarcity of fuel nationwide.
The majors have kept their promise of not to import until all their outstanding subsidy claims have been paid. Also the independents, who completed the Nigerian National Petroleum Corporation, NNPC 's efforts can no longer access banks' facilities to fund fuel imports, leading to worsening scarcity situation in the country.
Warnings have been issued that the scarcity situation will get worse during the Yuletide season, except something drastic is done
Marketers running huge losses
With the very slow pace of clearing marketing companies for subsidy claims payments, many of them are now running huge losses on account of bank loans. Apart from the crippling 23 percent interest on funds, marketers said they are also being made to pay additional 23 percent on loans default.
By their calculations, banks are the ones reaping huge profits at the expense of the companies. According to them, banks, which financed about 70 percent of the imports are making in excess of N150billion monthly on interest charges alone from the over N400billion owed independent operators.
The majors, because of their foreign technical partners have better negotiating powers than the independents. A member of the jetty operators, told Sweetcrude in confidence that "The final objective of the banks is to take over our assets. Banks were already charging us 23 percent on loans, and began to charge another 23 percent as default loan. How can any company survive under such circumstances? That is why we have requested government to freeze the interest on loans, pending when they are able to pay us our claims."
But Diamond Bank's Divisional Head, Energy, Mr. Samuel Egube, disagreed with the marketers, saying that the default charges cannot be 23 percent as well. "I don't suppose the numbers are genuine I'm not sure, but default rate involves what you agree with the customers but there is a catch, and I think the CBN allows you to charge in default rate.
"Now when you are in default, the cost goes up because you begin to pay a default rate and this is not unusual. So what has happened is that this entire process has resulted in default for some companies. It depends on where you are in the entire subsidy payment process because the government is actually paying some; so if the government has paid you up to date, you will not have that problem. But if you have a problem for any reason like oversight, lack of payment or the fact that you did not pay 2011 due payments, you will pay default and when you do, you will pay the default money and I guess that is what they are saying. Whether it is 23 percent plus another 23, and I doubt if it would be, but if it's a default charge that makes it expensive.
"Don't forget also, once you are in default, you need to make a provision as a bank, which increases your cost of lending/credit because you will have to provide and the margin which banks need for lending is more now than if he wants to get that back from profit and loss. As you know, that credit is what pulls a lot of banks down. So there is a cost to a delinquent account and I guess that is what they are complaining about."
The marketers' woes are compounded by the fact that even offshore banks are denying them access to funds. But indigenous banks do not blame their foreign counterparts, saying, "I don't think you would behave differently if you were them. First, you create an atmosphere of high risk in that sector that is what we said about ourselves as a country, and no foreign bank will fund a high risk investment."
Banks are not to blame
But a top member of the bankers committee, who spoke with Sweetcrude in confidence disagreed with the marketers, saying that banks are not responsible for marketers woes, as their crises began long before the subsidy crises, dating back to 2008, when some of the loans bad.
He said, "Banks are not to blame for the marketers' woes. Some of these people took loans about four to five years ago and couldn't pay back, so as far back as 2008, some of the loans had already gone bad. With devaluation and inflation, many of the loans were reclassified, so subsidy has no effect on the interest due on those loans."
The source, who is also the group managing director of one of Nigeria's top banks, also blamed the marketers for frivolous investments, saying, "Because they (marketers) felt the downstream was easy money, they invested in storage facilities that were not necessary. The storage requirement for the industry is about one million metric tonnes, but now we have about four million MT, so there are more players than the market actually needs, and at a margin of about N5/litre, if you are not thinking of criminal activities."
He concluded that the marketers are crying foul in order to distract attention from the real issue, which is, "if you are bankrupt today, it is because you were not paying in the past," adding that many of them came into the sector "out of greed, deceit and very unpatriotic sense to enter into a business they could not sustain."