By Chidi Anselm Odinkalu
Being a paper presented by Chairman, Governing Council, National Human Rights Commission (NHRC), Prof Chidi Anselm Odinkalu, at a lecture organised by a group Friends of Mr Femi Falana (SAN) at The Polytechnic, Ibadan, to celebrate Falana's elevation as a Senior Advocate of Nigeria (SAN).
THE coincidence of a public lecture on International Human Rights Day in honour of one of the most vocal and consistent advocates of his generation in Nigeria is a happy and pleasurable one. The organisers, Friends of Femi Falana (Triple-F), had framed as the subject for this event the topic "The Imperative of Justiceability of socio-economic rights in Nigeria: Reflections on the contributions of Femi Falana, SAN". The explicit reason for the occasion, I am reminded, is the elevation of Mr. Falana, to the rank of Silk, otherwise better known as Senior Advocate of Nigeria (SAN).
It is possible, in approaching this brief as framed to end up with the intellectual equivalent of fast food, a product that may fill the stomach or excite the audience without nourishing the body or enhancing the mind. This is very much an audience of advocates for social justice and better governance in Nigeria not a meeting of lawyers. A focus on the entrails of the many path-breaking cases conducted by the learned Senior Advocate would need more than the time we have for this event. Yet, it is impossible to understand how Mr. Falana has made the distinguished professional rank of SAN without acknowledging these cases. I will provide only the general contours. Gladly, we have the man here to reprise the full tale.
I must confess that I was somewhat troubled that the organizers explicitly gave as the reason for this event the elevation of Mr. Falana to the rank of Silk. As a lawyer, Mr. Falana has – rightly or wrongly – been identified with the cause of the outsider, the have-nots, and the down-trodden in Nigeria. His dockets have had more than their fair share of clients who could not afford his fees nor win popularity contests as well as causes that had relatively remote odds in the courts but for the skill and relentlessness that he brought to articulating them.
He has represented prisoners on death row as well as organized trade unions and their leaders; student leaders persecuted for being youthful and idealistic as well as politicians and sundry chancers temporarily at odds with ruling orthodoxy. For staking out this position and batting on behalf of such persons, Mr. Falana has had to make personal sacrifice, sometimes hazardous or inconvenient for himself, his family and those closest to him.
This track record may be a delight to many of the participants present here today. At our Bar, however, it could easily read like an ideological rap sheet of a different kind. Mr. Falana's inclinations and instincts suggest that he is comfortably and unashamedly on the ideological "left".
Prejudice against lawyers
In his 2011 Inaugural Lecture at the Law Faculty of the University of Lagos, professor of international law, Akin Oyebode – like Mr. Falana, another famous son of Ekiti State – reminds us that this tribe has had to live with and surmount "the prejudice against lawyers"of the ideological left "who, some believed, knew nothing else other than Marxism-Leninism or guerilla warfare." The heavily bearded Femi Falana may be a distant memory, but the Femi Falana of deep ideological convictions is still very much around.
The Legal Practitioners Privileges Committee, which decides on who gets or is refused the rank of SAN is not and has never been accused of being a hotbed of leftist ideology. This is why it is surprising that the ideological friends and would-be legatees of Mr. Falana in Triple-F have chosen to make their decision to confer the privilege of SAN on him cause for this particular celebration.
This event is not to be confused as the forum for an arbitration between the rank of SAN and its discontents. It is impossible not to acknowledge before continuing, however, the controversies that have recently trailed both the rank and its selection processes. To be sure, there are some good arguments in support of the rank. Its existence is supported by law; as a quality mark in the legal profession, it should set a high bar of attainment for younger professionals; and it is supposed to be awarded only after a rigorous process of selection. Moreover, the customs of the profession, it is argued, support it because the rank is transposed from the customs of the legal profession in England and Wales from whence we borrowed our legal traditions and with whom we continue to share some wistful affinity.
There remain, however, substantial instrumental, practical, and inherent arguments against the rank. On the instrumental point, it must be acknowledged that for a profession that mostly prides itself in its commitment to capitalism, the rank of Silk is anti-competitive because it enlists the instrumentalities and institutions of the state in skewing the market in legal services. Competition – the equivalent in political economy of non-discrimination – after-all, is a foundational precept of capitalism.
By design or effect, the rank as presently administered in Nigeria enables its holders to command the highest fees in the market for legal services. No other profession besides the legal profession relies on official state institutions to determine its mechanisms of professional excellence or allocate the commercial benefits of such preferment. In South Africa, where the similar rank of Senior Counsel (SC) was in existence as an honour granted at the behest of the President, the Gauteng High Court in South Africa earlier this year struck this down as outside the powers of the South African President to grant honours.
As a practical point, the process of conferment has increasingly come under scrutiny as open to both abuse and capture to the point of doing some reputational damage to the rank as a brand. Against this background, it has, indeed, been suggested that the conferment of the rank on people like Mr. Falana co-opts the brand of Mr. Falana to shore up the credibility of the rank of SAN rather than the other way round.
Inherently, above all, the rank of SAN is unashamedly a privilege. Like all privileges, it is open to abuse. The argument here is that there should be no state-supported privileges of this sort in a Republic. In response to those who say that the rank is a professional custom borrowed from England, the point here is that England is a Monarchy while Nigeria is a Republic. Monarchies are founded on privilege; Republics are founded on the radical principle of civic equality. You do not celebrate privilege in a Republic.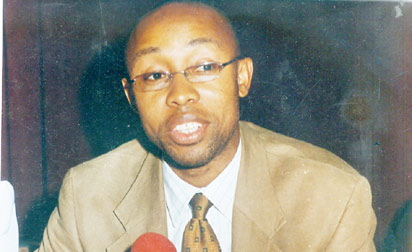 I feel troubled, therefore, that the Nigerian Left represented here in Triple-F chooses to celebrate privilege on International Human Rights Day. For, howsoever it is looked at, making this the effective reason for this event would be a celebration of hubris at best or, even worse, a confession of lack of ideological conviction. Since most of us would not wish to be privy to or responsible for either of these, I have had to find an explicit personal rationale for accepting to be here today and, in so doing, have chosen to re-frame my original brief to read: "Lawyering for a Cause: The Femi Falana Story and the Imperative of Justiceability of Socio-Economic Rights in Nigeria."
I want to be clear: I did not come here on Human Rights Day because the Nigerian State has conferred on our comrade and colleague a license to make more money from his considerable professional skill and talent. There is nothing wrong with that and it is surely not a crime but many – and I am one of them – will wonder whether that is cause for public celebration rather than private partying. I am and we are here because, in spite of Mr. Falana's considerable talents, professional attainment and comforts, he continues to espouse and work for a vision of a better country and more inclusive society founded on equality of all persons and to make considerable personal sacrifice in pursuit of this conviction. This is a cause much bigger than any professional rank or bank balance and in whose pursuit Mr. Falana's contributions are well worth celebrating.
As a citizen and Advocate, Mr Falana has built and earned his professional reputation on the side of the excluded, the under-privileged and the have-nots. In many cases, he has been the equaliser, giving the hope of a fighting chance to the clueless; and audacity to many who would have had less than a snowball's chance in hell but for the deployment of Mr. Falana's considerable acumen. He has not always won the arguments in the courts but his presence has afforded reassurance to the Davids; unsettled the Goliaths; re-balanced the scales and re-defined the meaning of winning and losing.
Beyond our shores, Mr. Falana has been a rare, radical and welcome voice at our Bar for articulate pan-African humanism represented in his consistent advocacy for regional integration that ensures effective factor mobility, affirms the dignity and value of African labour, and guarantees for every Africa the legitimate pursuit of livelihoods and transactional life across the post-colonial borders of our continent. This commitment led to his role in the founding of the West African Bar Association (WABA) and to his successful advocacy for the expansion of the jurisdiction and access rules of the Court of Justice of the Economic Community of West African States, ECOWAS. It is no accident that the Supplementary Protocol expanding the human rights jurisdiction of the ECOWAS Court of Justice in 2005/6 was adopted under Mr. Falana's watch as the President of WABA.
These, surely, are the reasons why the choice of this day for this acknowledgement and celebration is both timely and proper. The United Nations General Assembly instituted International Human Rights Day in 1950 to commemorate the adoption in December 1948 of the Universal Declaration of Human Rights. In commemoration of this day, the United Nations identifies annually a unifying theme around which activities are organized. With a focus on inclusion and participation in 2012, International Human Rights Day honours and affirms the work of all persons around the world working to end discrimination in any shape or form. Mr. Falana is thus the exemplar of the kinds of people whose work deserves on this day to be acknowledged and celebrated.
Towering mentors and partners
He is, however, not alone. On this day, we acknowledge and celebrate also, all persons who work for or are committed to the causes of equality, inclusion and non-discrimination. I am sure I have the permission of the learned Senior Advocate and all of us here to acknowledge here that, in the great strides that he has attained, Mr. Falana has had the privilege of standing and striding on the shoulders of some truly towering mentors and partners. I will be remiss in my task here today if I fail to acknowledge, as I set out, some of these towering figures now of blessed memory. Foremost among them, I would suggest, is the man in whose offices in Ebutte Metta, Lagos, the professional story of Mr. Falana began, Mr. Alao Aka-Bashorun, beloved as arguably the greatest President yet of the Nigerian Bar Association (NBA).
I would also acknowledge here the late Justice Akinola Aguda (Femi's Father-in-Law, Funmi's father); Gani Fawehinmi, SAN; Kanmi Ishola-Osobu, Bencher (the Peoples' Lawyer); Michael Imoudu; Fela Anikulapo-Kuti; Chima Ubani; Beko Ransome-Kuti, among others. As we celebrate Mr. Falana on this day, we must acknowledge the foundations that these and other fallen heroes have laid in the cause of a more inclusive country. In recognition of their sacrifices, can I please request all of us to rise for a moment of silence in their collective memories.
My substantive argument in this lecture is rather brief. It is this: the idea that Chapter II of Nigeria's 1999 Constitution is outside the ambit of judicial enforcement is the result of mis-placed ideology not law. To the extent that any description can be found for it, it is bad policy, incomprehensible logic, lousy politics, and, at best, out-dated law. It is, I argue, also ahistorical.
The rest of this paper seeks to demonstrate why and how this is so with the support of comparative and international jurisprudence as well as our constitutional archaeology. This paper will seek to demonstrate the asserted non-justiciability of chapter II of the 1999 Constitution runs contrary to the text, context and evolution of the both Nigeria's Constitution and international obligations. It addresses the main objections to justiciability of these rights – legal, ideological, fiscal and policy – and will seek to challenge the legal profession and the judiciary to provide leadership in making the Nigerian people the centerpiece of the project of both institution-building and socio-economic development.