By Bose Adelaja
The new Lagos traffic law which among other things, restricted commercial motorcyclists popularly called okada operators to some designated roads, has continued to generate controversies since it was signed into law by Governor Babatunde Raji Fashola.
While some see the law as a welcome development to checkmate the nuisance okada operators constitute to road users, others see it is a means of bringing more hardship on the already impoverished Lagosians who eke out a living by operating commercial motorbikes.
It was against this backdrop that the Rotary Club of Egbeda recently gathered stakeholders to take a closer look at the law and proffer solutions on how to make it people-friendly.
Those who spoke at the forum included a Lagos-based legal practitioner, Mr. Bamidele Aturu, Area 'M' Police Commander, ACP Sani Taoje who was represented by  Superintendent of Police Ms Abosede Onasanya, a public commentator Mr Kayode Adaramoye and Personal Assistant to the LCDA Chairman,  Mr. Alexandar Ogunrinde amongst others.
Speaking on Legislating the poor into extinction; Poverty eradication by impossible means, Aturu who lauded the Lagos State government's efforts to make the city one of the best mega cities in the world, however faulted the new traffic law. Noting that the law should embrace the social and cultural belief of the citizens, the human rights lawyer declared: "transplantation of laws without regard to other social and cultural variables leads to instinctive or intuitive disobedience".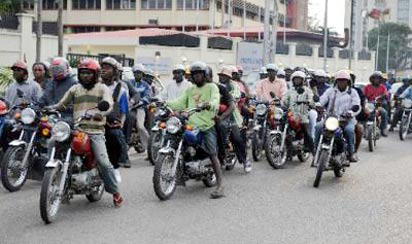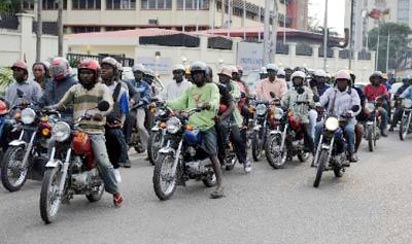 Mr. Aturu posited that  it is the duty of the State government to create alternative means of livelihood for the riders before enforcing the Law adding that "many of the motorcyclists are jobless Nigerians; some of them graduates of our tertiary institutions.
"A number of them are artisans such as barbers, plumbers, welders, auto mechanics to mention just a few, who took to riding okadas in order to make ends meet due to lack of electricity to engage effectively or profitably in their chosen trades. I know one of them who pays the school fees of three of his children in the universities from the income earned by carrying passengers on his motorcycles.
"Without creating an alternative source of livelihood for these people and without dealing with the infrastructural decay such as gully-ridden and narrow roads that cause traffic gridlock and which makes millions of Lagosians use commercial motorcycles as a means of transportation, the law was passed and is being fiendishly implemented by the police who arrest, maim and kill commercial motorcycle riders on both prohibited and un-prohibited highways.'' Aturu lamented
Continuing he said, "We must assume that these people (the Okada riders) are not all going to vanish from planet earth because of the law. We must also assume that they all have different capacities to cope with the misery that the law has imposed on them. If these assumptions are sound, then it is reasonable to expect some of them to take to either older or newer forms of crime. When this happens, then the state makes another law to cope or deal with the new wave or types of crimes. This cycle continues on and on, ad infinitum" he noted.
Also speaking on Lagos Traffic Law; Fostering peace among Okada riders and Traffic officers in Lagos State, Kayode Adaramoye said the rise of this means of transportation is a product of systematic failure of leadership in our political governance.
Inability of governments at various echelons to create jobs and meet the minimum standard of transportation as found in ideal and civilised climes boosted the use of Okada, as a means of transportation in Nigeria. Okada transportation in Lagos State has reached a level that brazenly and contemptuously compromised security of lives and property, even the city aesthetics that it called for urgent and radical intervention," said Adaramoye.
He however opined that government should provide alternative means of livelihood for the riders. "Given the cumulative bankruptcy in government efficiency and competency in governance, and which gave impetus to Okada as a means of transportation and the associated crimes that followed it, and government's move to curtail the crimes, gave rise to social upheaval we had with the banning of Okada in certain areas of Lagos State.
"To me, Lagos State government is right to some extent with its intervention of banning Okada in certain areas of Lagos State but wrong in not providing alternative employments to the displaced Okada riders. Definitely, there will be evil multiplier effects arising from Okada ban which will create various crimes in the society for idle hands to easily engage themselves in," he said.
In her own contribution, SUPOL Onasanya urged the riders to comply by the law saying this will encourage safety of lives and sanity on our roads, "Neglecting traffic signs, traffic lights and traffic directions or driving against oncoming traffic is an offence that attracts one year imprisonment for the first offender and three years for subsequent data captured," she added.