By Ifeanyi Okolie
A Female suspected  pipeline vandal,  Jelilat Olailikon, who was arrested alongside four others by the Inspector General of Police Special Task Force Unit on Anti-Pipeline Vandalism,  has confessed that  she took to the illicit business as part of her share of the national cake.
Jelilat who initially  did not show any sign of remorse when arrested, shrugged her shoulder when approached by Crime Alert  and  in a  nonchalant manner said: "I am just a business woman. No one will get an offer that would fetch him or her a hundred per cent gain that would not jump at it. My only mistake was that I  failed to carry out proper investigation  before venturing into the business.
"When I discovered that the petroleum product was  from NNPC pipeline, I decided to continue since its government's money. Everybody wants to eat from the national cake and I saw that as my only opportunity to make money", she stated.
But after a second thought, she admitted she was wrong and said:"  I am truly sorry, if they can forgive me, I will not do it again."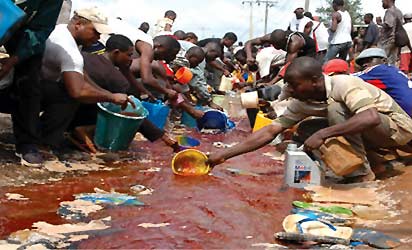 Meanwhile,  her alleged partners in crime,  admitted to be siphoning the petroleum product from  System 2 B pipeline  in Ikorodu area of  Lagos.
Luck, ran against them after they were arrested by operatives of the Task Force who were on a routine  patrol along Konu village, while they were siphoning the product into   a  DAF truck with registration number XA813JND. Already, they had successfully loaded the truck with 100gallons of 50 litres of PMS.
An Assistant Commissioner of Police who heads the Task Force,  Friday Ibadin, gave the identities of the other suspects as Muritala Kareem, Musiliru Ashiri, Ahmed Lamidi   and Elizabeth Folorunsho, re-stating the  task force  determination to reduce pipeline vandalism to its barest minimum.
Said he, "We are determined with the help of  the communities where these pipelines are buried to curb  activities of these vandals. Meanwhile, I wish to use these medium to plead with Nigerians to desist from patronizing these vandals. Anyone  caught buying this product is assumed   an accomplice to the crime and will consequently be arrested," ACP Ibadin threathened.
Jelilat pushed me into it
On his part, , Muritala, 41,  a resident of  Awori village in Epe area of Lagos, claimed  Jelilat lured him into vandalism.
His words: "I have always been a happily married and contented man until the day I met madam Jelilat. She came to my shop and said  she wanted to introduce me into  oil business. I initially told her I was not interested in vandalized product but she insisted that it was a genuine business.
Reluctantly, I joined and she    introduced  me to one Elizabeth and Taye, who sold 50 litres of Diesel for N4800. It was later that I discovered  I was buying vandalized products. Initially I wanted to stop but because Christmas was fast approaching, I decided to continue so as to have enough money to feast with my family.
When we buy  a 50 litres gallon for N4800, we would sell for N6000. But if you go to a filling station, it is sold for N7,750.  The business was booming, as many customers patronized me
It was while we were on our way out of Konu that the police on patrol arrested us. I must say that greed lured me into this. I regret my action. More painful, is the fact that my children will be disappointed in me", he said.
Another suspect, Elizabeth, 36, an indigene of Owori in Ondo state, lamented that she decided to go into the illicit  business after her husband died. "I was a full time house wife when my husband died and there was no one to take care of me and my children.
To make ends meet, I started carrying loads for people. It was during one of the errands that I was introduced to the business by one of my customers. I was  aware that my suppliers were vandals but there was  nothing I could do about it because  I felt it was better than to sell my body to men for money.