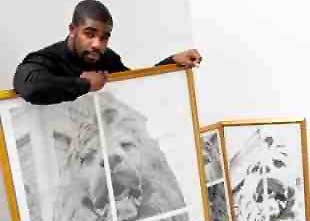 *Kelvin Okafor with some of his works
"No way! This cannot be a drawing. It is a photograph," Haba! Even a blind man can see that," argued Mr. B as his friend tried to convince him that the image he was looking at is a piece of artwork.
This is the kind of argument that trails the works of Mr. Kelvin Okafor, a young talented Nigerian  artist whose drawing, Adam, recently won the Catherine Petitgas Visitors' Choice Prize for the most votes by the public in London for the National Open Art Competition. In this chat with Vanguard, Okafor speaks to Ebele Orakpo on how it all started, the driving force ,and says his love and passion for art just keeps him going. Excerpts:
Background:
Mr. Kelvin Okafor  who was born on November 1, 1985 in London to Nigerian parents from Ibusa, Delta State, said as a child, he had always been fascinated with creativity. As a result, after his A-Levels at St Ignatius College, he went for a one year course in Foundation Art & Design at City & Guilds – London Art School. He then proceeded to Middlesex University where he bagged a B.A. Honours in Fine Art.
"Drawing has always been a burning desire of mine. I was 15 during my studies at St Ignatius College when I discovered I could draw to a noticeably skilful degree. It became apparent to me that I had a talent or skill to draw by the reactions of my teachers and peers.
I can comfortably work in any artistic medium such as sculpture, glass, printmaking, painting and casting, but it was the pencils I fell in love with. I focus solely on pencils because I want to master its technical use. And it's also due to the fact that from a very young age, I've always found the pencil to be such a humble instrument. It amazed me that with only one shade of lead, you can create so many tones and textures, and almost create the illusion of colour," he said.
My kind of art:
After graduating from the university, Okafor who had a burning desire to master his craft, went on to study the genre of his art which is Photo-realism. "I became fully intrigued and determined to create as such to the best of my ability.  It's said that 'A true artist draws from life, not from a photograph reference.' As an aspiring 'Photo-realistic artist', I do agree with this statement.
But what exactly is your definition of life which you create art from? Wouldn't one agree that the artist's aim, whether they be painter or sculptor, is to arrest motion (which I call life) and have it captured eternally so that every fresh pair of eyes that see it, relives it, and experiences that moment you captured as motion (life)?
I consider myself a very precise pencilled artist. Working from reference photos is of great help to me, especially when drawing a person as a subject model. With a camera, you capture an expression/motion – a moment in time which can be used as tangible proof of the exactness of that moment.
"The photo can be used as a source of inspiration. When drawing from a photo, an artist has the opportunity and the option to make an exact replica, or loosely use the photo as a guide to depict an emotion which they would want pronounced, projected or exaggerated.
The emotion could be sensitivity, a sense of presence, personality, mood or character. Working from 'life,' you can achieve the same results and even more since you are viewing things in first person. "But working ample amounts of time on a detailed work of , the exactness of light, composition and presence will change. And that exactness you wanted to capture will suffer in terms of proportion and tonal value."
Motivation:
"Progression inspires and motivates me, not just as an artist, but as a human being. Productivity makes me happy, being able to produce and create art for people to engage with. To prompt and arouse emotions, making people feel inspired and encouraged is what gives me great joy and satisfaction, and in turn, inspires me to keep creating," said Okafor.
Moving forward:
"Personally, I don't think I have mastered my craft or ever will live to see it mastered. It's like the term 'Perfection.' Perfection is an illusion. But as an artist and even in my personal life, I strive on doing and being the best I can to the things I love. I set goals and standards which would seem unreal to accomplish or achieve. But it's not achieving the goal that is important to me; it's the efforts and what it will make of me to achieve it."
About the last award:
Okafor's painting, Adam, did not only win The Catherine Petitgas Visitors' Choice Prize, it has been selected to represent the  National Open Art Competition at the Works on Paper/Watercolour Fair at the London Science Museum from January 31 to February 3, 2013.
Exhibitions so far:
"I have recently exhibited my artworks at two prestigious exhibitions in the UK this year. The Mall Galleries for the Threadneedle Prize Exhibition and National Open Art Competition with four exhibitions at: The Minerva Theatre, The Prince's Foundation, Pallant House and The Science Museum."