By Chioma Obinna & Gabriel Olawale & Charlyne Ikpe
On Saturday, December 1,2012 -another World AIDS Day, all attention focused on one of the world's most dreaded challenges, the Human Immuno-deficiency Virus, HIV that causes the Acquired Immune deficiency Syndrome, AIDS.
Nigeria along with the rest of the world, is currently taking stock of collective and individual roles in the battle to check the spread of the pandemic, under the global theme of the World AIDS Campaign: "Getting to Zero".  The campaign focuses on the three goals of zero new infections, zero discrimination and zero AIDS-related deaths.
The National Theme is "Resourcing the National Response towards Getting to Zero AIDS-Related  Deaths".  This campaign signifies a push towards greater access to treatment for all; a call for   governments to act now.  Stakeholders are of the view that it is a call to honour promises such as the Abuja declaration and for African governments to at least hit targets for domestic spending on health and HIV.
There have been success and there have been failures in the wake of the global and national HIV/AIDS response. For instance, there are more testing sites today more than in the past three years, and there are plans by the National AIDS Control Agency, NACA, to test 20-24 million persons annually.  Issues of HIV prevention, cared and support are also on the upscale, especially now, that there is technology to ensure 100 per cent interruption of HIV transmission from mother to child.
But observers say many new infections may be missing out early which will definitely hinder the zero-related deaths target of the world and Nigeria in particular.  Apart from scaling up HCT services, with less than 500,000 persons  assessing treatment out of the over 1.5 million persons that need it, Health watchers say testing to determine HIV status have left more to be desired.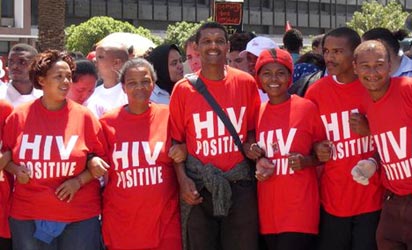 Good Health Weekly took random samplings that cut across different social circle and groups of Nigerians.  Findings were a revelation. Many respondents declined to comment or were indifferent.  From the few responses, it was clear that even though some people have knowledge and awareness about HIV/AIDS, the influence of social stigma and discrimination remains overwhelming.
Ninety percent of the respondents are yet to understand the importance of HIV testing despite efforts by  government and other stakeholders such as the donor agencies and the Non governmental organisations over the years including the large chunks of money committed to ensuring that the HIV Counseling and Testing (HCT )services are effective. Even though, some people understood the significance  of HIV testing, their behaviour remains unchanged. Some were even non charlant about it.
Many persons claimed to have decided to live with their situation even when they have to avoid the stigma and discrimination.  For them, it is better not to go for testing than to be labelled HIV positive.
Unfortunately,testing  remains a major key to check the spread of HIV. It has been confirmed as the best protection against HIV.
Today 33 million persons are living with HIV across the world. In Nigeria, at least four million persons are HIV positive.  However, although the prospect of being diagnosed can be scary, anyone can now live a long and full life with HIV, especially if you treatment starts early.
According to experts, knowing you are HIV infected can also help you take precautions so that you don't pass the virus to other people. It is important to get a diagnosis because everyone is at risk for HIV infection and should be tested for it if there has been any of these: several sexual partners, unprotected sex with someone who is or could be HIV-positive, or with someone whose sexual history you don't know,used injected drugs or steroids or shared needles or other equipment during drug use.
The most common HIV test, the enzyme-linked immunosorbent assay, or ELISA (also called EIA), is used to detect HIV antibodies in a sample of the blood. Other versions of the antibody HIV test use a sample of saliva or urine. Although HIV tests are very sensitive, they can produce false-positive results.
So ELISA HIV tests must be confirmed with another HIV test, such as a Western blot or indirect immunofluorescence assay (IFA).  Rapid HIV tests are based on the same principles as other antibody HIV tests, but they can detect antibodies in blood or saliva much faster  within about 20 minutes. The results of a rapid HIV test also must be confirmed with a follow-up test before doctors can firmly diagnose HIV.
Jonathan Ugbo, Business man
HIV test is like a person going to face the hangman. I would rather die than let it be known that I am HIV positive.
Olaitan  Abdulgafaru, book
seller  "I knew my status in Ilorin two years ago but I have not done it, again because I do not have enough money.  I have heard about HIV but I have never seen anyone with HIV."
Abidemi Ajala, Student
"I do not know my status because I have never gone for the test and I am not prepared to do it. An average person like me must have engaged in sex once or twice before.  I know that the best way to protect is through abstinence or use of condoms.
I use condoms. I deal with decent girls and I will never ask them about their status.  Even if I want to go for the test but the fact is that I don't know how or where it is being done. Youths need more orientation about HIV testing,so we can appreciate the essence of testing."
Michael Odion, Book seller
"I have done the test before but I was sick then.  I did not just go there for the test, it was the doctor who asked me to do it as part of my treatment.  I was not afraid then, I did the test in the hospital free of charge. It was negative. Government should educate people about discrimination. When people hear that you have HIV, nobody will talk to you again. That is why people are afraid to go for testing.  Again, people see people with HIV as promiscuous."
Olamilekan Ogunseye, student
"I don't know my status because I have been busy.  I am not afraid because I have what it takes.  I don't share sharp objects.  I have my barbing saloon kits.  I have only one partner and I am abstaining. I have no business with HIV."
Kareem Amzat, affidavit racketeer:
"I am too busy to start thinking of HIV testing Helen Oke, credit card vendor "I have not done it before, please don't disturb me.  I have so many other things I should be worried about. I don't know my status because I have not done it before. Iam not sick. I can think of that, when I fall sick."
Mr. Attan Chioma, Businessman:
"I don't know if I am negative or positive because I have not checked my status.  I cannot give you reasons why I have not checked."