Nigeria's Super Eagles have been tipped to reach the last four of the 2013 Afcon in South Africa.
Former Nigerian midfielder, Mutiu Adepoju told supersport.com that he was confident that the Super Eagles will qualify from Group C, where they are drawn with defending champions,Zambia,Burkina FasoandEthiopia.
He added thatNigeriawill also "go beyond the quarterfinals" of the tournament.
The former 3SC general manager explained that the Super Eagles have "quality players to achieve" a last four place inAfrica's biggest football championship.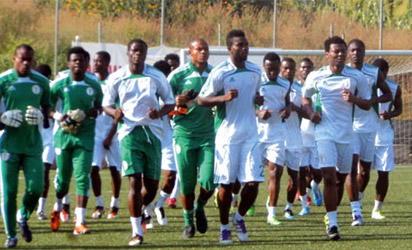 "I believe the team will not only qualify from their group but go beyond the quarterfinals of the Nations Cup. The team have enough quality players to achieve that. But they will have to prepare very well because the other teams will be aiming to do very well too.
In the past months, the coaches have done well by working hard and trying out several players. I believe by the time they start the camping for the Nations Cup the players will have ample time to understand each other on the pitch and the coaches will know the strengths and weaknesses of each player and fashion out suitable tactics for their Nations Cup games," said Adepoju.
The former Racing Santander man also wants the Nigerian team to be engaged in more friendly games to help the coaches analyse the team at competitive level.
"Friendly matches might not totally give a true picture of what to expect but it is always an avenue to help the coaches see the players, analyse them and make proper selection. So the team will need more of such as they prepare for the Nations Cup," he said.
The last time Nigeria appeared at the Afcon finals and failed to reach the last four was in Tamale when  they lost 1-2 to hosts,Ghanain 2008.