By Omoh Gabriel
I was going through the famous Harvard Business review of November 28 on my ipad on a British Airways flight from London. In one of the articles written by Jonathan Berman, titled "American CEOs should Stop Complaining about Uncertainty" one thing struck me. It was the writer's mention of how uncertainty has not deterred Dangote from investing in Nigeria and across Africa.
He wrote "This month, the chief executive officers of America's biggest companies went on a media blitz to decry the uncertainty caused by the fiscal cliff. In such uncertain times, they say, they are hesitant to invest in the US economy. I departed Washington in the midst of these rumblings to attend a forum of Africa's leading CEOs. Here's a quick sample of the scheduled participants:
Aliko Dangote, CEO of Dangote Cement. He's building a $2 billion fertilizer plant in his native Nigeria. He recently announced the next two growth markets for sizeable investment by his group are Iraq and Myanmar.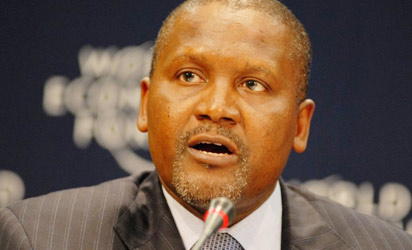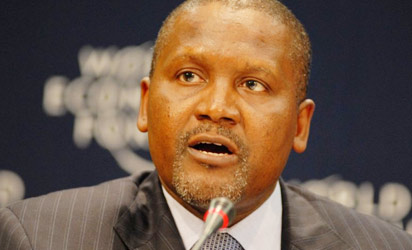 "For Dangote and many other executives in frontier markets, uncertainty is not the inhibitor of opportunity. It is the condition in which opportunity arises. That is a reasonable perspective to look for in American CEOs as well." The moving force behind private enterprise all over the world is what Adam Smith described as the invisible hand that allocates resources in the most uncertain environment.
It is real entrepreneurs that see opportunity in very risky area yet go in there with the hope of making profit. Business is about taking risk and any local entrepreneur that is not ready to take risk is not a genuine businessman. That is why Nigeria business must be weaned from the present stage of buying and selling to real manufacturing.
If Dangote can see opportunities in the very uncertain business environment in Nigeria, encouraging local investors will do Nigeria more service than chasing unwilling foreign investors who are not prepared to invest in the most certain economic environment. If this administration hopes to realise its economic transformation agenda, local investors must be given the pride of place.
This can only happen when government is consistent with its policies and not bending the rules to favour enterprises that have political undertones. While across the globe, the effort of Dangote and his likes are being acclaimed, attempts are being made to rubbish the over $9.5 billion investment in cement manufacturing.
If there was a Dangote in the aviation sector, agriculture and pharmaceuticals, Nigeria will not be spending billions of dollars in importation on weekly basis and some of the youths out there seeking for jobs will be employed. It is by encouraging local investment in manufacturing instead of importation of finished goods that this administration and the country can create jobs for the ever growing army of unemployed youths in the country.
The Nigerian economy cannot grow beyond where it is today except the nation embraces local production of goods and services.  Ten years ago, Nigeria had a booming textile industry; it was employing thousands of Nigerians. Today' as a result of policy inconsistency, corruption in government, especially Ministry of Trade and Investment as it is today, the textile industry is dead and buried.
Shamefully, Nigerians now go to Ghana to import wax. The textile industry went down when the federal government opened the flood gate for all manner of textiles to come in from Asia. As at today, Nigerian markets have remained a dumping ground for cheap and inferior garments from the Far East.
Within the industry circles, there are unconfirmed speculations that the current administration of President Goodluck Jonathan has allegedly paid the sum of $46 million and N2 billion to some cement importing companies and has granted them fresh permission to import bulk cement into the country, a development that has countered the backward integration plan of the government.
It all started in 2005 when the then President, Chief Olusegun Obasanjo, ordered the closure of some Cement plant over alleged 'misrepresentation of facts in obtaining the quota of cement allocated by the federal government.' Prior to the closure, the federal government had formulated a backward integration policy whereby licences were given to some companies to import cement in order to augment the shortfall in supply.
But there was a proviso attached to this; the intended beneficiaries must have proven investments in the manufacture of cement and secondly, own and operate land-based import terminals. However, controversy over whether these companies have fulfilled the conditions has remained till date. Importation of cement will put at risk the investment of those who have put in money to manufacture in the country. If this government is serious about its transformation agenda and job creation, it should encourage local cement manufacturing and not importation.
The question the federal government must answer is, are we going backwards or forward in our quest as a nation to become the twentieth largest economy in the world? Is Nigeria going to achieve this by massive importation of all sorts? If the President told the world that Nigeria will be self sufficient in cement production in 2013, then why is there need to import again when there exist capacity to export cement. Was it that Mr. President was ill advised in telling the world that Nigeria will be self sufficient in cement production come 2013? Mr President what is the matter?