By OKEY NDIRIBE & EMMAN OVUAKPORIE
ABUJA—House of Representatives Wednesday passed a resolution calling for the dismissal of the Director-General of Nigeria Civil Aviation Authority, NCAA, Mr. Harold Demuren for professional negligence.
The House also recommended that the operating certificate of Dana Airline be revoked.
The House took these decisions which were contained in the report of its Committee on Aviation that was presented at the plenary session yesterday.
The report was laid before the House by the Chairman of the Committee Hon. Nkiru Onyejeocha.
According to report: "The tenure of the current Director General of NCAA ( Dr. Harold Demuren) has expired three months before Dana crash occurred on June 3, 2012.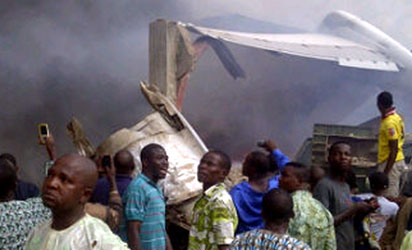 "So the current Director General of NCAA, Dr. Harold Demuren should be removed from office for professional negligence and incompetence."
The House also recommended that the Inspector, Engineer Suleiman Akwuh who did pre-arrival inspection on the ill-fated Dana Aircraft without pre—requisite professional qualification should be dismissed from service.
The lawmakers also recommended that the  Accident Investigation Bureau, AIB, should be properly equipped with modern laboratory facilities to enable it discharge its responsibilities.
They also recommended that the MD83 aircraft should be phased out of Nigeria aviation industry as NCAA has no certified engineer on MD83 in its employment more so that the aircraft has been decommissioned by its manufacturers.
They further recommended that Federal Airport Authority of Nigeria, FAAN, and Nigerian Airspace Management Agency, NAMA, should be properly equipped with well trained staff and equipment for the purposes of responding promptly and adequately to air accident in the country.
They also called on the Federal Government, through the Ministry of Aviation, to  create incentives for indigenous airlines by providing special intervention fund to encourage growth in the aviation industry.
The House further recommended that Central Bank of Nigeria, CBN, should recover the N35.5 billion which was extended to Air Nigeria through UBA but was diverted to other uses.
It would be recalled that the crash occured in Lagos on June 3, killing all 153 passengers and crew on board the aircraft and 10 persons on the ground.