Being a paper presented  Adams Aliyu Oshiomhole, mni, CON, Governor of Edo State by First Annual Sir Ahmadu Bello Memorial Foundation's Lecture on the Theme: Challenges of Good Governance and Leadership in Nigeria under the Current Democracy, in Abuja.
THE remarkable thing about the late Sardauna, Sir Ahmadu Bello, one can say at the outset is the fact that generations of Nigerians have been direct or indirect beneficiaries of his vision and mission in life.
He was a builder of men and of society; he was a man of ideas and foresight. Without equivocation, I can say that I am one of the direct beneficiaries of his development programmes in the Northern Region, at least at two levels.
The first is related to the North he built, the North that was accommodative of all irrespective of tribe, ethnic background, religious affiliation or social status.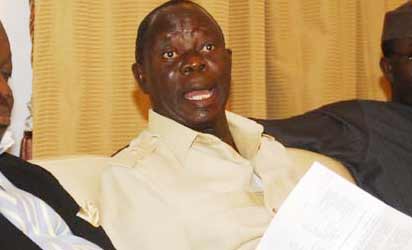 This enabled me, as someone coming from another part of the country to easily make Kaduna the capital city of Northern Region a home and begin a rewarding working career. I did not suffer any discrimination on the account of my background, as I was treated like any other Northerner and Nigerian in the larger context.
The second is of course related to his industrialization strategy to develop the Northern Region which, in the first place, attracted people like me to come to Kaduna to seek for productive employment.
The late Sardauna built the Arewa textiles and the Kaduna textiles among several of the industries he established across the Northern Region and it was these two organizations that provided me with the platform to launch a trade union career right through to the point when I became the NLC President in 1999.
Only a couple of days ago, I had a rare privilege of playing host to the Sultan of Sokoto, His Eminence Muhammad Sa'ad Abubakar III, and I did re-echo this sentiment: the fact that I knew Kaduna and some parts of the North more than I knew my ancestral town of Auchi in Edo State.
I, therefore, see myself as a creation of the late Premier's Northern Nigeria because both the North and Kaduna moulded my life in every respect, and I am always proud of that. I still look up to Kaduna as my home, being a Kaduna boy of course, and I am sure it will continue to be so, my current posting in Edo State notwithstanding.
Introductory remarks: It is an honour and a privilege to be called upon to be part of history, of an occasion that I understand coincides with the centenary of the late Sardauna, Sir Ahmadu Bello.
I wish to express my sincere gratitude and appreciation to my brother and the chief host of this occasion, the Chief Servant and Governor of Niger State, Dr. Mu'azu Babangida Aliyu, CON, fspsp, FNAE, Talban Minna, Chairman Northern Governors' Forum and Chairman of the Board of Trustees of the Sir Ahmadu Bello Memorial Foundation, for inviting me to play the role of Chairman to this historic occasion, the First Annual Sir Ahmadu Bello Memorial Foundation's Lecture.
The Chief Servant has remained one of the last men standing, as torch bearer of the late Sardauna's legacy and has provided leadership at various levels that fitted well with the ideals and values espoused by the late Premier.
I also wish to commend the leadership and organizers of this event, for their keen sense of history and their commitment to preserve the worthy legacy of the late Sardauna, who to date, has remained an exemplar of visionary and transformational leadership; a model of politics of development and an inspiration for all Nigerians that are committed to good governance and public service for the common good.
Let me seize this opportunity to pay tribute to the guest lecturer for this occasion, Professor Ibrahim Agboola Gambari, CFR, Joint Special Representative, African Union-United Nations Mission in Darfur (UNAMID). I know Professor Gambari as a cerebral teacher and scholar of high repute, an international relations guru and a quintessential international public servant.
Engaged intellectuals
Professor Gambari was among the few intellectuals that worked to put our great Ahmadu Bello University Zaria on the global intellectual map. He, indeed, belongs to the class of what one would call "engaged intellectuals", those who combine theory and practice for the betterment of their society.
I must say that the Sir Ahmadu Bello Memorial Foundation could not have found a most suitable and competent specialist to x-ray the subject of leadership and governance in the context of Nigeria's evolving democratic order than this worthy ambassador of Nigeria. When intellectuals speak, the world listens, because ideas are the ingredients to nurture a better society for all.
Sardauna and the leadership question: In discussing the question of leadership as it relates to the late Sardauna, it should be noted that volumes have been written and said regarding his legacy and the lessons that could be learnt by both current and future leadership in Nigeria.
The Sardauna was in office for only six years, yet the impact he made on the political, social and economic landscape of the North, Nigeria, Africa, and indeed the world, was unmatchable, and it has continued to resonate and inspire.
Hardly was there a leader that had traversed this part of the world that has had such historical impact on his generation and generations that followed thereafter.
Indeed, many people in this here will not have been where they are today but for late Sardauna's purposeful and development-oriented stewardship, as Premier of the defunct Northern Region. He made giant strides in educational, agricultural, industrial, and infrastructural development of the Northern Region.
He built a first class civil service and introduced far-reaching judicial and legal reforms all aimed at building an enduring foundation for the socio-economic development of the Northern Region and positioning it to be an important player in the national development process.
That we are still talking about Sardauna's leadership today is suggestive of something more fundamental about the man, his style, his world outlook, his values, and his capacity and competence to provide sound leadership and good governance.
This explains why today, across the North and the country at large, the political leadership is being assessed and benchmarked in relation to what he had achieved and his approach to governance.
This is with good justification, when viewed against the background of the meagre resources available to him in that era.
The late Sardauna did not just build schools, hospitals, industries, roads and agricultural centres, rather he devoted quite some time in delivering these to all nooks and crannies of the Northern Region.
The late Sardauna also provided leadership towards evolving a just and humane society, which is particularly illustrated by his acute sense of concern for the common man, his strong desire to promote unity and sense of belonging among the diverse people of Nigeria, as well as his high sense of responsibility and commitment to duty in the conduct of public affairs.
According to Chief Sunday Awoniyi, the Aro of Mopa (of blessed memory) who was one of those that worked very closely with the late Premier, what was outstanding about the Sardauna was his concern for the common man.
He recalled that there was a day when the late Sardauna said that while he would use his position and power of government to enable businessmen to make money legitimately, whenever the interest of the business and the common man clashed, he would be found on the side of the common man. Such sense of compassion, I must confess, is rare in contemporary times.
The late Sardauna was also an ardent proponent of national unity as the foundation for building a great nation. Not for him the rampant ethnic chauvinism and religious bigotry that are steadily eating our nationhood these days.