By Emmanuel Edukugho
If you think you know a metropolitan city when you see one, just think again. Lagos, Nigeria's former capital now economic headquarters  of the largest, most populous black nation on earth, with its ambiguous, geographical, complex socio-cultural divisions, acquatic splendour, hectic, heavily congested living, characterised by infuriating nerve wracking, chaotic intracity transport system, leaving commuters devastated at end of the day.
The fear of Lagos traffic is beginning of wisdom for both residents and visitors alike. At one time, this fear of traffic jam led to the introduction of odd and even vehicle plate numbers rotation into the city to sanitize traffic. But it worsened as people were having several cars with odd and even numbers with which they can ply the roads at will.
In this age of urbanisation where cities worldwide are experiencing population explosions and commuters moving from one  place to another with precision, over 15 million people living in Lagos metropolis are still victims of deficient, horrible public mass transit system.
Before and after independence in 1960, even after military inetrvention, the public bus transport scheme was orderly, peaceful and properly organised.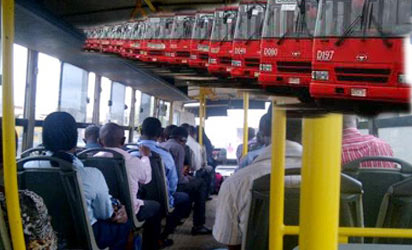 Those who were staying in Lagos at that time could point to Zarpas, Benson, Oshinowo Transport  services and the LMTS (Lagos Municipal Transport Service) which provided reliable urban bus services for the residents, sometimes complemented by "Molue" buses – 911 Mercedes Benz trucks constructed into big buses for movement of people, even though not as comfortable as the LMTS, Benson buses.
As time went on, these buses were nowhere to be found, reduced in number, as mini-buses-"Danfo" and others gradually came into the scene.
Then at about 1977, the Lagos State Government established Lagos State Transport Corporation (LSTC) with over 600 luxury buses operating in the Lagos metropolis. Unfortunately, LSTC failed and was closed down by former military ruler of the state, Colonel Olagunsoye Oyinlola.
When Sir Michael Otedola came as elected civilian governor of Lagos State, he introduced Jubilee Transport Service (JTS) which was short-lived and suffered similar fate like LSTC.
In its bid to intervene and help improve public transport in the whole country, the Federal Government came with the Federal Urban Mass Transit Agency (FUMTA) in which some buses were distributed to private operators. But this project also failed as the Nigerian Association of Road Transport Owners (NARTO) complained that the 26-seater mini buses were too expensive while cost of maintenance seemed high for the operators to cope with.
There were frequent mechanical break down of these buses which led to failure, even as many of them were later abandoned.
A transporter, Alhaji Ganiu Lawal, attributed the failure of FUMTA initiative to mismanagement and the nonchallant attitude of the operators to things owned by government.
"Many of those who took the buses believed the buses were their own share of the national cake and an avenue to enrich themselves. They never bothered to honour the terms of the agreement after taking possession of the buses," said Lawal while speaking with Saturday Vanguard.
After all these failures, which adversely affected public transport in Lagos, and creating vacuum in the system which taxi cabs, motorcycles (Okada) tried to fill, the hardship of commuters in easily accessing public transportation as cheaply as possible became more profound.
The Lagos State government, under leadership of Governor Babatunde Fashola, looked at the situation and how to tackle the chaotic transport condition, decided to launch the Bus Rapid Transport (BRT) scheme in March  2008. A few number of big, luxury buses were  introduced which kept increasing ever since.
The BRT seemed viable option being explored to bring sanity and hope to commuters in their determination to reach their destination on time and safely too. Traffic jams and hold-ups which can last for several hours and make nonsense of appointments have become main features of living in Lagos. Late coming by workers is now taken for granted because of crippling traffic difficulties made more horrific by the bad roads.
For the BRT scheme to be effective and not hampered by traffic impediment, the Lagos State government had to reach out to the federal authorities to allow for some dedicated lanes and routes on federal roads for exclusive use of BRT buses. It was a long  drawn consideration which later came through.
The road  network in Lagos not wide enough in the first place, let alone having dedicated lanes for BRT. A major constraint is the  narrow lanes being plied by BRT buses although no other vehicles are allowed to use the exclusive lanes. The recklessness of BRT drivers without regard to other road users left much to be desired, sometimes leading to fatal road accidents.
Other constraints accoding to Saturday Vanguard investigation include lack of traffic lights at points of convergence on the BRT routes to warn other vehicles intending to join the fast lane of any approaching BRT vehicle. The need for all the intersections to have traffic control lights cannot be over emphasised because accidents occur when private vehicles tend to forget that BRT bus could emerge at any time to join the dedicated lane.
Even the BRT terminals are often without illumination at night posing security threat to commuters. Although the terminals are not enough, but most times the buses are not available as at when due.
Passengers can be seen hanging around and even lining up especially during evening rush hours waiting for the buses. Long queues are formed particularly in Tafawa Balewa Square, Yaba and passengers get stranded as a result.
Even the BRT vehicles are often stranded and held agonisingly by traffic jam. Our investigation showed that there are several BRT corridors already marked out across lagos metropolis, but more are still needed to be marked out. For instance, no BRT lane along Mile 2 – Badagry road. In fact, most parts of Lagos are not covered by BRT. There is no enough penetration into the hinterland as majority of Lagos residents are yet to feel the BRT impact moreso as the government is talking about Lagos becoming mega city like Rio, New York, London, Johannesburg, etc.
According to a reliable source, the initial projection was for BRT to carry  60,000 passsengers  per day which can be surpassed if there good roads. Some BRT vehicles can be  seen plying routes not meant for them particularly during serious traffic hold up. For  now the buses are not sufficient tbut it was gathered that the government is bringing  in more buses.
Apart from BRT, there is Lagos  Metropolitan Area Transport Authority (LAMATA), established by government to provide transportation, infrastructure and regulate the operations of these buses. Initial operators of the BRT scheme were National Union of Road Transport Workers (NURTW) Cooperatives. NURTW employs the BRT drivers but are trained by LAMATA. This could explain why the BRT drivers are reckless, coming from such horrible background.
The Lagos State Traffic Management Authority (LASTMA) ensures control of taffic and  compliance with traffic rules and regulations on the road.
LAGBUS is an asset management company of Lagos State government which also operate buses in some designated areas of Lagos like between Mile 12 and CMS.
While BRT operates on dedicated lanes including LAGBUS, other buses like those painted in yellow colour are restricted to service lanes.
BRT fares are cheap and affordable to the masses but  buses are insufficient. Once they take off from the terminals, BRT buses hardly stopped on the way or collect passengers along other bus stops.
Emeka Ayanwu, a commuter commended the BRT initiative which is fast and cheap but he called for a coordinated strategy of exploring water and rail transportation to "frontally tackle the traffic problem once and for all."
"The waterways are not utilised. Government can introduce fast  moving boats and ferry services and also bring high speed trains with capacity to move thousands of people per hour which will help to solve the traffic problem in Lagos," he told Saturday Vanguard.