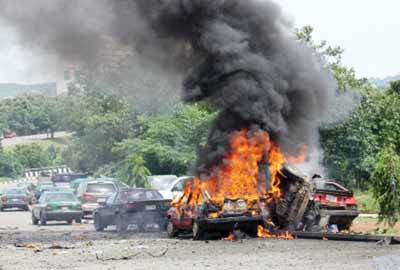 Fire razes cars after an explosion near Eagle square in Abuja
By EMMANUEL EDUKUGHO
FROM what was believed to be a peaceful Islamic splinter group that propagated a controversial ideology against western education, Boko Haram which began in 2002, attracted national attention when the sect leader Muhammed Yusuf, a one-time commissioner in Borno state, declared that Boko (western education) was Haram (sacrilegious).
Among the reasons given by Yusuf who was later arrested and executed in questionable circumstances by the police authorities, were the theory of human evolution enunciated in  Western books which frowned at the divine hands of God in the creation of humanity and the universe. This theory of evolution, Yusuf contended was contrary to the fundamental principle of Islam that holds God as the Omnipotent creator of the universe and all it contained.
Above all, he denounced western education as being deficient in solving the problem of unemployment among Nigerian youths but rather denies them the opportunities to acquire entrepreneurial skills to be self employed.
The sect continued to propagate their belief against the bondage of escalating poverty and joblessness which the youths are being subjected to. It also called for the creation of an Islamic state in the Norther part of the country. They continued to operate as what was termed as "a benign and non-violent group" until when the police killed a number of its members during a funeral procession on the ground of not using helmet.
When all pleas for compensation of the family of the people killed by the police during the funeral procession fell on deaf ears severally to the police high command and the Yar'Adua administration to intervene, the sect leader became critical of the Nigerian leadership. Thereafter, he began to send threat and warning to the government and the police.
That was how the sect began its confrontation declaring the federal government as unjust and calling president Yar'Adua an oppressor. They started to arm themselves and getting support from  many northerners who sympatised with them. So began their recourse to deadly attacks and became blood thirsty and violent.
Since 2009, over 4,000 people have been killed in violent deadly attacks targeting Christian churches, police, few mosques and even the military including Western-type educational institutions and innocent students and even children.
Nobel laureate, Professor Wole Soyinka believed that with the spate of insecurity that has engulfed the country with Boko Haram in the fore front, Nigeria is at war.
He declared: "I believe Nigeria is at war, the war is between forces of light and darkness, intellect and retrogressive thinking, forces of hatred against humanism," adding, "I believe that if we surrender to these forces, we cease to be human."
Soyinka asserted that Boko Haram and all movements that wage war against literacy have declared war, not on the nation, but on humanity itself.
Human Rights Watch has blamed Boko Haram for over 450 deaths so far while the Chief of Army Staff said recently that about 3,000 people have died from the sect's attacks. They have used suicide bombings, gun fire, explosives to eliminate innocent people in churches, schools, markets, police stations, public buildings, mosques, residential places, military barracks, etc.
Borno and Yobe states in the north are believed to be the hotbeds of the Boko Haram insurgency.
Former Borno State Governor Ali Modu Sheriff had alleged that the state's People Democratic Party (PDP), chapter "is the engine room of Boko Haram." He  also pointed accusing finger at Senator Ahmed Khalifa Zanna who had been under interrogation, in whose house a suspected Boko Haram Commander was arrested, for engaging in terrorism.
Sheriff, who was also a senator has been exchanging accusations with Senator Zanna over the arrest of Boko Haram kingpin, Shuaib Bama. Another senator has been facing trial, having been implicated for collaborating with the dreaded Islamist sect.
While the northern political leadership had been largely passive on Boko Haram including traditional rulers, the president of Christian Association of Nigeria, CAN, Pastor Ayo Oritsejafor had been critical of the sect especially that most of the victims are Christians. He has called on the southern governors to
raise the issue with their northern counterparts and find lasting solution to end the killings.
Some of the casualties under Boko Haram Deadly attacks
December 2010 – About 80 people were killed on Christmas eve bombings, including attacks on churches around Jos.
Nov 2011 – At least 65 people killed in Damaturu, when the sect bombed churches, mosques, and police stations.
December 2011 – Bomb attacks were reported across the country on Christmas Day targeting churches with one near Abuja that killed  about 37 people and injured 57.
January 5, 2012 – Gun men opened fire at a church service in Nasarawa, Gombe State, killing six people and wounding 10.
January 6, 2012 – Christian mourners at a hall in Mubi, Adamawa state, were attacked in which 18 were killed as they gathered to mourn the killing of three people the previous day.
February 19, 2012 – There was bomb explosion near a church in Suleja on the outskirt of Abuja injuring five people.
February 26, 2012 – Suicide bomber with a car containing explosives hit a church in Jos killing two people and injuring 38 carried out by Boko Haram while Christian youths in apparent retaliation beat two moslems to death.
March 11, 2012 – Suicide bomber attacked a Catholic Church in Jos killing three people while reprisal attacks by Christian youths resulted in the killing of at least 10 persons.
April 8, 2012 – There was bomb explosion on Easter Sunday near a church in Kaduna, killing at least 36 people and seriously injuring 13 persons.
April 29, 2012 – A total of 19 people were killed when gunmen opened fire and threw  homemade bombs at a lecture theatre in the University of Kano being used for Christian worship. About  two professors were among the casualties.
June 3, 2012 – A car full of explosives was driving by a suicide bomber into a church in Yelwa during Sunday service killing at least 12 people.
June 10, 2012 – A church congregation in Biu Town, Borno state, was sprayed with bullets by gunmen with many casualties.
October 28, 2012, a suicide bomber struck at St. Rita's Catholic Church in Angwar yero, Kaduna state, killing eight people.
October 29, 2012 – Gunmen stormed a drinking bar in Gindin Akwanti,. Barkin Ladi LGA in Plateau State killing six people.
October 14, 2012 – 24 people were killed in an attack by gunmen on Dongo Dawa village in Gwari LGA in Kaduna state.
Conflict between Berom and Fulani in Plateau state had claimed several lives.
JTF reprisal attack for death of a military officer by an improvised Explosive Device (IED) of Boko Haram in Maiduguri led to killing of 10 people on October 8, 2012.
In a confrontation with the Islamic sect on October 7, 2012 in which the sect's leader, Abubakar Shekau was shot dead by JTF in Damaturu, Yobe state, about 30 members of Boko Haram were also killed. Earlier, the insurgents had opened fire on residents of a village, killing two people.
On independence day, October 1, 2012, about 40 students were killed in Mubi, Adamawa state, by gunmen believed to be members of Boko Haram sect. There are three tertiary institutions in the town – Adamawa State University, Federal Polytechnic and the School of Health Technology. Three students of University of Maiduguri were also killed.
In Minna, Niger State, two policemen were shot dead by Boko Haram gunmen.
On November 26, 2012, Gunmen attacked the headquarters of Special Anti-Robbery Squad (SARS) Abuja, killing two officers leading to the escape of 30 detainees.
On Sunday, November 24, Boko Haram bombed St. Andrew's Anglical Church at the Armed Firces Command and Staff College Jaji, Kaduna state, killing at least 15 people.
On Friday, November 22, 2012, 20 ladies on mini-skirts were slaughtered in Maiduguri just 24 hours after 10 people were killed by Boko Haram in Maiduguri.
Six members of a family were killed by Fulani herdsmen in a village in Kaduna state.