Former President Olusegun Obasanjo's multi-billion naira hill-top mansion in Abeokuta, Ogun State capital was Thursday evening gutted by fire.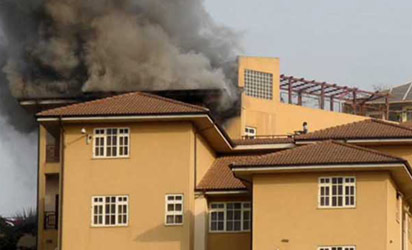 The mysterious fire was reported to have started from the kitchen section of the mansion at about 5 pm which later spread to other sections within the premises.
An eye witness disclosed that Ogun State Fire Service truck marked OG 122 AO9 was seen at the compound even as men Nigeria Security and Civil Defence Corps, the Nigeria Police Force, State Security Service have joined the fire fighters to contain the fire from spreading to other parts of the sprawling estate.
Obasanjo who expressed appreciation to God said that, " You have seen that it is only the office of my secretary that is burnt."  He added in Yoruba, "Ile Obasanjo to jo Ewa lobu kun,ile Obasanjo to jo ewa lobu kun. This is translated, " A king's house gutted by fire can only add beauty to it.