By Paul Bassey
Many thanks to all sports columnists and writers who have in the past one week done a thorough analysis of the outgoing year.  What else can I say?
2012 was a year ruled by an unparalleled Olympics disaster, one that beclouded all the accolades garnered by the Nigeria Football Federation as regards National Teams. Never in the history of our football did ALL the national teams qualify for the finals of all the continental competitions they entered for.
Even as I ask President Maigari and his board and management to take a bow, I can say little about the development of the game, and the domestic league in Nigeria.
Two weeks ago I had a chance meeting with the Sports Minister in his office at the National Stadium Abuja. I started by briefing him on the Mobil Secondary schools Athletics Championship in Akwa Ibom State. Originally billed to attend, a last minute assignment saw him sending  his Director Grass Roots Sports Development Alhassan Yakmut to represent him and wanted an update. (Congrats Yakmut on your merited appointment and promotion).
Then we talked about his challenges in the National Sports Commission, why he opened up the National Sports Festival, his desire to make the U-17 festival a reality and his wish that our domestic league can be like the English Premiership!
I tasked him on the Sponsorship of the league and sympathised with his political disposition that may not afford him the opportunity to actualize his dreams in office.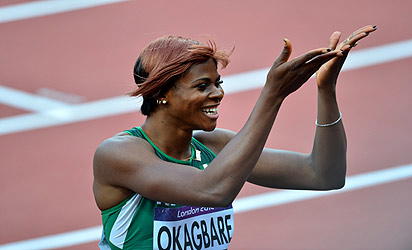 Because it was a chance meeting, we parted to meet again, in the new year.
From the Minister's office I headed for the fabled Glass House of the Nigeria Football Association where the Technical Committee had been invited to discuss Stephen Keshi's Nations Cup list.
The Big Boss came prepared with all his four assistants. What he was not prepared for, was the spontaneous query regarding the omission of Martins, Taiwo and Osaze from the list. Members of the Technical Committee were unanimous that Nigeria needed to go to South Africa with the best legs there are, and presently Osaze was one of the best.
By the time Keshi and his assistants finished explaining the reasons for his omission, there was nothing to fault him. Post events have certainly proven the coach right. Much as I do not want to drag us back, the coaches were skeptical about a player who withdrew from National duty just because he was substituted during a match at the last world cup.
"…Sirs, as I am talking to you I have an idea of my starting eleven and Osaze may not be there as he has not been part of our plans so far. What happens if I go to South Africa and I do not give Osaze a starting shirt, don't you think it will cause more problems for the team?…." Keshi explained. Then, there was the issue of lack of respect for constituted authority. A player who decides not to respect his captain is definitely not a team player and a destablising factor.
Coach Keshi also reminded us that when he invited Osaze in November to take part in the Venezuela friendly, he said he could not because his wife was expecting a baby. As you are reading this, Osaze's wife is yet to put to bed!
Let me move to a more fundamental issue, that of Sola Ameobi and Danny Shittu. I got a mail recently accusing me and the Technical committee of ignorance. "….Why did you sanction the invitation of Ameobi and Shittu when you knew they will not be available?"
No, we did not know they will not be available. Besides they are required by law TO BE AVAILABLE or face the consequences. Ameobi is said to have signed a contract excluding him from the Nations Cup. If he did that, why did he make himself available against Venezuela? At that point he would have told the coach that he had sold his birth right to the greedy and selfish European slave mongers and dictators called managers.
This story is not strange. It is the club versus country imbroglio, it is the blackmail in Europe especially in the Premiership where Managers arm twist African players, threaten and force them to deny their countries before they are signed on. Can you imagine Steve Piennar Captain of South Africa opting out of a Nations cup that will be held in his own country? Tears….tears….for our enslaved youth.
As earlier said,  we have the capacity to ensure that if they do not turn up for country, they do not also play for their clubs during the period. But what can you do about a player who "voluntarily" signed off his availability? What?
The Super Eagles have always been a tournament team. I believe as the competition progresses, the team will gather steam, destination Semi Final……….
AKS Governor's Cup
On Saturday I was at Uyo as Match Commissioner for the Akwa Ibom State Governor's Cup final between Uyo and Eket, an exciting match that needed penalties at the end of regulation time for Uyo to win 5-4.
I congratulate Chairman Effiong Johnson and his board for putting forward a credible show. I was particularly impressed by the 6 Million naira prize money (With the winners going home with 3 million naira cash).
Chief Effiong Johnson is a board member of the Nigeria Football Federation in a country where clubs do not get anything for winning the domestic league. He says there will be a change in 2013. He says the NFF, after a credible 2012 will emerge stronger in 2013.
That was also the prayer of the sports minister, that starting with The Eagles in South Africa and given all his plans and aspirations especially in the development of sports, there will be a lot to celebrate in the coming year in all the sports as a committee has been set up to review the membership of all the sports associations with a view to identifying those who have knowledge and passion for the sports they will be appointed to serve.
Adamu thanks God for life
Today, there will be a roll call of Nigeria's who's who in sports as Dr Amos Adamu the larger than life ex Director, Sports Development of the National Sports Commission celebrates sixty years on mother earth.
Close associates and family members will join him in a prayer session at home this morning before the party billed for the Events Centre in Ikeja by 1pm.
Happy Birthday Doc.
To all our readers, friends and well wishers, thanks for making me part of your sports fixture in 2012, wishing you a 2013 full of cheer, health, wealth and God's favour.
See you next year.