The story of the Ph.D holders applying as drivers in Dangote Group of Companies, is one of the harsh realities starring us in the face as a nation.  Many believe it is a mockery of our system and a barrier to our development as young, energetic men and women, in the prime of their lives are left to roam the streets in search for jobs.
It shows the economic theories those in authorities have been postulating in recent times have defied solution especially in the attempt to reduce unemployment.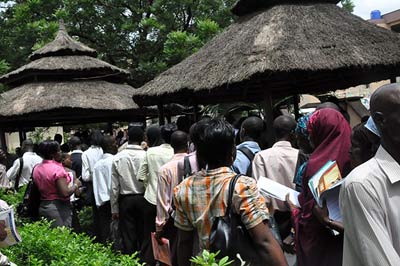 The percentage of labour force that is without job is alarming while the army of the underemployed  youths is frightening.  Apart from the figures released early this year by the National Bureau of Statistics, which puts unemployment rate in 2011 at 29.3 per cent, the situation has over the years grown from bad to worse.  From 2006 until 2011, the unemployment rate averaged 14.60 per cent, reaching an all time high of 23.90 per cent in December of 2011 representing about 20.3 million Nigerians who are currently jobless.  The situation which was put at about 71 per cent early this year would have rocketed to over 75 per cent, throwing even some of the hitherto employed out of jobs.  The matter is compounded daily as more higher institutions churn out fresh graduates to add to the already saturated labour market.
Except for the bourgeoisie, there is no Nigerian household that does not have at least one unemployed university or polytechnic graduate still searching for job.  A few of those who responded to question on this issue indicated that unemployment has frustrated a number of youths and graduates into finding other means of survival no matter how menial. Kunle, a Masters degree student, University of Lagos finds himself operating the popular Okada in Lagos.  He said: "I am a graduate of  Geography, from Bayero University, Kano, and after my Youth service, I could get any job, I tried to help myself by taking up a teaching job in on of the private schools, but even as the salary was megre, the payment was irregular.  I found out that operating Okada as business is a lot better. Seven months after starting the okada, I was able to enroll for my Masters degree at UNILAG."
Kunle maintained that the recent ban on the Okada is now taking its toll on him as he now makes less profit to meet his financial needs.
The absence of social security and paucity of basic amenities have not helped matters either. Quite a number of industries have closed shop in Nigeria since the last five years.
Adedayo Oyebanji, an employer of labour in Lagos said the inability of government to fix electricity in the last ten years have resulted to many companies closing shops and hieghtening the level of unemployment.  "So many companies, conglomerates, have relocated to neighbouring countries with smaller markets and potentials but with friendlier business environments and they are doing well there.  Go to Ghana, some of the industries that relocated from Nigeria to Ghana are doing well.  These days, the high cost of doing business is enough compelling reason for their relocation.  There are very bad roads, poor electricity supply, multiple taxation, among others," Oyebanji said.
On the argument that government is not an employer of labour; that the duty of government is to create the enabling environment that would help the private sector create jobs.  Oyebanji said even in its duty of creating the right environment for the private sector to flourish, governments, at all levels, have failed in that responsibility of creating enabling environment.  He cited the incessant power outage, the threatening security situation, corruption in high places as well as unfriendly policies of the CBN.
On the increasing trend of disinterest by  job seekers in highly labour-intensive works such as agriculture, factory work or creative business ideas in preference for white collar jobs, Oyebanji said these are some of the reasons for remaining in the labour market for a long time, adding that there is no clear cut direction by the leaders and politicians since many of them engage in ostentatious living to spite and oppress those who don't have.  This according to him is one of the reasons for the get-rich-quick syndrome by the younger generation who apart from not getting the desired job, search for means to survive.  This to a large extent had given rise to the menace of the Yahoo boys, Blackberry boys, Area boy, Boko Haram and other ethnic militias groups in the country.
This probably explains the fears of the former President, Olusegun Obasanjo who recently said in one of the dailies:  "I'm afraid, and you know I am a General. When a General says he is afraid, that means the danger ahead is real and potent; there's absence of serious, concrete, realistic, short and long term solution to youth unemployment". The former President made reference to doctorate degree holders who applied for jobs as drivers at the Dangote Group, saying Nigerian youths have been patient enough but feared that this patience may soon reach a breaking point.
Governments across the political spectrum must begin to refocus on human capital development in all areas of policy making. It is also time that the jinx of power outage is broken and steady supply of electricity is restored.  This will engender local production and indirectly reduce drastically the scorge of unemployment.
The Nigerian youths can also help themselves by creating jobs.  China is great today because 75 per cent of the civil populace are engaging in diferent kinds of production meeting the local and creating better opportunity for international trade.